Original URL: https://www.theregister.co.uk/2008/10/21/review_motherboard_asus_p6t_deluxe/
Asus P6T Deluxe Intel Core i7 motherboard
Intel's X58 chipset makes an early appearance
Posted in The Channel, 21st October 2008 11:02 GMT
Preview Intel won't be launching its new Core i7 'Nehalem' processors and X58 - aka - 'Tylersburg' - chipset until some time in November, so we've got to tread carefully with this preview of the Asus P6T Deluxe motherboard. Register Hardware has reported on both the processor and chipset - however, we can't reveal processor performance figures until the date of the official launch.
At first glance, the P6T Deluxe could almost be mistaken for a Core 2 motherboard such as the P5Q Deluxe although there are a few visual clues, the most subtle of which is the new CPU socket which is more rectangular than LGA775.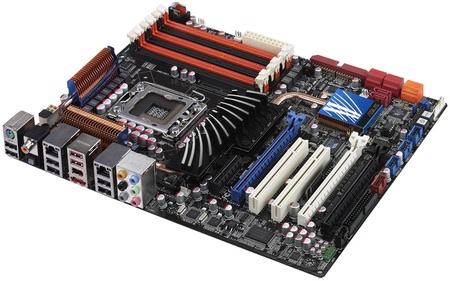 Asus' P6T Deluxe: Nehalem ready
Then there's the passive cooler on the northbridge of the chipset. This bears the rather grand name of Wind-Flow Design Concept, and the idea is that the radiating fins guide the airflow as it's drawn across the chip by the CPU cooler. However, this only works if you use a conventional Intel cooler with a horizontal fan that blows air upwards, away from the motherboard. Enthusiasts tend to favour tall heatpipe coolers that blow across the board, and Intel acknowledges this by including both a stock heatsink in the Core i7 review kit along with a tall Thermalright cooler.
The final clue is the inclusion of six DDR 3 memory slots to take full advantage of the triple-channel memory controller that's built into the Core i7 processor. Since the mists of time, we've grown used to seeing four memory slots on dual-channel ATX motherboards so it seems logical that Asus has added two more slots for the extra channel.
But we're not so sure about the move. Most of us are happy to load a 32-bit operating system with 2GB of dual-channel memory so 3GB in three modules seems like a natural choice. The chance that anyone will use six modules on a desktop PC seems quite remote. The Intel DX58SO Smackover board only has four memory slots, which you can populate using three slots in triple-channel mode, or you can increase the quantity of memory with a fourth module and lose the benefits of triple-channel performance.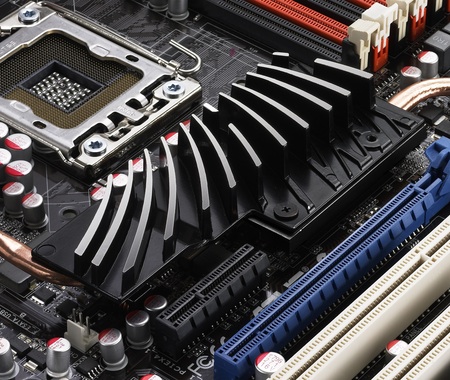 The 'Wind-Flow Design Concept'
Asus has slapped a sticker on the P6T Deluxe which passes on a warning from Intel that you may damage your Core i7 CPU if you use more than 1.65V to power your memory. It's common to find memory that runs at 1.5V but when you're overclocking you often use as much as 2V for high speed memory so 1.65V is a very real limit.
The rest of the layout is classic Asus, which is to say that it's very well done and also fairly predictable. Asus has used a 16+2-phase power design with 16 phases for the core voltage and another two phases for the memory controller, which is, of course, inside the CPU. That's an awful lot of hardware to pack in around the CPU socket but Asus has made a very neat job of the task.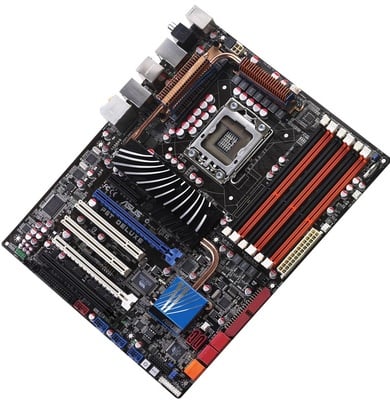 Six DDR 3 DIMM slots and PCI aplenty
There are three PCI Express 2.0 slots but the spacing of the slots and distribution of PCI Express bandwidth - 16+16 or 16+8+8 lanes - means that you'll be effectively limited to using two graphics cards. Which isn't much of a limit, of course.
The big news, in case you've been asleep under a rock for the past few months, is that X58 supports both Crossfire and SLI. The motherboard manufacturer has to cough up an SLI licence fee to Nvidia which unlocks SLI as an option for that particular model of motherboard without any need for the horrible nForce 200 add-in chip. Asus has done the deed and included a copy of GeForce 178.20 drivers with our sample so no doubt the retail boxes will include both SLI and CrossFire connectors.
The other expansion slots are one PCIe x4 slot and two PCI slots, with the SATA, SAS and IDE connectors neatly arranged along the edge of the board. For some reason, Asus felt the need to include a floppy connector at the foot of the board alongside the Firewire and USB headers and the Power and Reset micro buttons. If it had ditched the antique floppy connector, perhaps it would have seen fit to include a Clear CMOS button.
PCMark05 Results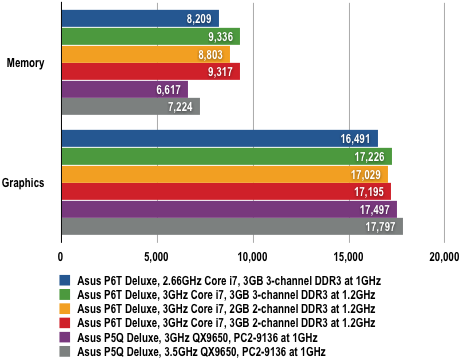 Longer bars are better
3DMark06 Results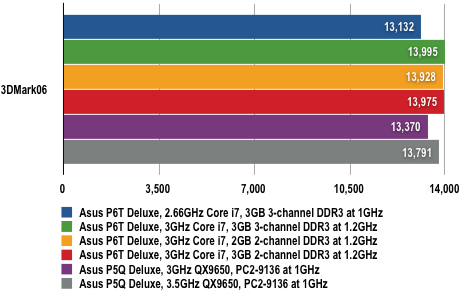 Longer bars are better
Power Draw Results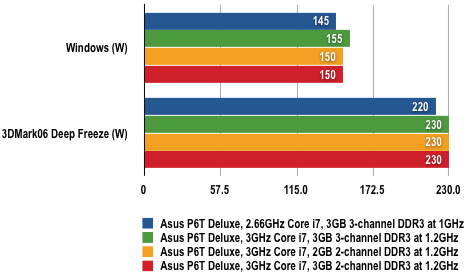 Power draw in Watts (W)
Memory Bandwidth Results

Bandwidth in GB/s
Longer bars are better
Memory Latency Results

Latency in ns
Shorter bars are better
There is a decent array of ports and connectors on the I/O panel, starting with a single PS/2 port that can be used for either a mouse or keyboard. There are eight USB 2.0 ports in four widely spaced pairs, a full array of audio connectors, a six-pin Firewire, one eSATA and dual Gigabit LAN. Plug in the supplied bracket and you gain two more USB ports and a mini four-pin Firewire.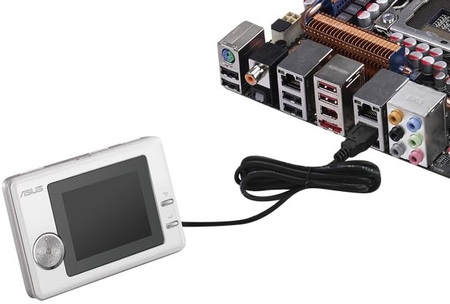 PMP? No, Asus' OC Palm overclocking gizmo
The box of accessories includes the usual cables and also a gizmo called OC Palm which looks like a small USB digital clock. We've seen various external debug and POST devices from Asus in the past but this is something different, not least because it connects to a regular USB port instead of using a dedicated header on the board. Once Windows is running and you've installed the Asus EPU-6 Engine utility, the Asus TurboV utility for overclocking within Windows and the driver for the OC Palm device, you can use the OC Palm to monitor the innards of your PC and also to change settings on the fly.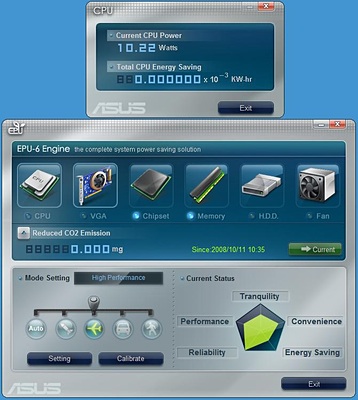 It sounds like a spiffing idea, provided you fancy the idea of adjusting your CPU and RAM speed while you're playing a game and can't see the Asus TurboV utility, but once again we're not so sure. Overclock, test, test and test again and then play is our mantra.
We were hard-pressed to spot any new features in the Bios setup screen, which seemed surprising as this is new CPU architecture for Intel. But of course AMD has already pioneered an integrated memory controller and has ditched the frontside bus in favour of HyperTransport. If you're familiar with Athlon or Phenom then Core i7 will hold few terrors.
Verdict
We can't give the game away about the performance of the P6T Deluxe - well, not for a couple of weeks, anyway - so let's just say that the quad-core Core i7 which we set to 2.66GHz then 3GHz crunched through benchmarks as effectively as the clock frequency suggests. It's a similar story with triple-channel DDR 3 running at 1066MHz. The low clock speed hurts latency, while the integrated memory controller and triple-band feature delivers bandwidth like there's no tomorrow.
As for the P6T Deluxe, well it's a decent motherboard but it's a very safe design that covers all of the options but it does it without adding anything exciting to the mix.