Original URL: http://www.theregister.co.uk/2008/10/21/hands_on_sony_vaio_tt/
Hands on with Sony's slimline Vaio TT
Air beater? No question
Posted in Personal Tech, 21st October 2008 13:03 GMT
First Look Sony brought its skinny Vaio TT 11.in laptop to the UK today, and Register Hardware had the chance to try it out.
There's no question, the TT is impressively thin and light - though it doesn't have that float-away, helium-filled feel that Toshiba's new Portégé R600 does. Or - perhaps thanks to its carbon-fibre construction - a cheap, plasticky feel.
Sony said it will come with a three-year warranty, so the company's obviously confident about the 1.3kg TT's resilience.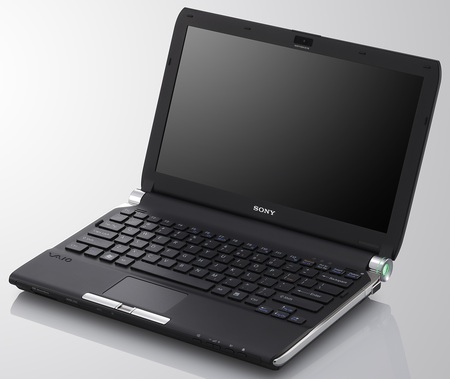 Sony's Vaio TT: compact but fully featured
Like the R600's predecessor, the R500, the Sony machine has a flimsy-feeling screen assembly that's worryingly bendy, though Sony was at pains to point out it's not lacking in build quality. The screen - which sports an LED backlight, Intel GMA 4500MHD graphics and the unusual resolution of 1366 x 768 - is covered with a "projective coating". Only time will tell if it wards off scratches as well as Sony promises it will.
It's certainly a nice display, and you can switch it to auto-dim mode, which will adjust the brightness according to the ambient lighting conditions. That's one way Sony is able to claim a battery life of up to eight hours - the other is the use of an ultra-low voltage 1.4GHz Core 2 Duo SU9300 processor.

Only 2.6cm thick
Maybe, but during our time with the machine, Windows Vista reported a forecast runtime of just under four hours at 91 per cent charge.
Turning off wireless systems will help. The TT comes with Bluetooth and 802.11n Wi-Fi, but some models will also integrate an Option HSDPA 3G module capable of download speeds of up to 7.2Mb/s and 2Mb/s HSUPA uploads. Sony ships these models with a T-Mobile SIM card, but the module's unlocked so you can replace this with your own SIM.
The TT has Gigabit Ethernet, though the port's hidden behind a big silver corner flap on the right left side of the laptop. The flap also covers the laptop's HDMI port, and it's clearly more about maintaining the symmetry of the notebook's design than keeping these ports safe. On the left side of the machine, next to the multi-format DVD writer - no Blu-ray drive for the Brits - sits and unprotected VGA connector.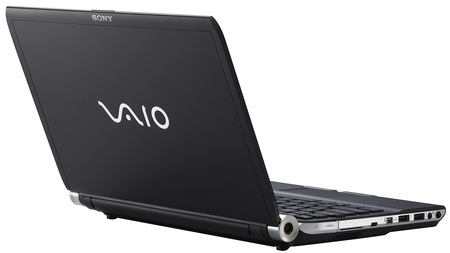 It may have a carbon-fibre design but the lid's still bendy
The Vaio's left-side port array includes two USB 2.0 ports, a four-pin Firewire connector - one up on the new MacBooks, we'd say - an ExpressCard 34 slot and 3.5mm audio sockets.
On the front, you'll find MemoryStick and SD memory card slots, a physical wireless switch, volume and play/pause keys, a user-defined shortcut key and an eject button for the DVD drive - which is handy because the on-drive eject button isn't the easiest of its kind to trigger.
Sony said the TT range will come with 2-4GB of 800MHz DDR 3 memory - it admits Windows Vista Business, the OS the TT comes with, won't use more than 3GB - and a 160GB hard drive, though it will also be offered with a SSD - 128GB, most likely - on a build-to-order basis.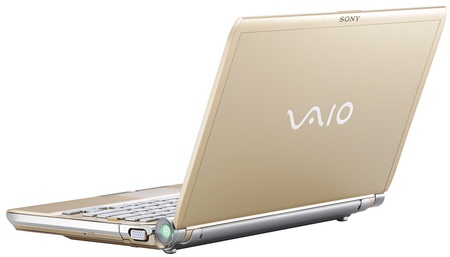 Fancy it in gold?
The TT comes with a lozenge-style keyboard - Sony calls it an "isolated" keyboard - which unlike the ones on Apple machines has slightly concave, textured tops. We found it eminently touch-type friendly. The trackpad's not bad either.
What we don't like is the price: £1499 for a base model with 2GB of memory, a 120GB hard drive and no HSDPA, rising to £1999 for the full monty machine. The TT's aimed squarely as business types, but even they may think twice about laying down two grand for a new - albeit nice and fully featured - notebook in these hard times.
Or maybe they'll go for the "gold fever" edition in an attempt to make the statement that they're considerably richer that yaou...
Skinny Laptop Reviews
Toshiba Portégé R500
Lenovo ThinkPad X300
Apple MacBook Air