Original URL: https://www.theregister.co.uk/2008/10/20/putin_satnav/
Putin's dog collared by satnav
Canine connectivity
Posted in Science, 20th October 2008 14:32 GMT
It seems that World+Dog's got a satnav these days. Even Vladimir Putin's dog has been fitted with GPS.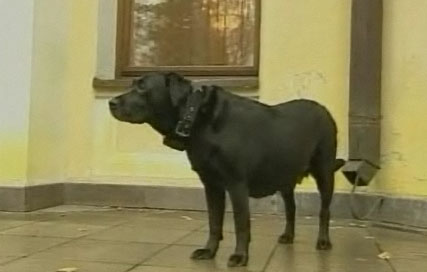 Putin's dog, Koni, is well connected
Image courtesy of the BBC
The Russian president's black Labrador, Koni, has been fitted with a 170g GPS collar that's designed to work over Russia's GLONASS system.
GLONASS is Russia's own version of GPS and was originally developed for military use in the mid-1970s. Although it's never been fully operational, GLONASS is still linked to about 16 satellites and, according to Reuters, is now being used as a way of monitoring cattle and wild animals.
We're not sure how feral Koni is, and during the formal fitting of Koni's collar, Putin didn't reveal much about how the dog would be tracked in future. But he said: "She is wagging her tail," which presumably meant she liked it.