Original URL: https://www.theregister.co.uk/2008/10/18/review_gps_satnav_navman_s30_3d/
Navman S30
3D satnav, anyone?
Posted in Science, 18th October 2008 08:02 GMT
Review There's no shortage of bargain satnavs that are capable of guiding you from A to B. Navman hopes the 3D landmarks on its entry-level model will be enough to have you driving its way.
When we took Navman's recession-busting S30 out for a spin at the tail end of 2007, we were impressed with its no-nonsense approach to navigation. One year on, Navman has updated it in the form of the S30 3D. As its name suggests, this is by no means a major update to the S30. The new feature Navman's making a song and dance about is the delight of 3D landmarks popping up en route.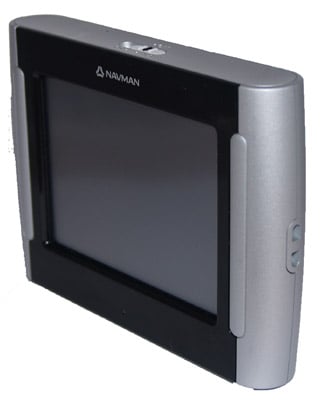 Navman's S30 3D: same design as its predecessor
The S30 3D features the same 320 x 240, 3.5in display as its predecessor, and the black and silver chassis looks almost identical. The only noticeable difference is that the SD card slot has shifted from the bottom up to the left side of the device, replacing the headphone and external aerial sockets of the S30, which have vanished altogether. The card slot sits empty since the included maps are stored on the 512MB of internal Flash memory.
Given the small size of the screen, we had hoped Navman would offer some quick-access alternatives to the touchscreen controls. But with physical buttons and switches seemingly passé, the power switch located at the top is the sole non-touchscreen control.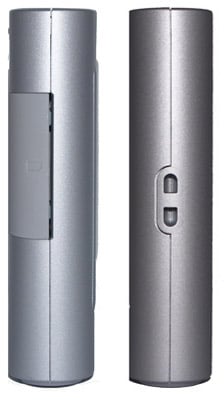 The headphone socket and aerial port have gone
A compact ball-and-socket cradle is supplied, along with an in-car power adaptor, USB cable, quick-start guide and the Windows-only NavDesk 2008 software. Given its sub-£100 price tag, it's no great surprise to find the S30 3D lacks extras such as Bluetooth and a media player.
Navman has stuck with the popular SiRFstar III GPS receiver, but the S30 3D also benefits from SiRF's InstantFixII technology, which promises to determine where you are more quickly than ever before.
Sure enough, we found that although cold starts suffer from the usual 30 second or more delay, our location was pinpointed almost instantaneously after subsequent power-ons, which will come in very handy when emerging from tunnels or taking breaks on long journeys.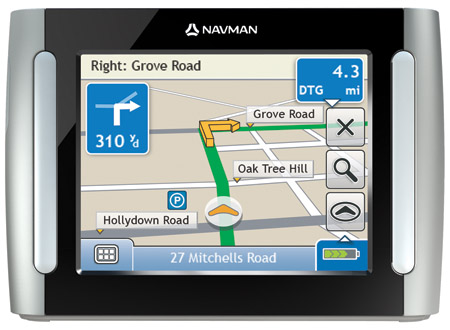 During navigation, the 3.5in screen feels a little claustrophobic
When on the road, the already cramped map is left jostling for space with no less than nine other buttons and indicators, not to mention the various road names and points of interest (POIs). A button at the bottom left of the screen provides access to volume, battery and satellite information, while tapping an area on the map brings up by a pop-up menu that, among other things, allows you to navigate to that particular location.
With this updated version of the S30, you also get 3D landmarks which, according to Navman, make it easier to 'read your journey'. However, unless you're driving around the centre of London or other major European cities, you're unlikely to see many of these on-screen graphics. Even when you do come across one, they feel more like a gimmick than an actual navigation aide, and some look nothing like their real-life counterparts.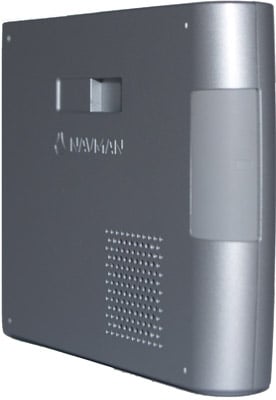 The S30 3D can just about be heard over the roar of motorway driving
The S30 3D is also not particularly smooth at updating your position, making it particularly hard to work out the correct exit at roundabouts, for example. The display is reasonably bright, but should the sun catch it straight-on you'll be left squinting to see what's going on. Day and Night modes are available - you can either let the S30 3D decide when to alternate between the two, or adjust it manually - along with a variety of colour schemes.
With the map left with so little room we found it easier to simply listen to the voice instructions rather than try get our bearings by glancing at the display. While this might be considered a safer way to use a satnav, we much prefer the ability to have a clear idea of what lies ahead, which is what you get with models that have larger screens.
Despite its small dimensions, at maximum volume the S30 3D manages to just about make itself heard over the roar of motorway driving, but wind down a window and you'll struggle to hear it. Unlike more expensive models, the volume won't automatically adjust in relation to your speed.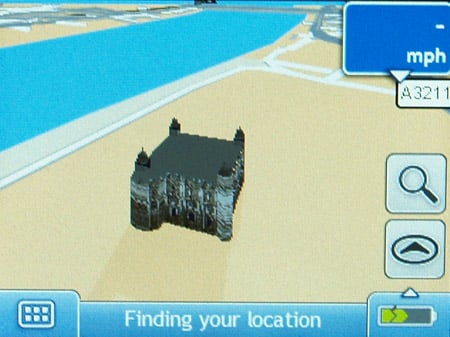 Can you guess what it is yet? The Tower of London, apparently
This wouldn't be an issue if it was quick and easy to change the volume, but it's a frustratingly laborious process: press and hold the volume icon, wait for the volume menu to appear, adjust the level, click to return to the map screen, then check out the carnage in your rear-view mirror.
On-screen controls are all well and good, but for certain tasks you can't beat physical buttons, especially when you're dealing with such a small screen. The re-routing issues we mentioned in our review of the original S30 appear to have been ironed out. Veer off course in order to take a different route, and the S30 3D will soon realise what you're up to - only as a last resort will it instruct you to make a U-turn.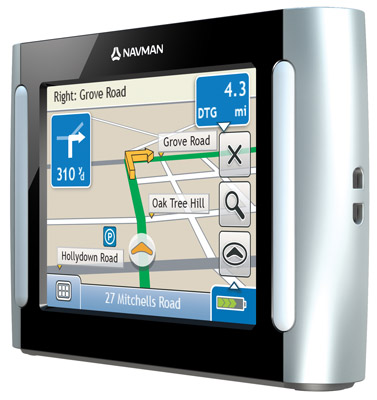 POIs are built in, but they're woefully out-of-date
Thanks in part to the small screen, the S30 3D's battery life is commendable. We managed just under three hours' navigation without the power adaptor.
Navman appears happy to continue using data supplied by Tele Atlas, even though the mapping giant was snapped up by its arch-rival, TomTom, earlier this year. The S30 3D runs off the 2007.10 version of Tele Atlas' UK and Ireland maps but, as eagle-eyed Register Hardware fans have pointed out in the past, this doesn't include the Isle of Man. And although Guernsey is welcomed to the party, Jersey is cast aside.
POIs on satnavs are usually less than comprehensive as well as being woefully out-of-date, and the S30 3D's pre-installed selection is no different. We were directed over a mile away to the 'nearest cashpoint', even though we were parked right next to one.
Navman points out you can use its Local Search feature within the NavDesk PC application to upload more accurate POIs, but since you have to search for them manually and then transfer them individually, it's next to useless. It's a different story with Navman's slightly more expensive S50 3D, which uses its built-in Bluetooth to hook up with your mobile, grabbing new POIs on the fly.

Without the USB power adapter, it'll keep going for around three hours
A one-year subscription to RoadPilot's safety camera database is included, giving you prior warning of speed traps. It will also warn of cameras at traffic lights, so if you're in a bit of a rush you'll have a better idea which red lights you can skip. Or something like that.
According to the manual, an optional TMC traffic module is available for the S30 3D, but our search for it ended up being something of a wild-goose chase - the only TMC accessory on Navman's UK store is listed as being incompatible with the S30 3D.
After getting in touch with Navman support, we were informed there is, in fact, no TMC adapter for the S30 3D, although one is in the pipeline. Not great, that, especially since even the S30 3D's box shouts about its TMC support.
Verdict
Most of the big players have similarly priced entry-level satnavs - the £99 TomTom One and £85 Garmin's Nüvi 310 being two examples – but, more importantly, dig just a little deeper into your pocket and you can sidestep the entry-level market altogether. Admittedly, you probably won't make much use of the rather naff NavPix feature on the Navman S50 3D, but its 4.3in screen gives the map more room to breathe and the built-in Bluetooth adds extra functionality.