Original URL: http://www.theregister.co.uk/2008/10/17/portege_toughness/
Toshiba gets tough with for customers
New Portégé models made tougher so they'll sell
Posted in Personal Tech, 17th October 2008 07:49 GMT
Toshiba has admitted that the flexi construction employed on its super-slim Portégé R500 was just too bendy, and it's toughened up its latest laptops in case punters think they're too flimsy.
In a frank interview with Register Hardware, Thomas Teckentrup, Toshiba's European General Manager for Computer Systems Marketing and Business Development, said that buyers believed the body of the R500 was too flexible.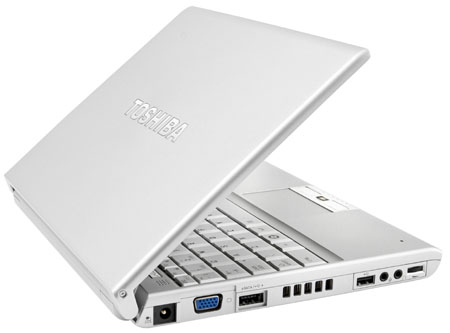 Toshiba's Portégé A600 is tough, but not quite so flexible
The R500's display is especially flexible and can be flexed to a surprising degree if, say, pulled open from one corner - as we described in our review of the machine.
When the R500 was launched, Toshiba promoted the laptop's flexible feel as a sign of its ability to withstand knocks, bumps and drops.
Customers, however, weren't convinced. They perceived the chassis' flexibility as an indication of cheap build quality.
"We had to work on the flex of the screen," admitted Teckentrup. The three latest laptops, announced this week, have been toughened by Toshiba, he said, to stop potential customers dismissing them as too flimsy too.
Teckentrup claimed that the new Portégé trio are even more durable than the R500.