Original URL: http://www.theregister.co.uk/2008/10/15/review_media_player_archos_5/
Archos 5 internet-enabled PMP
Our new favourite mobile video device?
Posted in Personal Tech, 15th October 2008 12:17 GMT
Review Traditionally, we've not had a lot of time for combined personal media players and internet tablets. This is because most of them are just not very good.
Cowon's Q5W was hampered by having Windows CE lurking in the background, the Archos' 605 Wi-Fi made rather heavy weather of web navigation, the Archos 705 was just very, very heavy and while the iPod Touch is good, that 3.5in screen is just a little on the small side.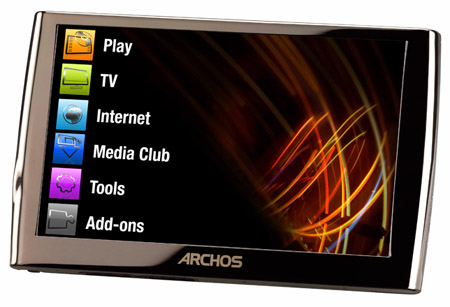 Archos' 5: sexy looks, but a fingerprint magnet
In its latest attempt to successfully fuse the two concepts, Archos has chucked the rather Rococo styling and hybrid touchscreen/key control interface of the 605 into the bin and started from scratch. The result is a very solid device weighing 250g - for the 60GB model; the 120 and 250GB models re 300g - and measuring 127.5 x 78.3 x 12.9mm - the larger HDD devices are 6.5mm deeper - encased in a polished gun-metal case.
In the hand, the 5 feels a quality device: cold, solid and sleek and with no square edges or protuberances to snag in pockets or bags. The player itself is physically no more than 10mm larger than the screen in any direction and as a piece of design it really is quite superb.
The casing itself, however, is a true fingerprint magnet, oily smudges showing up a treat. That said, the minimalist industrial styling goes some way to lessening their impact, the 5 having the air of a device that should look just a little used and utilitarian rather than polished and pristine. Think the PMP they would use aboard the Nostromo rather then the Enterprise.

Two USB ports, but proprietary connectors
External controls are limited to the on/off and volume switches on the top of the player, with two proprietary Archos USB ports tucked away at the bottom. We were pleased to see that the flick-out rear stand sported by the 605 has made it onto the 5, though the position of the USB ports means you can't stand it up and charge it at the same time.
A 3.5mm headphones jack is located on the left side of the player while opposite lurks the 5's single speaker, a rather puny affair making us wish Archos would start to fit its players with two small puny speakers rather than just the one.
Memory expansion is noticeable by its absence, but since the entry-level player comes with a 60GB HDD, we don't think that is such a big deal.
Archos has ditched the soft-touch matte screen of the 605 and 705 in favour of a solid high gloss affair with a more than decent specification: 4.8in corner to corner, 800 x 640 pixels and 16m colours.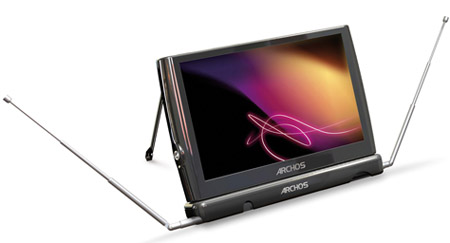 The new screen is more prone to reflections
The new screen is more prone to reflections than the old, but in every other way it's a massive step forward. From a purely visual perspective, the 5's screen is very, very nearly as good as the similarly glossy and identical resolution 4in screen on the Cowon A3. Looking at the two devices running side by side, we'd still say that the A3 has the slightly sharper image, but there's very little in it.
The screen's solid backing works wonders for the touchscreen UI too. Tapping the screen on a 605 or 705 was a bit like prodding cold, congealed porridge. Taps on the 5 screen feel far more positive, and the UI reaction time is far faster, doubtless helped by the underlying Linux OS being driven by a 600MHz ARM processor with 128MB of RAM to romp about in.
File and codec support once again prove to be something of an Archos weakness. Out of the box you get MPEG 4 support, including Divx and XviD, WMV and Motion JPEG video, along with MP3, WMA, Protected WMA, WMA Pro 5.1 and WAV audio. Cough up £12.50 for the "Cinema" plug-in and you can add MPEG 2/VOB files with AC3 sound.
The same money again will get you the "Video podcast" plug-in, supporting H.264 – which really should come pre-loaded - and AAC audio. A soon-to-arrive "Hi-Def" plug-in will let you view 720p WMV and MPEG 4 files. In due course, you'll be able to get all three plug-ins together for £25.
Twenty-five notes, but still no FLAC or Ogg support? That's taking le grande pipi. If Archos were just passing on licence fees then fair enough, but quite clearly it's charging way, way more. Its position seems to be 'why charge people for codecs they don't want?' Well, we never play WMA files on our devices, so can we have a few quid off? No? Thought not. The player also supports PDF, JPEG, BMP, PNG and GIF files.
On the upside, at least the web browser comes free with the 5 - Archos is still charging £20 for the same plug-in for the 605 Wi-Fi!

A 3.5mm headphones jack resides on the left hand side
The touchscreen places the on-screen volume control to the right and a play bar at bottom. For the 5, Archos has tightened the whole thing up, made it a little more intuitive than before and stuck to a simple, clear and attractive white-on-silver-and-black colour scheme. It's also added some some nice touches, such as the option to put shortcuts to regularly opened folders on the main screen.
The video fast-forward and rewind controls are worth highlighting. Dragging the play bar back and forth enables you to move through feature films at lightning pace, while pressing the fast-forward or rewind arrows ramps the speed up smoothly and progressively. We haven't come across a media player that enables the user to navigate through long videos in a more usable or reliable manner.
Audio quality has sometimes been a bit of an Archos Achilles' heel but the 5 is quite the best sounding player it has produced to date, though it's a shame that the supplied earphones are so cheap and nasty.
Using our usual test Griffin Tunebud earbuds and Sennheiser HD 25-SP headphones we were thoroughly impressed by the composure and quality of the sound across a range of styles and genres stretching from Beethoven's Op. 131 string quartet, through some Mylene Farmer dance re-mixes, to Virginia Astley's achingly sublime 1986 Sakamoto-produced album Hope in a Darkened Heart.
A fully customisable five-band graphic equaliser allows you to fiddle with the player's sound profiles should the desire so take you. Music can be browsed by artist, album, rating, song title, genre or year and playlists can created within the player. The 5's handling of ID3 tags and album art is faultless.
Internet connectivity comes courtesy of 802.11g Wi-Fi - up from b on the 605 - and the 5 demonstrated a fine ability go pull in signals when quite some distance from a router.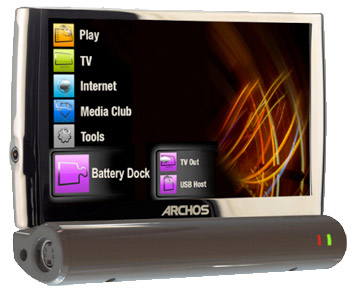 A mains charger isn't supplied, instead Archos asks you to pony up £25 for this "Mini Dock"
The web browser, like that on the 605, is described as "Powered by Opera". But allied to a superior touchscreen interface it's now a far more usable application, and responds rapidly and fluidly to screen taps and swipes, making a stylus wholly unnecessary. The virtual keyboard has been redesigned too and is now a text-book example of the breed.
The Opera browser does pretty much everything you would expect a real web browser to do including supporting tabs and Flash 9. YouTube videos played a treat but its rendering of the BBC's iPlayer was just a little on the clunky side, giving the impression we were only seeing every 5th frame or so though the sound was fine. Lucky then that Archos' internet media tablets are among the players supported by the iPlayer's new portable media player download service.
The 5 also comes with an email client that supports POP and IMAP, and a contacts database. We aren't sure exactly how necessary these applications are when 90 per cent of mobile phones do the exact same thing, but at least they are free.
Plug the 5 into a computer and you can set it to charge only, or it can appear as an MTP device or one of two MSC modes: "PC Hard Drive" and "PC Hard Drive (auto-ARCLib)", the latter being recommended for Mac and Linux users.
Archos quotes a full charge as being good for 22 hours' audio play and seven of video. We say that is either a typo, or Archos is being very, very optimistic. The best we managed in real world use was 14 hours and five hours, respectively, though this may be a beta firmware issue fixed in the final release.
Use of the Wi-Fi radio has a major impact on those numbers. Out of the box, the 5 can only be charged through a computer's USB port as Archos doesn't supply a mains adaptor. Instead, it asks you to pony up a further £25 for the "Mini Dock".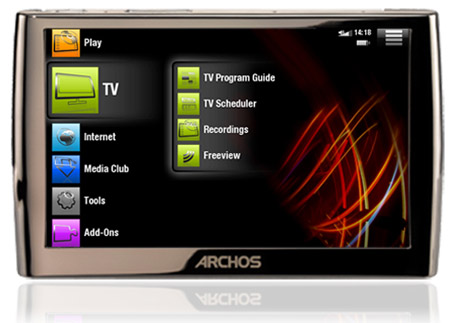 The UI will be familiar to anyone who has used a 605 or 705
Prices direct from Archos for the 5 range start at £280 for the 60GB model climbing to £360 for the 250GB device. In between sits the £320 120GB model, £20 more than you can get a 160GB 605 Wi-Fi for. Value for money? When you consider that a 32GB iPod Touch will put a large hole in £290 we would say yes, though we continue to have reservations about Archos' desire to charge extra for just about everything under the sun.
A case? That'll be £15. Want to record TV shows or play back media on your telly? You'll be needing the £80 DVR Station. Cowon, by contrast, just supplies you with a cable. Prices are yet to be announced for the DVB-T clip-on, or the helmet cam, or the battery dock, but we are guessing they won't be cheap.
For anyone who wants a bigger screen, the 5 will in due course be joined by device with a 7in screen and a HDD capacity of up to 320GB called... the 7. Also coming down the pike is the 5g, which is a 5 with a SIM card slot and support for HSDPA, though with only a 30GB HDD.
Verdict
The A5 isn't perfect, but is comes very close. The device looks and feels superb, media playback is excellent, the internet experience is one of the best available on any current mobile device and the touchscreen UI is almost beyond criticism. Perhaps the screen lacks that last degree of fidelity found on the Cowon A3, and points have to be deducted for the lacklustre codec support, the proprietary USB cable, the poor earphones and lack of a supplied mains charger.