Original URL: https://www.theregister.co.uk/2008/10/14/review_canon_powershot_sx110_is/
Canon PowerShot SX110 IS
All the zoom you could ever need
Posted in Personal Tech, 14th October 2008 11:30 GMT
Review Canon seems to release a new Digital Ixus camera every few months or so, but it has been more restrained when it comes to its PowerShot range.
Take the PowerShot SX110 IS. It's the successor to the PowerShot SX100 IS, which was launched back in autumn 2007. As the name suggests, the SX110 is more an evolutionary camera than a revolutionary one. At first glance, it's hard to tell the difference between the old and the new versions, but some changes have been made, both in terms of features and design.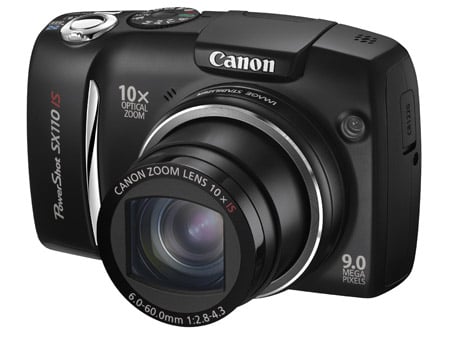 Canon's PowerShot SX110 IS: 9Mp snapper with super zoom
Whereas the SX100 had an eight-megapixel CCD, the SX110 offers nine megapixels - and a 1/2.3in CCD rather than the 1/2.5in one used on the SX100. There's a 3in LCD screen in place of a 2.5in display, and at 245g, the SX110 is less weighty than its 266g predecessor, although, with a width of 111mm, it's 2mm wider.
Like the SX100, the SX110 is a super-zoom camera with a 10x optical zoom - it has a 6-60mm f2.8-4.8 lens, equivalent to a 36-360mm lens on a 35mm camera - and aims to bridge the gap between compacts and full-blown digital SLRs.
This is a rather chunky camera and that's mainly down to the fact that it's powered by two AA batteries. The SX110 can use either alkalines or NiMH rechargeables but, rather disappointingly, comes supplied with the former. Likewise, it uses SD/SDHC cards, and Canon provides a paltry 32MB SD card that will store the grand total of seven images at the highest resolution.
A quick tour of the SX110 reveals a small speaker on the top left, next to which is the flash - more on this later - a large control dial, power button and zoom rocker-switch.
The back of the SX110 has been tidied when compared with the SX100, which had a layout that was a bit of a dog's dinner, with buttons all over the place. Now, the LCD occupies the left-hand side, while on the right are all the controls, including a combined control dial/selector - with a quick selection mode for features such as macro, flash and ISO setting - and various buttons for functions such as playback, display, menu and exposure compensation.
There's a tiny flap on the right side of the camera that covers a mini USB port. On the left is another cover, this time for a lithium button battery that keeps the clock going when you swap out the main batteries. Underneath the camera is a slot for the batteries and SD card. Whoever designed this compartment should be sent to bed with no supper, because it's a swine to open, a process that involves pushing a tiny recessed button to the right and then forwards.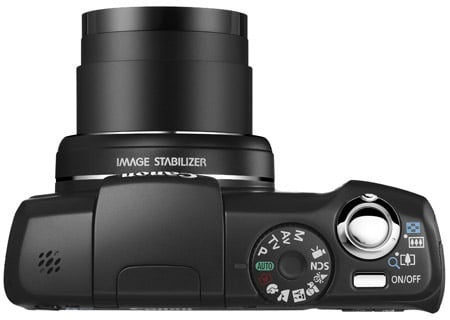 A rather chunky camera
The IS moniker tells you that the SX110 has an optical image stabilisation system, not to mention a nine-point autofocus system with face-detection technology, which includes a face select-and-track function - the SX110 can follow a face within the frame, says Canon - and something that the company snappily calls iSAPS (Intelligent Scene Analysis based on Photographic Space), which automatically optimises the camera settings for a specific scene based on a built-in library of photographic data.
Whatever next? A camera with a built-in library of shots so you don't even have to bother pressing the shutter? Anyway, all this number crunching is powered by Canon's DIGIC III image processor.
Other features include image resolution ranging from 3456 x 2592 pixels down to VGA, taking in a 3456 x 1944 widescreen mode on the way. There's a directly selectable ISO range of 80-1600, rising to 3200 if you use the right setting in the scene mode menu. The shutter speed range runs from 15s to 1/2500s, and there's a whole clutch of shooting modes including, Easy (even fewer user options than Auto), Auto, Manual, shutter priority, aperture priority and Movie – the SX110 can shoot in three modes, including VGA-quality at 30f/s.
There are also a dozen scene modes such as landscape; kids and pets; foliage; night snapshot; snow; and fireworks. You get continuous shooting at 0.7f/s or 1.2f/s, plus various in-camera editing features such as red-eye reduction. Unfortunately, our sample came without instruction book or software, but the latter includes Canon's PhotoStitch program for creating panoramic images from multiple shots
Offering both Easy and Manual modes tells you that the SX110 is aimed at a wide range of users, although its main target audience is closer to the occasional snapper than the enthusiast. This helps explain why there is no hotshoe, for example, but it's a shame that the SX110 doesn't include a viewfinder (optical or electronic) with such a large zoom lens.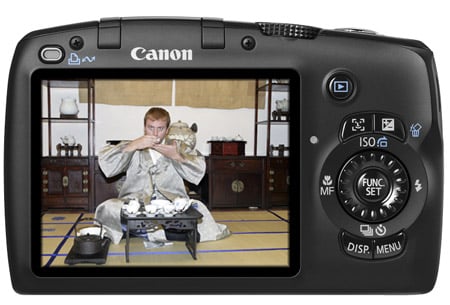 The LCD screen is large and bright, but it eats battery power
Likewise, the flash has to be manually lifted into position, even in Auto mode – we think it should pop-up automatically. True, if you try taking a shot in Auto mode and the flash isn't deployed, you get three warning messages in the LCD screen - we're surprised Canon didn't include a klaxon - but it's an annoyance if you forget at the crucial moment.
The SX110 powers up quickly, taking around two seconds, although the shutter isn't that responsive and you have to press it fairly hard and wait a couple of seconds before the camera fires off. Canon has stuck to its familiar tabbed menu and L-shaped function menu, which involve a bit of scrolling but you soon get to grips with it.
The LCD screen is large and bright with good resolution, but it eats up a fair bit of battery power. That's another reason why the lack of an optical viewfinder is to be regretted.
From a performance point of view, the SX110 has a lot to offer – although there are some disappointments. Picture quality is impressive, with good detail and colour reproduction, although noise does creep in at ISO 400. The 10x zoom is superb and takes you much closer to the object (see our photographs), with the image stabilisation system helping to keep everything steady.
That said, if you're looking for a camera with a wide angle lens, this isn't for you. The continuous shooting modes make a decent fist of tracking fast moving objects, although the AF system struggled a bit as objects were passing close by, and at around one frame per second, it's not the fastest system we've seen.
Sample shots
Click for full-size images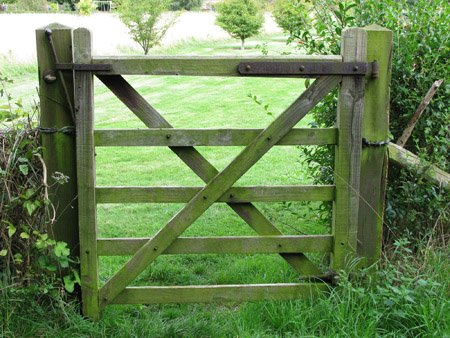 The SX110 can produce impressive detail and colour

The SX110 offer two continuous modes, both offering around 1f/s shooting speeds, although we have seen faster systems

The SX110 offers the equivalent of a 360mm telephoto lens on a 35mm camera as these pictures show
Sample shots
Click for full-size images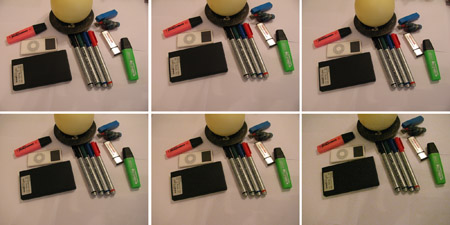 ISO 80, 100, 200, 400, 800, 1600 from left to right. Noise begins to creep in at ISO 400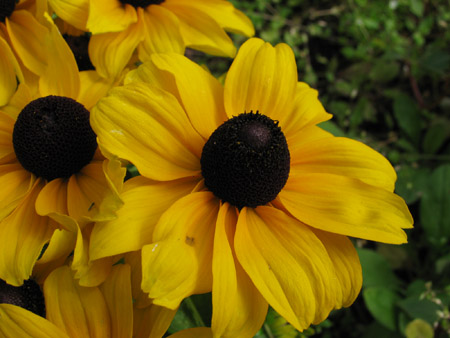 Another nice example of the detail this PowerShot can produce
Macro shooting wasn't that easy to perform and the SX110 took a while to focus on a close-up object. Low-light shooting was helped by the night snapshot function, but the higher ISO settings - 800 and above - produce too much noise to be useful in this situation.
The slow shutter speed settings offer an alternative solution but you'll need a tripod – the image stabilisation system is no good for them.
The two AA alkaline batteries held up better than we expected and despite getting a low battery warning light after taking around 70 shots, we took more than a hundred (with and without flash) and still had some power to spare.
Verdict
We liked the Canon's long zoom, and picture quality is very good. But there are a few operational quirks, and unless you need a camera with a very long zoom and don't want to go down the DSLR route, it's hard to see who else the PowerShot SX110 IS will appeal to.