Original URL: https://www.theregister.co.uk/2008/10/13/review_smartphone_samsung_sgh_i900_omnia/
Samsung Omnia 16GB smartphone
As good a phone as it is a media player
Posted in Personal Tech, 13th October 2008 11:33 GMT
Review Samsung's attempts at touchscreen mobiles have been lacklustre to date. The F700 and F490 work, but they don't make the case for touchscreen control in the way that the iPhone and HTC Diamond do.
The first thing that strikes you about the Omnia is the specification, which is nothing if not comprehensive. Quad-band GSM/GPRS/Edge, 7.2Mb/s HSDPA 3G, a five-megapixel autofocus camera, GPS, 802.11b/g Wi-Fi, an RDS FM radio, TV out, A2DP Bluetooth, 16GB of internal storage with Micro SDHC expansion, and support for XviD and DivX video codecs. All in all, not shabby.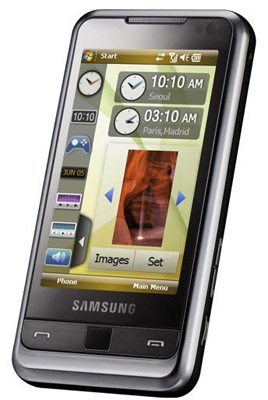 Samsung's Omnia: comprehensively spec'd
Physically, the Omnia is a bit iPhone-lite, weighing 125g and measuring up at 112 x 57 x 12.5mm. It has a 3.2in, 240 x 400, 65,000-colour screen.
Though a rather plastic affair, the Omnia feels solid and is slim and rounded enough to slip in and out of a pocket with ease. Its external controls are limited in number: below the screen are the usual call keys and a simple action key that also doubles up as a "finger mouse" pad – more on this below.
On the right side of the handset are keys to call up the main menu – if held down this key pops up a list of all running applications – control the volume and activate the camera. Up top is the on/off key, while on the left is the Samsung multifunction port. And that's your lot.
Anyone in the habit of swapping their SIM or memory cards regularly, be warned: you have to remove the Omnia's battery to do either.
That 240 x 400 screen is bright enough in most environments. However, it suffers badly in direct sunlight and the format could also be an issue with some applications as it's not exactly a common layout - though it is great for watching widescreen video.
One lesson Samsung should have learned from HTC is how to stow a stylus. While the Diamond's slim magnetic tapper and tucked-away slot is an object lesson in how to do it, Samsung's idea of putting a stylus in a dongle on a lanyard is not. Many folk will be tempted to leave the stylus dongle in the box, but as the Windows Mobile 6.1 GUI has yet to be invented that doesn't require the use of a stylus at some point, we'd counsel against this.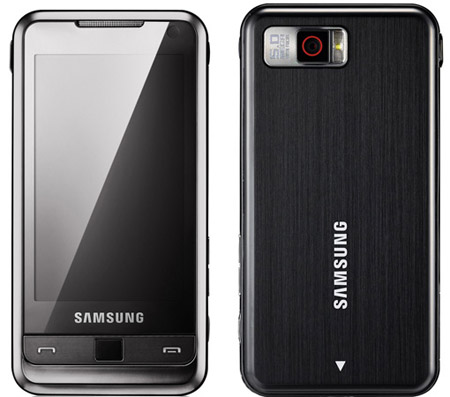 Slim and rounded enough to slip in and out of a pocket with ease
To be fair, the stylus issue is minimised by a rather interesting addition to the usual touchscreen shtick: the Omina's "finger mouse". Switch this on and a cursor arrow appears on screen, run your thumb over the action key, touchpad fashion, and the cursor moves around the screen. It works remarkably well, and makes scrolling through lists and checking those fiddly Windows boxes far easier than would otherwise be the case.
Samsung's take on a WM party dress is TouchWiz, something which we've already seen on the Tocco. It's a neat enough concept, but looks just a little like yesterday's idea alongside HTC's admittedly more processor- and memory-intensive TouchFlo3D interface. It also lacks the comprehensive redesign of the menu text sizes and fonts that helps make the HTC UI look as little like Windows Mobile as possible.
The big idea behind TouchWiz is that on the main screen you have a list of widgets on a menu bar to the left. To activate these widgets, you simply drag them from the menu bar onto the main screen 'desktop'. The menu bar can be collapsed to the left by touching a tab. If this all sounds familiar, it's because it's pretty much identical to the system Nokia uses on the N800 and N810 internet tablets.
Of course, the Nokia offerings have bigger screens, so you can arrange your widgets without ending with a jumbled mess, which is frankly what you get with the Omnia if you have more than two or three on the screen at any one time. As a method of getting the maximum amount of usable information into the smallest space possible, TouchWiz is poor. The widget bar is also fixed, so you can't add or delete items – do you really need widgets for direct access to the games on your Omnia, or to change the wallpaper?
Beyond the widget-infested desktop, TouchWiz also gives you a comprehensive two pages of colourful cartoon-like menu icons that give direct access to the bulk of the settings and applications that you're likely to want to use on a regular basis.
As with so many Windows Mobile touchscreen devices, coughing up the £15 for SPB's Mobile Shell will be money well spent especially as it allows you to set up 15 direct-access contacts compared to the frankly useless four you can set up in TouchWiz. It's worth mentioning, though, that Mobile Shell prevents videos playing back in full screen landscape orientation so you'll need to switch it off before you start playing a movie.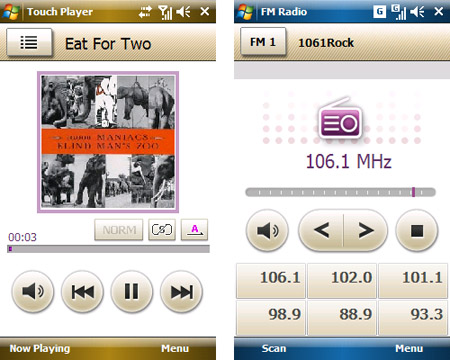 The Omina's Touch Player is a more-than-decent media app. So is the radio
At all times, the Omnia's touchscreen and UI respond smoothly and promptly to swipes, pokes and rubs, while the OS is pleasantly devoid of random pauses for thought - a benefit of the 624MHz Marvell chip under the hood. The accompanying haptic feedback can be adjusted to anything between non-existent and seriously annoying. All together, it's a significant advance on Samsung's previous touchscreens.
Text input is easy enough, there being the usual selection of keyboards, keypads and handwriting recognition. The Samsung phonepad will be the weapon of choice for serious T9 texters, but the keyboard works well enough too. In fact, it's all very much the same as per the HTC Diamond and none the worse for that.
The Omnia's screen accelerometer works well once you have the sensitivity set to "low" - adjust it to anything else and the thing flicks back and forth when you so much as look at it the wrong way. The change from landscape to portrait is accompanied by a funky little animation and when you tilt the phone over with the desktop showing, all the widgets vanish allowing you to repopulate the landscape screen with a new set. Tilt the phone back and the portrait set re-appear.
A handy little application called Digital Frame lets you turn the Omnia into a landscape digital clock with a picture of your choice as the background – a great idea rather compromised by the fact that the power jack prevents you propping the thing the right way up and charging it at the same time.
Web browsing is handled by Opera 9.5 – or Internet Explorer if you feel like a spot of self-flagellation. Though not quite as quick or slick as the iPhone's Safari, Opera nevertheless does the job well enough and allows you to pan about and zoom in and out with the minimum of fuss and bother, again very much as per the HTC Diamond. Though it only supports Flash Lite 2.1, a built in media streamer takes up the slack, allowing you to view YouTube videos and the like.
Out of the box the Omnia supports MPEG4, H.263/4, WMV, DviX and XviD video along with MP3, AAC/AAC+, WMA and AMR audio. Add to this the 16GB of on board storage and the option of adding as much again through the Micro SD slot and the Samsung begins to look like a serious PMP.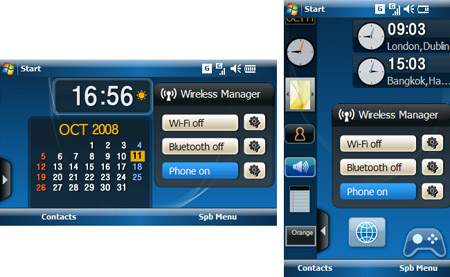 Omnia maintains separate widget sets for its portrait and landscape views
Video file support seems particularly tolerant. By way of a test, we dropped a 25f/s, 272 x 600 avi XviD copy of Revenge of the Sith onto the Omnia and bar one or two very slight pauses it played back with aplomb. Colours and image definition where more than acceptable, while the sound produced by the built-in speaker was little short of excellent, and all without messing about with any reformatting or transcoding.
While on the subject of the speaker, it makes for an excellent speaker phone and can be set to ring loud enough to wake the dead, which some folk may find useful. The RDS FM radio deserves a mention for being a cracking bit of design. The sound in excellent, the interface a model of clarity and the pre-sets are very easy to assign or change.
The Omnia can be manually set to perform as either a USB Mass Storage or MTP device which makes the loading of content via drag'n'drop from Windows, Linux or Mac boxes or via Windows Media Player very straightforward. No problems with ID3 tags or album art recognition, either.
The Omina's Touch Player is a more-than-decent media application, allowing you to view your music by album, artist or genre, browse via cover art and set up playlists on the hoof, all the while pumping out a solid, coherent and focused sound with the aid of the usual raft of EQ settings and presumably the same Bang & Olufsen ICEpower trickery used in the Tocco.
The supplied earphones are rather odd affairs that come with plastic trumpet-looking extensions that sort of rest in your ear. They sound good but we kept expecting them to fall out - which the one on the shorter cable did, regularly.
As the Omnia doesn't come with a dedicated headphones socket, this could have spelled disaster, but luckily the earphones rig is a two-piece affair, the bottom half consisting of the hands-free device with the Samsung jack at one end and a 3.5mm socket at the other, so you can use whatever 'phones you want to and still keep full hands-free functionality.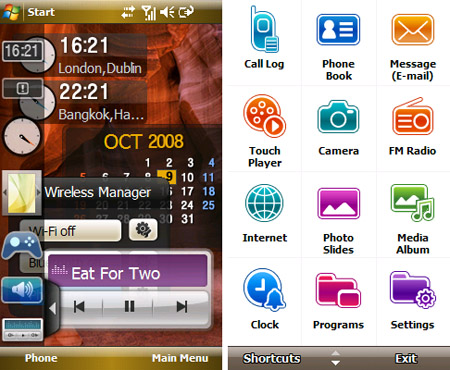 The 'desktop' can quickly become a mess... unlike the main menu
It's a shame the Samsung jack sticks out of the side of the handset in such a blatant manner, though. It's built to snag and gets in the way if you are holding the handset to watch video in landscape. As is always the case, a 3.5mm jack in the top or bottom of the handset would have been a better option.
The 2592 х 1944 pixel snapper comes with autofocus and image stabilisation, making it by far the best camera we have come across on a Windows Mobile handset. The LED "flash" makes it useless for nighttime or low-light photography, but in daylight the results are highly laudable, images being crisp and colourful if not quite as rich those taken with a Sony Ericsson K850i, which we used for comparison. Time between pictures isn't bad either, we managed a snap every four or so seconds.
Video footage can be recorded at either 640 x 280 at 15f/s or 320 x 240 at 30f/s. With top- end Nokias recording moving images at 640 x 480 and 30f/s, this isn't anything to shout about.
Signal reception on our test handset, both Wi-Fi and cellular, was rather poor. On a number of occasions the Omnia struggled to find a signal in places were other handheld devices managed to do so with ease. Had this just been an issue with cellular connectivity we may have put it down to the vagaries of the Orange network - which supplied our locked test handset - but the same was true of the W-Fi radio. In a location where our an HTC Touch Pro picked up a Wi-Fi signal with ease, the Omnia wouldn't even register the signal's presence.
Sample shots
Click for full-size images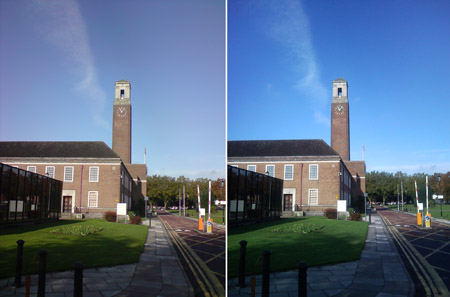 Sony Ericsson K850i on the left, Samsung Omnia on the right

The best camera we've come across on a Windows Mobile handset
Thankfully, Samsung has dodged the pothole that HTC stumbled into when they fitted the Diamond with the battery equivalent of erectile dysfunction and have equipped the Omnia with a reasonably beefy 1400mAh battery which gives a claimed talk time of 6.5 hours and 450 hours on standby in a 3G signal area. Of course, in the real world those numbers are pretty meaningless as extensive use of either the GPS receiver or Wi-Fi radio will emasculate your available talk time. Assuming you can get a Wi-Fi signal.
We always managed a get along full day of very intensive use from a charge, including regular access to all the phone's more power-hungry features. Sticking to just brief phone calls, texts and a little music, we got a solid 60-odd hours of use before having to head for the power socket.
Playing a full screen DivX video with the sound at 50 per cent resulted in a full charge lasting for 2 hours 50 minutes, or all of Star Wars Episode III and the opening 45 minutes of the Bourne Supremacy, which isn't at all bad.
Verdict
Get past the underlying Windows Mobile OS and the Omnia is a capable device that manages to be most things to most people. With better-than-average media file support, generous internal storage and expansion, a good-sized battery and fine 5Mp camera, GPS and all the usual Windows compatibility and functionality, it does pretty much everything you could want and does it either quite well or very well. But TouchWiz UI is a bit of a non-event and Samsung really, really should have tried harder to find a place for an on-board stylus.