Original URL: https://www.theregister.co.uk/2008/10/11/review_dab_radio_pico_radio_station/
Revo Pico RadioStation DAB+ radio
Ready for the revamped-DAB revolution
Posted in Personal Tech, 11th October 2008 07:02 GMT
Review Revo has managed to squeeze many of the current must-have features of a portable radio into an updated version of its Pico RadioStation DAB offering.
Revo has been ruffling feathers in the radio world for a few years now. It first came to prominence when the company released its in-Car DAB Digital Radio Adaptor, way back in 2005. Since then, it has successfully released versions of the Pico in DAB and Wi-Fi models, and in 2007 the company released the BLIK RadioStation, at the time described as the world's first combined DAB and Wi-Fi radio.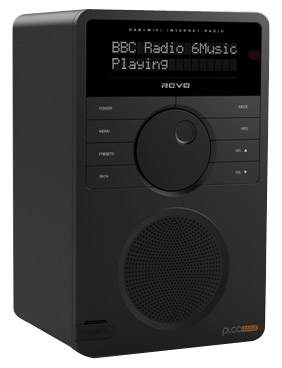 Revo's Pico RadioStation: now all we need is DAB+ content
The Pico RadioStation is again claimed to be a world-first: the only truly portable hybrid radio to unite DAB and DAB+, RDS FM, internet radio, and content streaming abilities. The DAB+ capabilities are ready to go straight out of the box, so no download or software update is necessary. That said, at the moment you'll have to travel to Australia, Italy, Switzerland, the Czech Republic, Israel, Malta, Hungary, Kuwait, Malaysia or New Zealand to have the chance of picking up some DAB+ content.
Kudos must go to Revo for getting out in the market with a DAB+ product, but it's facing an uphill struggled here in the UK. There are currently 7m DAB devices in British homes, but Ofcom won't grant DAB+ licences until a solid percentage of the support the new version.
Manufacturers are a little reluctant to spend on a format that currently has no content, and broadcasters are unwilling to broadcast on a platform with few products. DAB+ will come, but it needs to build momentum and is someway off as yet. No matter, while DAB+ waits in the wings, this is still a cracking product.
Those familiar with earlier versions will be pleased to hear that the rugged rubber and reinforced exterior is retained. All ports and connectors are covered with rubber flaps keeping out moisture and dust, making the product able to stand up to camping trips, bathroom use and even a building site.
Some readers might be disappointed that this modern radio doesn't look more modern. However, if you subscribe to the theory that really good design means that form follows function, then you'll agree that this dinky device's no-nonsense look is a real asset. Mains or lithium-ion battery operated, the operation time away from power is around 12 hours. Even at minimal volume this is a respectable figure, making the product genuinely portable.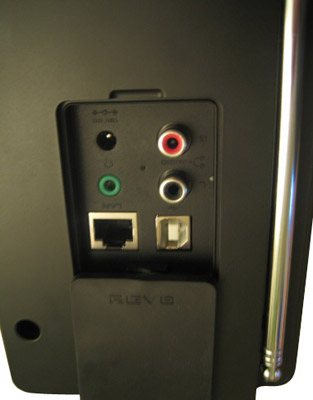 All the basic connection needs are catered for
Once the product was turned on, we were presented with the maximum number of stations available for our location within two minutes. Wireless network connection - WEP, WPA and WPA 2 security modes are all supported - is also easy: a number and character menu and the unit's central control wheel makes entering passwords a doddle. Connection for content streaming is also simple thanks to straightforward menu choices. It's wired as well as wireless, and the connectivity run-down also consists of stereo left and right RCA jacks, a 3.5mm headphones socket and a USB port for potential future upgrades.
There's also a 3.5mm jack on the front for connecting any MP3 player. The rest of the control suite is also easy to use with straightforward volume, back and menu buttons all located around the central wheel. The display isn't the biggest on the market, but will suffice with the space it has. Scrolling is clear and the LCD screen does a pretty good job of keeping up with the very fast search capabilities of the product, particularly in internet mode.
Twelve pre-sets are available for DAB stations - you add them using a dedicated button on the front of the machine - and in internet mode more favourites can be set up within easy-to-locate menu sub-headings. The radio comes with a compact, credit card-style remote which proved handy in accessing the control menus, search options and basic functions.
Sound quality on all the platforms is good for a single drive unit. This product is all about being a great all-rounder and the unit delivers good levels of clarity, volume and depth across all types of content. Bass and treble can be adjusted through the menu system, but the radio's sound is actually pretty well set up from the offset, so we found leaving it be got the best results.
The internet search menu is nice and simple, and also has a section of FAQs for internet radio beginners. It provides easy-to follow genre- and location-based searche tempates, and the ever weirder world of podcasts is put on an easy-to-digest plate.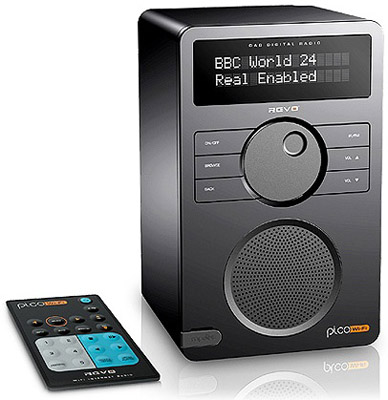 The compact, credit card-style remote proved handy
Check out Sister Diana and her Portland-based guide to running a successful Arts and Crafts business. Or if you don't want to be filled with the urge to drive a knitting needle through your ear drum, BBC Radio 4's Count Arthur Strong provides a hilarious and worthwhile alternative.
Verdict
This is a great little all-round radio which does nothing badly and everything to a high standard. The £170 pricetag is on the right side of acceptable for the functions you get, and the product's robust nature means you should get decent lifespan out of the Pico.