Original URL: https://www.theregister.co.uk/2008/10/10/review_desktop_pc_asus_eee_box/
Asus Eee Box Atom-based desktop mini PC
Small, Cheap Computers aren't just laptops, you know
Posted in Personal Tech, 10th October 2008 11:35 GMT
Review Asus' Eee marque may be associated with laptops, but it's been applied to desktops too, specifically the Eee Box, a slimline unit designed to stay in one place.
The key to this Eee is still low-cost laptop technology: Intel's 1.6GHz Atom N270 processor, the same chip used in Asus' top-of-the-line Eee portables. It's backed with 1GB of DDR 2 memory and an 80GB 1.5Gb/s SATA hard drive.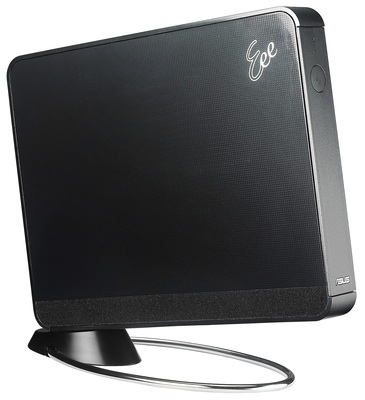 Asus' Eee Box: desktop design, laptop internals
Unlike most desktops, this one has 802.11n Wi-Fi on board, along with the regular Small, Cheap Computer array of connectors: Ethernet - Gigabit not 10/100Mb/s - analogue audio, an SDHC memory card slot and a set of USB ports, four in this case.
Two of those ports are round the back, where you'll also find the Ethernet port, an SPDIF digital audio output port and - in place of the usual VGA port - a DVI connector for a monitor. A special socket at the top of the back-panel takes the bundled antenna for the Wi-Fi link.
The other two USB ports, along with the memory card slot, microphone and headphone 3.5mm sockets, and the power key, are to be founder under a flap that covers the front of the machine.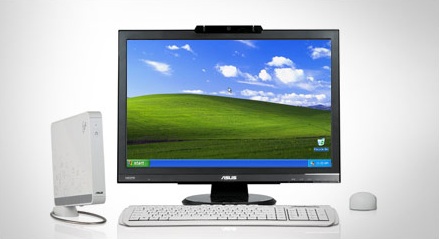 Monitor, keyboard and mouse not included
It's all tastefully done, with the ports, front and back, fitted neatly into the Eee Box's 27mm width. Front to back it's 222mm and 178mm tall. This is a very compact computer, and one that laughs in the face of all the "mini PCs" and "small form-factor" systems that have been released to date.
The Eee Box's sides sport a grid textures that's spoiled only by the profusion of stickers Asus feels it has to apply in addition to the ones Microsoft and Intel's marketing dollars force it to fit. The bottom ten per cent of each side is a grille, partly for cooling but mostly for styling - there are real cooling vents on the top and bottom of the machine.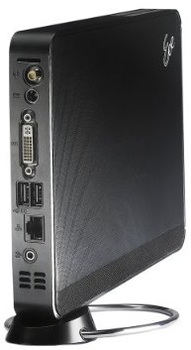 Typical SCC port array... but with DVI instead of VGA
You can lay the Eee Box flat on its side, though Asus advises against this. Asus bundles a screw-on stand that orients the computer upright and raised slightly at the front, and which gives it a Nintendo Wii-like quality, especially with the white version of the PC. Don't like the stand? Tough luck, because there's a plastic nodule on the bottom that prevents it being mounted upright without the stand. You'd be daft to do so anyway - you'd block the main air vents.
There's also an L-shaped metal plate in the box which screws into the same hole as the stand and allows you to fix the Eee Box to the back of a big telly that supports VESA 75 or VESA 100 mounting.
We tested the black Eee Box, and set next to a similarly hued keyboard and monitor - both office Dells - it looked slick, co-ordinated and ready to appear on the desk of anyone from senior management down, or on a table at home.
We can see a fair few folk sticking it next to a TV. Plug in a wireless keyboard dongle on the back, and hook the Eee up to the screen using DVI or an HDMI adaptor and you've got a smart-but-small media centre system.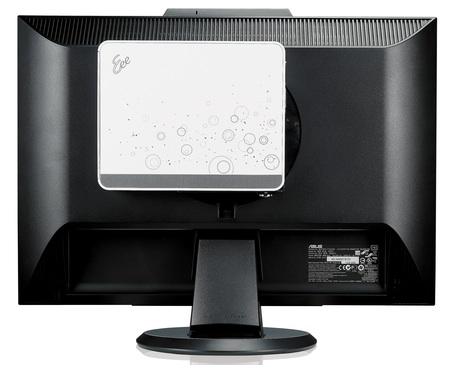 Bolt it to the back of your telly
Of course, being so slim, there's no bulky power conversion kit inside the box - or an optical drive for that matter - but the Eee Box's AC brick, while larger than the ones that come with the Eee laptops, isn't big.
Since the Eee Box ships with Windows XP Home Edition, we were able to run PCMark05. During the tests, a fair amount of air was pulled through the Eee's casing but the fans were reasonably quiet. They're certainly not going to interrupt your viewing, or irritate during quiet internet surfing sessions.
Upgrading the Eee Box beyond changing the hard drive isn't straightforward. Two screws on the base release the pull-out HDD tray, so swapping out the standard 2.5in hard drive is simple. There are two further screws on the base - any or all of them may be hidden by stickers - but removing them didn't make getting the edge off and the innards out any easier. We cooled out zeal to get into the machine by telling ourselves it doesn't belong to us. Besides, had we got it apart, we weren't entirely sure we'd be able to get it back together again.
The Eee Box is one of Asus' first desktops to come with Express Gate, its quick-start UI. Fire the machine up, and in place of the usual 'do you want to set up the Bios?' text, you get four mid-screen icons for browsing the web, looking at your photos, instant messaging and Skype. Further down are smaller icons for continuing on to the main OS, entering the Bios set-up screen and powering the machine down.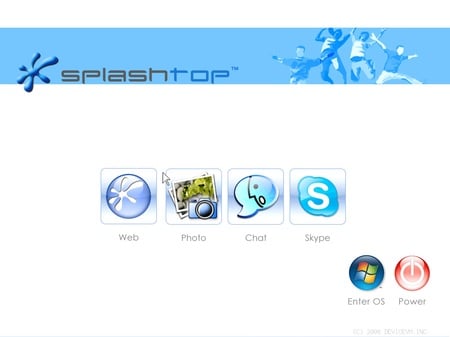 Express Gate: the main screen
Clicking on any of the main icons takes you to a secondary screen and launches the appropriate app: Express Gate developer DeviceVM's Splashtop browser, the Pidgin IM client, a Flash-based photo manager that mimics Apple's iPhoto, and Skype. It all works, though we found the photo tool a trifle slow. Oh, and the browser didn't display even the Asus Eee Box website as completely as the either Firefox or Internet Explorer do. Wi-Fi's disabled by default, but it's easy to switch on in the settings.
Splashtop is based on Linux and does provide a quick way to access the net and do IM and VoIP. Some people will love its fast, five-second start up time, others will prefer to do all this through the OS, as well you might since there are no media playback facilities here.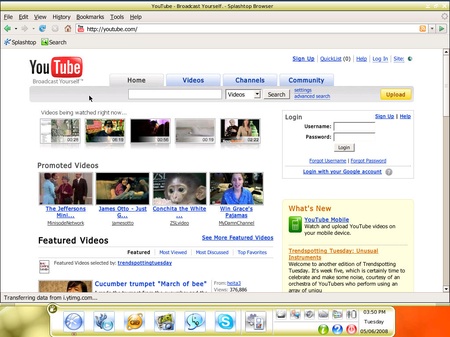 Quick access to the web
If you'd rather just cut straight to the OS - especially if it's Linux too - you can disable Express Gate in the Bios.
Asus has also pre-loaded Adobe Reader 8, so the Eee isn't exactly ready to get productive straight out of the box. Fortunately, various free Office-compatible productivity suites, web browsers, email apps, IM packages, VoIP tools and so on are all only a download away, provided Internet Explorer lets you do so - we got warned off a couple of them.
How well did it perform? According to PCMark05, exactly like all the other Atom-based Small, Cheap Computers out there. The chart shows the Eee Box's numbers set against figures from a small selection of Atom-based netbooks and a 2GHz Core 2 Duo-equipped Acer Aspire 2920 laptop.
PCMark05 Results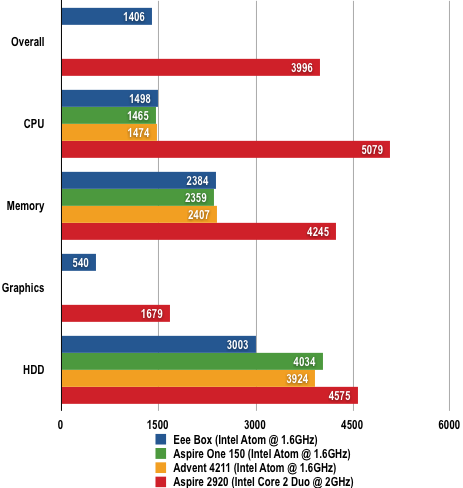 Longer bars are better
Because it supports a standard screen size of 1280 x 1024, the Eee Box would run PCMark's graphics tests when other SCCs won't, hence the gaps in the Graphics and the Overall sets. But it's clear the Core 2 Duo machine knocks the Eee Box into a cocked hat, performance-wise.
Mind you, it costs twice as much, and the question you have to ask is whether all the raw performance is necessary. The Eee isn't a machine for serious Photoshop users, for instance, or for folk who want to edit or transcode video. This is not a number cruncher's box, or a games machine, and it doesn't pretend to be. But we had no trouble doing casual Photoshop picture editing.
The Eee Box in either of its colour schemes will set you back a reasonable £250. You'll have to buy a monitor, keyboard and mouse separately, unless of course you already have these essentials.
You can buy a cheap Dell desktop for £250 too, but it'll be a chunky, ugly box. Dell's rather more stylish Studio Hybrid, which is about 2-3 times as thick as the Eee Box, comes in at £400, but that's with a single-core Celeron M processor. Going dual-core takes the price to £439, but either model comes with a optical drive and a 160GB HDD. You'll have to add an external optical drive if you plan to install on the Eee any apps you can't download.
Verdict
Just as Asus re-invented the laptop, it has introduced a new take on the mini PC. Intel's Atom is no powerhouse, but it provides sufficient horsepower for all but the most demanding of computing tasks. It's fine for internet, media playback and office apps. It's cheap and looks cute too. What's not to like about this simple, successful product?