Original URL: https://www.theregister.co.uk/2008/10/10/lowenergy_light/
Radiation warning for low-energy lightbulbs
UV emissions could be danger
Posted in Science, 10th October 2008 10:22 GMT
The Health Protection Agency is warning that low-energy light bulbs could give enough ultraviolet radiation to cause damage to your skin.
You'd need to be closer than 30 cm from the bulb for more than an hour a day and it would need to be an open type light bulb - the whirly ones (see pic).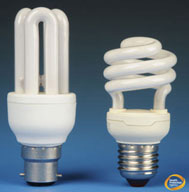 The Agency recomends lamps or lights used for close work should be replaced with double envelope bulbs - which look like traditional light bulbs.
Justin McCracken, chief exec of the HPA said: "This is precautionary advice and people should not be thinking of removing these energy saving light bulbs from their homes. We are advising people to avoid using the open light bulbs for prolonged close work until the problem is sorted out and to use encapsulated bulbs instead. In other situations where people are not likely to be very close to the bulbs for any length of time, all types of compact fluorescent light bulbs are safe to use."
Not all fluorescent bulbs give off significant ultraviolet radiation, but for some if you are within two centimetres the exposure is equivalent to that experienced by being outside on a sunny summer's day in the UK.
The warning is especially relevant for people with Lupus or other forms of light sensitivity - the HPA began its investigation after complaints from light-sensitive people. It has met with patient groups to offer them specific advice. The full HPA statement is here. ®