Original URL: https://www.theregister.co.uk/2008/10/08/roundup_camcorder/
Ten of the Best... Pocket Camcorders
YouTuber or home-movie buff - here are the cameras you should audition
Posted in Personal Tech, 8th October 2008 15:38 GMT
Round-up YouTube has a lot to answer for – not least the sudden rush of low-cost 'pocket' camcorders designed for quickly capturing short video clips on the move. These cameras typically cost less than £100 and have pretty low specifications – as little as 320x240 resolution in the case of the cheap and cheerful Disgo camcorder.
At the same time, though, HD technology has started to move into the mainstream, so at the other end of the market we're also seeing top-of-the-range pocket camcorders such as Sony's TG3, which costs almost £600 and offers 1080i resolution in a slim metal case that's not much larger than an iPod. If that's a little rich for your taste, you can opt for a lower - but still HD - 720p camcorder such as Toshiba's Camileo Pro HD or the Aiptek PocketDV, both of which come in at less than £200.
Finally, filling in the gap between £200 and £600, there are a number of more conventional camcorders aimed at the more ambitious movie buff who wants a wider range of features for their video and DVD projects, such as 5.1 audio, a powerful zoom, longer recording times and extended battery life.
So whether you're a YouTube addict on holiday or an indie film-maker on a budget, there's a compact camcorder just waiting for you to pick it up and slip it in your pocket. After paying for it, of course...
Aiptek PocketDV Z300HD-V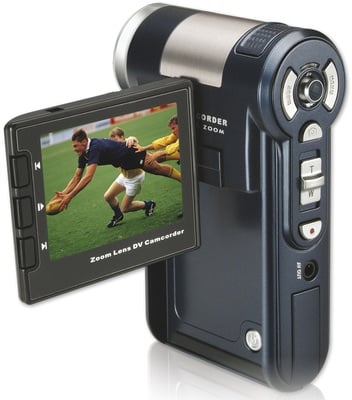 Aiptek used to claim that it had the world's smallest HD camcorder. That's no longer true, but the PocketDV is definitely still worth a look. Like the Toshiba Camileo Pro HD, the PocketDV offers HD video capture at 720p, along with a 3x optical zoom and a quite effective close-up macro mode. The video is highly compressed, but is comparable to an ordinary DVD-quality camcorder. The bundled software is for PCs only, but video is stored in Apple's QuickTime format so Mac users will still be able to transfer files onto their machines using the supplied USB cable. You'll need to buy a memory card, though, as the built-in memory stores only a meagre few seconds of HD video.
Reg Rating 70%
Price £200
More Info www.firebox.com
Busbi Disgo Video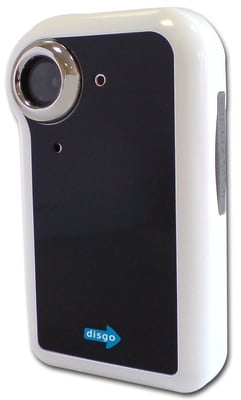 The Disgo is about as cheap and cheerful as camcorders come. It has the same point-and-shoot simplicity as the Flip – you simply turn it on and press the Record button to start shooting, then transfer your clips onto your computer using a standard USB cable. The 320x240 resolution isn't going to win any awards for image quality, and you can forget fancy features such as a zoom option. Even so, the video quality is adequate for quickly shooting short clips that you can upload to YouTube by using the bundled PC-only software. It runs for about two hours off two AA batteries and its 1GB memory card stores about one hour of video, although you can swap this out for a 2GB card if you have one available.
Reg Rating 60%
Price £30
More Info www.dixons.co.uk
Canon FS100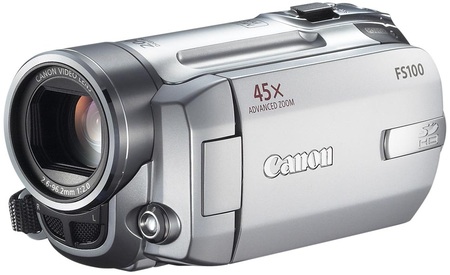 Somewhat surprisingly, Canon's FS100 is the only standard-definition (720 x 576) resolution camcorder in this group. Most of the sub-£200 camcorders reviewed here compress their video files quite heavily so the image quality isn't always quite as good as you'd expect. The FS100, however, provides good DVD-quality video that will be suitable for home movie buffs who want to produce more than just simple YouTube snippets. It's extremely light and compact, and you can just about slip it into a jacket pocket when you're on the move. The 37x optical zoom is impressive, although the image can get a bit grainy at full zoom. Unfortunately, you'll need to supply your own memory card before you can get started.
Reg Rating 75%
Price £260 Click to compare prices
More Info Canon Europe
Creative Vado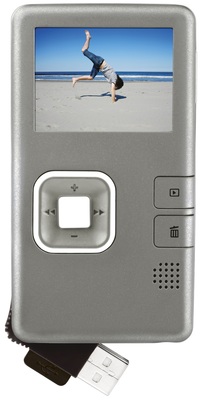 The design of Creative's Vado is clearly inspired by the Flip, right down to the built-in USB connector that folds into the body of the camcorder. It has the same 640 x 480 resolution and image quality as the Flip, as well as a 2x zoom option and 2GB internal memory. However, it craftily improves on the Flip by including a rechargeable battery and an option for switching between high- and standard-quality in order to increase the recording time - one hour at high-quality and two hours at standard. It also undercuts the Flip on price, coming in at just under £80. The Vado Central software that lets you upload clips to YouTube is already installed on the camcorder for immediate use, but we were disappointed to see that this only runs on PCs and not Macs.
Reg Rating 55%
Price £80 Click to compare prices
More Info Creative Europe
Flip Ultra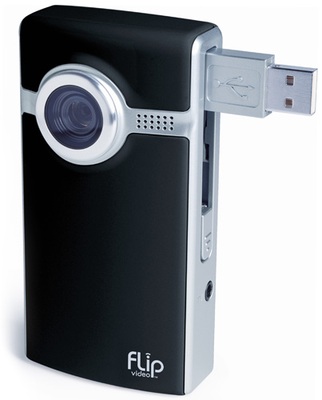 The Flip Ultra doesn't have the highest technical specification of a camcorder - its resolution is a relatively modest 640 x 480, which is a little below the DVD-quality of a standard definition camcorder. However, the Flip's real strength is its sheer simplicity. There are no complex menus or settings to worry about – you just turn it on and press the big red Record button, and then use the built-in USB connector to transfer your clips onto your computer. It has 2GB of internal memory that can store about one hour of video, and it will last for about two hours with two AA batteries. And it's nice to see that the bundled software for uploading videos to YouTube works with both Macs and PCs.
Reg Rating 60%
Price £100 Click to compare prices
More Info Flip UK
Oregon Scientific ActionCam ATC3K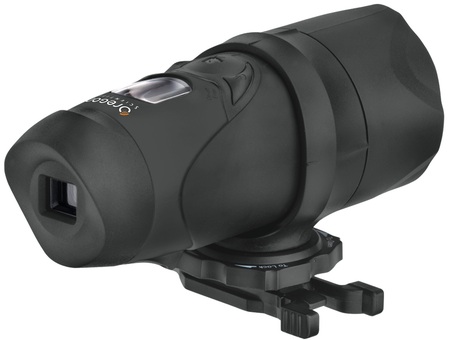 As the name implies, the ActionCam is specifically designed for manly outdoor activities, such as cycling and snowboarding. It's water-resistant, and includes a mounting kit that lets you fix it to a crash-helmet or the handlebars of a bike. The ActionCam has a resolution of 640 x 480, so it won't match the image quality of a more expensive DVD-quality camcorder, but you're not likely to quibble about that as you go hurtling downhill at 80mph on your mountain bike. It doesn't include a memory card, although Oregon will provide an optional 4GB card for an extra £10. The bundled software is meant to be compatible with both Macs and PCs, but it's cunningly stored on a mini-CD that won't fit into the slot-loading CD drives.
Reg Rating 65%
Price £100
More Info Oregon Scientific
Panasonic HDC-SD9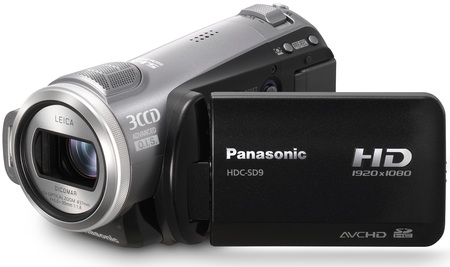 Panasonic provided the British team with its compact camcorders so that they could do a bit of blogging during the Olympics – and if it's good enough for Team GB then it's good enough for us. The SD9 isn't quite small enough to be described as 'pocket size', but at just 12.5cm long and 350g in weight it's still extremely light and easy to carry around. There's no compromise on features, though, as the SD9 provides an HD resolution of 1080i, 10x optical zoom and even 5.1 surround sound audio recording. We've got no complaints about the image quality, but given the almost £600 price tag it's a little disappointing that you'll have to fork out some extra cash for a memory card as the SD9 has no built-in memory at all.
Reg Rating 80%
Price £599 Click to compare prices
More Info Panasonic UK
Samsung VP-HMX20C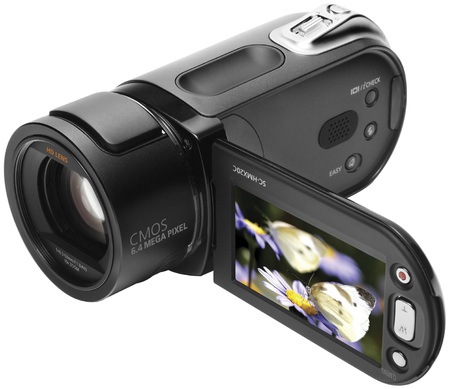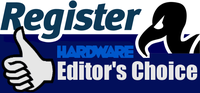 Samsung produces a number of attractive compact camcorders, but the HMX20C is the one that really hits the sweet spot for us. It's very attractively designed, with a neat matte-black casing that is about the same size and weight as a can of Coke. The HMX20C provides very good image quality with 1080i HD resolution, along with a powerful 10x optical zoom that can be digitally enhanced right up to 100x. It has 8GB of built-in Flash memory, which allows you to capture about 90 minutes of video, and there's also a memory card slot that accepts both SD and MMC cards. Other nice details include a rotating handgrip that makes it easy to take shots at an angle, and a touchscreen control panel.
Reg Rating 85%
Price £469 Click to compare prices
More Info Samsung UK
Sony HDR-TG3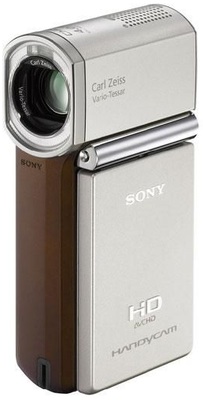 Sony's TG3 is an impressive device that combines the 'point-and-shoot' simplicity of the Flip Ultra with the image quality of a high-definition camcorder. Its 1080i resolution produces very good quality video, and is complemented by 10x optical zoom and 5.1 surround sound audio recording. Thankfully, the TG3 is sold with a 4GB Memory Stick to get you started, which holds about 30 minutes of video at maximum resolution. We also like the little docking unit that is supplied with the TG3 for connecting it to your computer. Admittedly, it's not the most elegant camcorder we've ever seen, but its titanium casing is nice and solid, and should ensure that the TG3 can survive a few bumps and knocks when you carry it around in your pocket.
Reg Rating 85%
Price £600 Click to compare prices
More Info Sony Europe
Toshiba Camileo Pro HD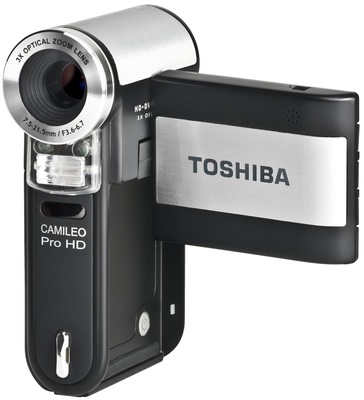 The Camileo Pro HD strikes a good balance between pocket-size portability, image quality and affordability. Priced at just under £140, it's also small enough to carry around in your pocket so that you can capture the action when you're out with friends. However, it has a much higher resolution than models such as the Creative Vado or Flip Ultra, capturing HD video at 720p.
It's also got a handy 3x optical zoom, and captures video in the H.264 format used by portable devices such as the iPod and PlayStation Portable. The only minor disappointment is that its 128MB of built-in memory will only store a few minutes of HD video, so you'll need to budget a bit extra to buy your own memory card.
Reg Rating 80%
Price £140 Click to compare prices
More Info Toshiba UK