Original URL: https://www.theregister.co.uk/2008/10/08/review_utility_components_amd_fusion_for_gaming/
AMD Fusion for Gaming
Fusion debuts... as a software system speed booster
Posted in The Channel, 8th October 2008 11:02 GMT
Review AMD has been talking about its Fusion technology, which will combine the CPU and GPU in a single unit, for some time now. It's not due until next year, so we were taken aback when the first incarnation of Fusion turned out to be software, not silicon.
It looks as though AMD has taken a leaf out of Google's book as AMD Fusion For Gaming is a Beta version at Release Candidate 1, so the usual caveat, that this is software still under development, applies. You can get the 20MB download here.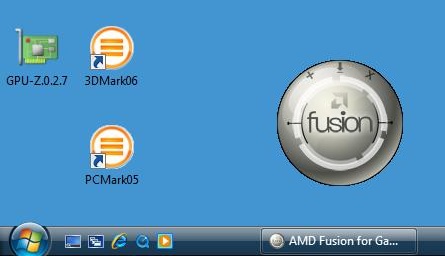 AMD Fusion For Gaming: on the desktop
The idea is that FFG increases the performance of your Windows PC by automating a number of tasks that you could perform manually. So, it doesn't do anything new, just saves you time. By default the software runs in Basic Mode so you simply click on the silver button to turn it on and AMD Boost shuts down a short list of applications, including your browser and Windows Updates, to get your PC ready for gaming.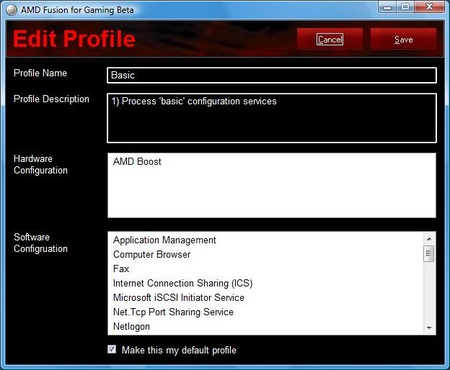 Basic mode
It's a very nice idea, but does it actually work?
This is undeniably convenient but it made no measurable difference to the performance of our test PC which was built on an MSI DKA790GX motherboard with a Phenom X4 9850 processor and 2GB of 1066MHz DDR 2, all running Windows Vista Ultimate Edition. We understand that the Fusion utility will also run on Windows XP.
3DMark06 Results - CPU at 2.5GHz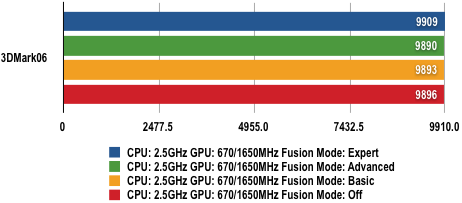 Longer bars are better
If you fancy a more aggressive approach, you can switch to Advanced mode and then select either the Advanced profile, which works in much the same way as Basic mode except it shuts down a longer list of applications, such as Cryptographic Services. These modes may cause some concern as Fusion will, for instance, shut down your firewall however you can edit any of the profiles to dictate how it works.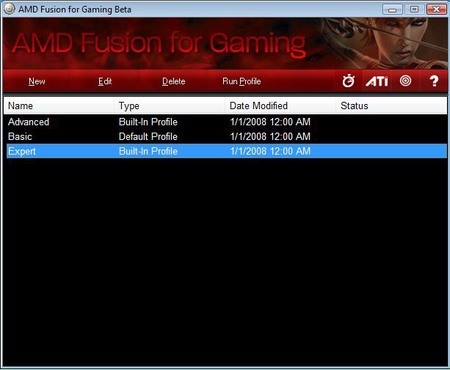 Advanced mode
When you finish a gaming session you click the Fusion button to restart all of your software with the minimum of fuss.
3DMark06 Results - CPU overclocked to 3GHz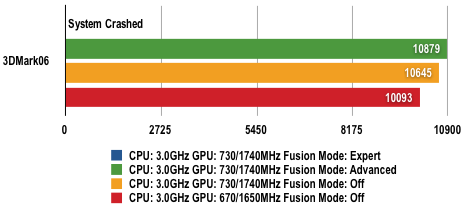 Longer bars are better
The third mode is Expert and this is where things get interesting as Fusion runs AMD Boost and also kicks AMD OverDrive, ATI Catalyst Auto-Tune and Hard Drive Acceleration into life. Despite the dramatic capitalisation, Hard Drive Acceleration is nothing more than hard drive cacheing, which is an option in System properties.
You need to have Overdrive installed on your PC, which in turn means that you need an AMD CPU, chipset and graphics card, and goes hand-in-hand with AMD's Catalyst drivers. There's no obvious reason why AMD Boost should require a specific make of CPU as it works with the OS, but AMD has clearly decided that its software will only work with its chips. Ironically, we found that Fusion worked correctly with the Phenom X4 9850 but refused to start when we installed an Athlon X2 4850e.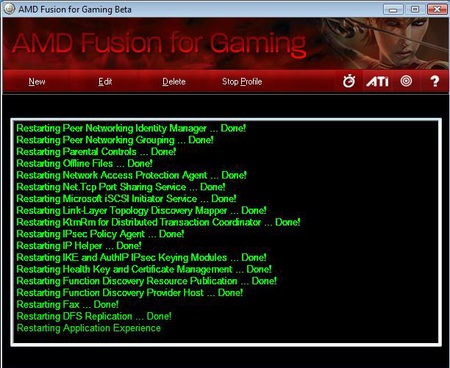 Finished gaming, your apps restart
The Expert profile not only shuts down superfluous software but also overclocks the CPU, chipset, graphics and speeds hard drive access but the difference that we saw in performance was absolutely negligible.
As the process is dynamic, we can't be sure what FFG is doing to the clock speeds but we achieved far greater results by raising the CPU speed in OverDrive and then cranking up the graphics core and memory in Catalyst. In other words, the manual approach worked like a dream but it took a certain amount of work.
The big problem is that many of the apps FFG shuts down make such a small impact on your system - they pop up, grab a couple of CPU cycles of the 2,500,000 available each second, then go back to sleep - that they simply don't impede performance.
No doubt there is scope for Fusion to change before it comes out of Beta to work on the overclocking side of things, but for now this so-called utility appears entirely useless. We hope it's not a sign of what we can expect from the real Fusion.
Verdict
We like the idea of a one-click application that gets your PC ready for gaming but as things stand there's room for improvement. Lots of room...