Original URL: https://www.theregister.co.uk/2008/10/08/hp_tandberg_videoconference_reselling/
HP and Tandberg trumpet lifesize video conferencing
Save those air miles
Posted in The Channel, 8th October 2008 14:09 GMT
Video conferencing suppliers HP and Tandberg have got together to provide a one-stop video-conferencing shop.
They call it Telepresence. This odd term refers to the large screen for a video-transmitting IP network, and all the cameras, microphones, video servers and gateways needed for the task - that of presenting high-quality and life-sized images of people to each other in distant rooms with zero or minimal delay as they react to whatever they say and do. Expensive and complicated gear, networks and software are necessary to run such large images with minimal delay.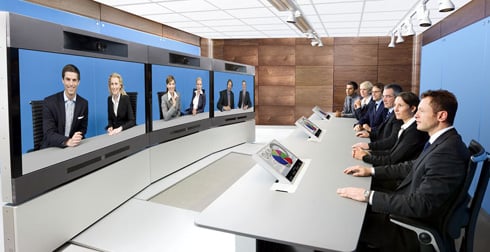 Tandberg telepresence video-conference. It's like sitting down at a long dinner table.
The idea is to save on travel costs and to help people in dispersed teams work better together. Rising oil prices and tales of airline travel woes have proved to be powerful inducers of telepresence sales.
The major suppliers are Cisco, HP, Polycom and Tandberg. In 2007 Tandberg reckoned it was the market leader with revenues of $630.5m. However, although it has lots of end-point, video server and gateway equipment, it doesn't have a network. HP does - HVEN - the Halo Video Exchange Network, a global OC-class, fibre optic network, which it presents as part of its Halo Video Collaboration Services. (It's video conferencing network heaven if you say it the right way.)
HP and Tandberg have extended an existing reseller agreement so that both will sell HP's Halo Video Collaboration Service as a managed service offering (MSO) with support for Tandberg's full video conferencing product range. This includes its Experia telepresence room system and MSE 8000 Gateway, which supports IBM SameTime and Microsoft Office Communications Server 2007. Tandberg gateway products also offer a bridge from HVEN to other video conferencing networks using standards such as H.323.
The Halo managed service offering will be available in the first half of next year. HP will resell Tandberg's end-point and gateway gear and Tandberg will offer the HP MSO to its customers.
Notwithstanding this reseller deal HP will carry on developing and selling its own telepresence hardware. Perhaps it should change its strategy and buy Tandberg instead. ®