Original URL: https://www.theregister.co.uk/2008/10/07/review_bluetooth_car_kit_lg_hfb_500_solar/
LG HFB-500 solar-powered Bluetooth car kit
Here comes the sun... at last
Posted in Personal Tech, 7th October 2008 11:02 GMT
Review If your job involves making a lot of phone calls in cars, or you just like to be available when you're on the move, a Bluetooth headset or an easy-fit car kit is the best option.
The main problems with these, however, are that the battery tends to run down at crucial moments, and you need to plug it into your cigarette lighter, creating unsightly dangling wires around the driving area.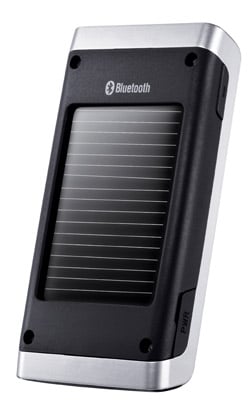 LG's HFB-500: minimalist in the extreme
LG thinks it's come up with a solution to both of these ills with a clip-on car kit that connects to your phone wirelessly over Bluetooth and charges itself with sunlight.
The HFB-500 is a compact block measuring 94 x 50 x 14mm and weighing a fairly lightweight 72g. It's minimalist in the extreme with just a single, red multi-function button on the front, and volume up and down buttons, one on each side. There's a silver strip running around the sides, which adds just a little bit of panache, and most of the back is taken up with the solar panel, which is discreetly dark with white stripes. It comes with a clear plastic clip, allowing it to be stuck to your windscreen or dashboard.
The clear plastic is a nice idea: you can remove the speaker when you leave the car and you can probably get away with leaving the clip in place – it's not that easy for larcenous eyes to spot. And if you're really paranoid, it uses suction cups to stay put, so you can easily whip it off and stash the whole thing in the glove compartment or even carry it around as a portable speakerphone if your handset's built-in speaker isn't up to the job.
On the other side of the box is the speaker itself along with the microphone, both hidden behind a grille. Undemonstrative and surprisingly subtle, it nevertheless produces a decent volume level. The side-mounted volume buttons can be easily pressed while driving.
To switch the unit on, you press and hold the red button then search for device using the Bluetooth settings on your phone. Once you've paired the two gadgets - the HFB-500 can remember two phones - they should immediately hook up, though we found that more often than not we had to search and pair each time we got in the car. Not a disaster, but not as smooth a process as LG would no doubt prefer.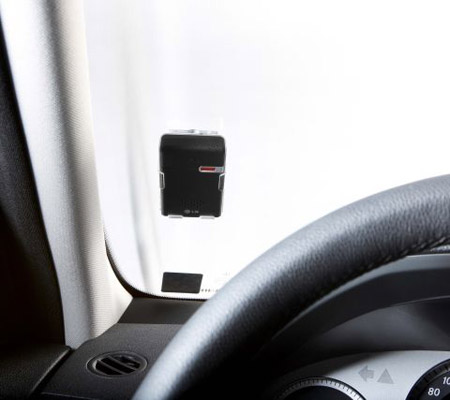 A clear plastic clip enables it to be stuck to your windscreen or dashboard
The sound is slightly on the shrill side, but not distressingly so, and this at least has the advantage of allowing the voice to cut through traffic and car noise in a way that a fuller, more rounded and naturalistic sound probably wouldn't. We found that we got used to it, but perhaps not everyone will.
At the other end of conversations, things weren't quite so rosy, with callers reporting that we sounded distant and with an echo, though they generally had no trouble making out what we were saying.
The red button doubles up as virtually all the controls, which is a nicely minimalist approach, but it does take a bit of getting used to. A brief press gets you into voice-dialing mode, but holding it for a fraction of a second longer activates last-call redial. Happily, any mistakes are quickly rectified with another press to cancel the function. There's also an option to mute the call - a one-second press on the volume-down button - in case you need to have a private word with your passenger while you're driving.
This worked each time we tried it, and there's a beep to show it's activated – reassuring in case you're saying something you really don't want your caller to hear. We found the sound worked best for us with the speaker placed on the top right-hand corner of the windscreen, just above our satnav.
LG claims two hours of sunlight will get you an hour's talk time, which doesn't seem great, until you remember that it remains pretty much fully charged in direct sunlight, and the charge appears to remain even in cloudy conditions. During a fortnight's regular use in autumnal London Town, we had no problems, and when we shut it away in a cupboard for a weekend, it started up on Monday morning without a hitch.
If you plan to keep your car a garage all day and drive all night, there's a charging cable, offering up to 16 hours at full charge. If you've got an LG handset, you can also use the HFB-500 as an emergency battery charger thanks to the supplied power cable.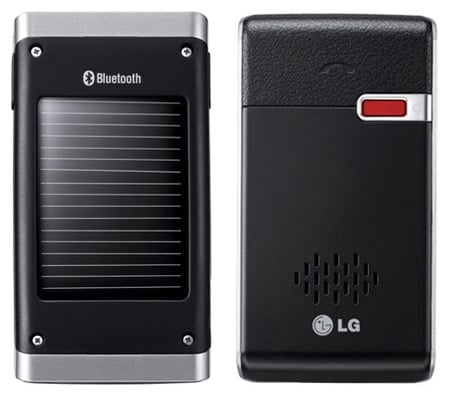 The speaker produces a decent volume
Parking in a garage without the cable during the day will of course limit the battery life since the solar panel won't be getting enough juice. But if you get into the habit of taking it out and leaving it by a window, we wouldn't anticipate any problems.
When it worked, the HFB-500 was absolutely fine, and the fact that we didn't have to worry about plugging it in or charging was a real bonus. Using sunlight instead of the mains to charge the device is an environmentally friendly option, though of course you'd reduce your carbon footprint a lot more by not driving, but every little helps, right?
Verdict
A nice, neat, cheapish hands-free option if you're averse to wires or headsets. The solar panel means it's pretty much always ready to go and it's only let down by it's slightly temperamental approach to automatic Bluetooth pairing.