Original URL: https://www.theregister.co.uk/2008/10/07/ford_mykey/
Hi-tech keys make for safer Fords
'Won't somebody please think of the children'
Posted in Science, 7th October 2008 14:21 GMT
Ford has developed a smart key that, it claims, will help remind teenage tearaways to buckle up behind the wheel and stop them from speeding.
MyKey is a key that can be programmed by parents to control what their offspring can do in the family car. For example, the key could be set to limit the car's top speed to 80, to activate the car's traction control system and to limit the stereo to 30 per cent of its maximum volume.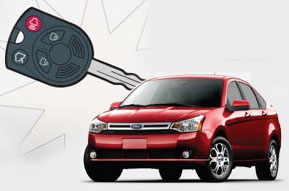 Ford's MyKey: like having a nagging parent wherever you drive
According to Ford, a parent's preferences are stored on a chip inside the key. When the key's inserted into the car's ignition, the chip is read and the car automatically adjusts its set-up accordingly.
Mum and Dad can also set the car to bleep loudly until the young driver puts his or her seatbelt on. The key can also ensure that a low-fuel warning flashes up on the dashboard a little earlier than normal, say at 75 miles to empty, rather than 50 miles.
Ford had some research conducted into customers' perceptions of MyKey and found that 75 per cent of parents with teenage drivers liked the idea of being able to limit their kid's speed, whereas 72 per cent advocated the seatbelt reminder function.
Unsurprisingly, 67 per cent of the teens polled said they wouldn't want MyKey's features used on them.
Ford will add MyKey to a number of new car lines in the US next year.