Original URL: http://www.theregister.co.uk/2008/10/07/detica_interception_modernisation/
Spy chiefs plot £12bn IT spree for comms überdatabase
Black boxes to keep Black's firm in the black
Posted in Government, 7th October 2008 10:15 GMT
Billions of pounds of public money will soon be up for grabs for private IT contractors ready to serve the Interception Modernisation Programme - UK spy chiefs' plan to store details of every call, email, text and web browsing session.
And The Register has learned that one plugged-in firm is better poised than most to profit.
The ongoing push in Whitehall to establish a central database of all UK communications data went mainstream this weekend, with eerily similar reports surfacing in The Sunday Times, Sunday Telegraph and Scotland on Sunday. Most of the news was uncovered by El Reg two weeks ago, although it now seems insiders are willing to put a figure on the cost of the project: £12bn.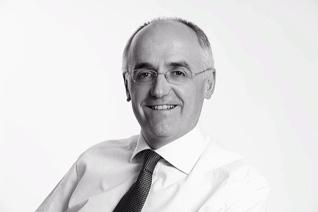 Tom Black, Detica CEO
That price tag would have the Interception Modernisation Programme (IMP) - as MI6 and GCHQ envisage it - vying for the dubious honour of most expensive IT project in UK history. Its only challenger would be the oft-troubled NHS National Programme for IT (NPfIT), which the National Audit Office said in 2006 is set to run to £12.4bn.
It's sobering to bear in mind that the original cost for NPfIT touted by ministers was just £2.3bn. Reg sources say Treasury officials are already extremely concerned about how massive a hole an overbudget IMP could blow in spending plans.
Such fiscal collywobbles are of course unlikely to dampen the enthusiasm that the intelligence agencies' plans are being greeted with in the private sector. As we reported in August, a pilot project is in the works and funds were allocated last year. This weekend's reports reveal that the first probes at a fixed line telco/ISP and a mobile operator are backed by £1bn.
And in one of the very few public pronouncements on IMP, Home Office minister Lord West made it clear in July that contractors would benefit from the outset: "The private sector is likely to play a major role in this work [the feasibility pilot] and the programme will be conducting a competitive tender and entering commercial negotiations to commission its services".
Detica will very likely be among the first to profit from the IMP bonanza. Based in Guildford, it might warrant the title of The Most Important IT Company Most People Have Never Heard Of. According to sources with knowledge of systems that have long allowed GCHQ to eavesdrop on phone calls, Detica owns and operates the current "black box" infrastructure under contracts funded by the secret intelligence budget.
In contrast to that arrangement, the proposed central communications database would not target the content of calls, emails, texts and other communications; rather, MI6 and GCHQ want to retain the powerful, searchable data detailing who contacted whom. Trust trumps everything in this field, and Detica is a shoo-in to deploy and operate new probes that will be needed in all the major fixed line and mobile communications operators.
Detica's representatives declined to discuss IMP.
BAE Systems and the friends of Detica
The obscurity of Detica's key role in UK intelligence is natural, and teasingly celebrated on the front page of its most recent annual report with the tagline, "more to us than meets the eye". Its UK government business, which accounts for more than half of Detica's total revenues, grew by 20 per cent to £103.3m in its most recent financial year. While some of this figure is derived from relatively transparent dealings with the Metropolitan Police, Department for Transport and others, the majority comes from covert interception work. The government's surveillance watchdog reported in July that demand for wiretaps rocketed in 2007 by almost 50 per cent.
The firm is certainly feeling bullish about its UK government business. It told investors:
Looking forward, our UK government business is well positioned to benefit from the Government's continued focus on intelligence, security and resilience as as described in the National Security Strategy, published in March 2008, and the Comprehensive Spending Review, published in October 2007 which confirmed spending increases in a number of our core clients, with a particular emphasis on increased technology spending...

We expect ongoing strong growth in this sector underpinned not only by the strong order book as we enter the new financial year, but also a healthy pipeline.
Our sources said the 2007 Comprehensive Spending Review allocated the £1bn that will bankroll the first stage of IMP, via the opaque intelligence budget. Detica won't get all or even the majority of the cash, which will also pay for secure means of warehousing data, and analysis operations during trials. As an indicator of future performance, however, it would indeed suggest a "healthy pipeline" for Detica's black boxes.
Detica's prime position to capitalise on UK intelligence's alleged data defecit may have gone unnoticed in the media, but some well-connected people appear to have spotted the opportunity long ago. BAE Systems tabled a successful £538m bid to acquire it last July, even as the Comprehensive Spending Review was being drafted.
Detica's chief executive Tom Black reportedly trousered about £25m in the deal. Black is a company lifer, having joined Detica in 1984 when it operated under the nothing-to-see-here moniker "Smith Associates" with 30 staff. He went on to lead a management buyout in 1997 and then a stock market flotation in 2002. Detica's board also includes ex-GW Bush administration homeland security advisor John Gordon (US expansion is a top priority).
The air in such circles is rare. Sir Stephen Lander sat alongside Tom Black as non-executive director of StreamShield, a subsidiary Detica foray into content control by ISPs, which launched in 2004. That followed a spell as head of MI5 between 1996 and 2002, and he is currently chairman of the Serious and Organised Crime Agency (SOCA). And as we reported late in September, SOCA is the agency leading early procurement procedures for IMP on behalf of the intelligence services.
Official word on IMP is due with the introduction of the Communications Data Bill. Our sources maintain that although ministers have approved early work, a mandate for the full blown central database will be dropped from legislation because of fear of political rebellion. The Conservatives have so far restricted themselves to calling for more debate. ®