Original URL: https://www.theregister.co.uk/2008/10/07/carbon_diem/
World's first auto carbon calculator
Feel guilty for every journey you make
Posted in Personal Tech, 7th October 2008 15:37 GMT
Calculating your daily environmental impact isn't easy. So, a former student's designed what he claims is the world's first automated carbon calculator.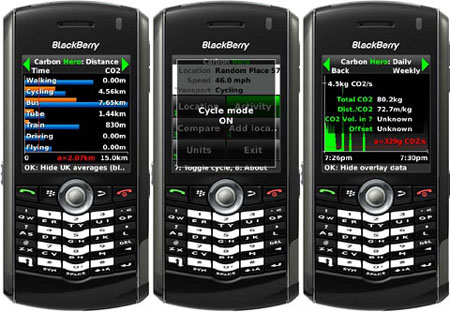 Carbon Diem works with GPS-enabled phones
Carbon Diem only works with GPS-enabled phones because it requires the location technology to feed information about the user's speed and pattern of movement – or at least the phone's – back to it.
The software then calculates which form of transport the user's travelling by, based on the GPS-determined speeds, and displays what the associated environmental impact will be.
For example, if the software works out that the user's moving less than 15mph then it might decide that he or she's cycling and record a zero CO2 emission for that journey.
How it decides you're not simply stuck in traffic, burning fuel, isn't entirely clear. Presumably, it works on the basis that if you've been travelling at speed and suddenly you're not, you're likely to be still in the car. Unless you've climbed out, of course.
The software doesn't require any input from the user and because it's able to run continuously, the user can track their eco-travel habits over a prolonged period of time and, ideally, learn to develop more environmentally friendly ways of getting from A to B.
Inventor Andreas Zachariah, a graduate student of the Royal College of Art in London, told The Guardian that when he tested Carbon Diem on Nokia and Blackberry devices, the software was almost 100 per cent accurate at determining when people were in aircraft or on trains. But he admitted that it was only between 65 and 75 per cent accurate at guessing when people travelled by bus.
Carbon Diem will be launched commercially in spring next year.