Original URL: https://www.theregister.co.uk/2008/10/06/berlin_gets_next_gen_e_smart/
Berlin drivers first to trial next-gen electric Smart
Posted in Science, 6th October 2008 12:12 GMT
'Leccy Tech Smart has shown off the latest version of its 'leccy ForTwo - dubbed the ED, for 'electric drive' - at the Paris Motor Show.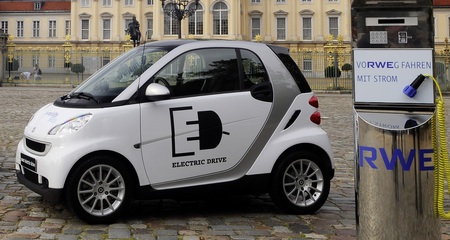 Smart's ForTwo ED: li-ion version Berlin bound
The new FourTwo ED packs the flavour-of-the-month battery technology, lithium-ion, though Smart didn't detail what a difference it makes over the old-style battery it built into first-gen ED, which was field-tested in London a couple of years ago.
Berlin looks set to get first of the new EDs as part of an e-mobility initiative that'll see German electricity company RWE install 500 charging points throughout the city. A hundred EDs have been made for the trial.
Dieter Zetsche, Smart parent Daimler's chairman, has said that the company hopes to have a thousand EDs quietly touring the streets of the world's biggest cities by the end of 2009. At which point, Smart will hopefully have sufficient feedback to feel comfortable putting the ForTwo ED into production.