Original URL: https://www.theregister.co.uk/2008/10/04/review_mobile_phone_lg_ks360/
LG KS360 Qwerty keyboard phone
Light on the latest must-have mobile features?
Posted in Personal Tech, 4th October 2008 08:02 GMT
Review Normally you'd suspect any handset with a slide out Qwerty keyboard and touchscreen functionality of having smartphone aspirations. But not so the LG KS360.
This is a handset designed to appeal squarely to younger mobile buyers looking for messaging and social networking on the move. It has a budget price tag to match, selling for less than £80 in Orange pre-pay packages.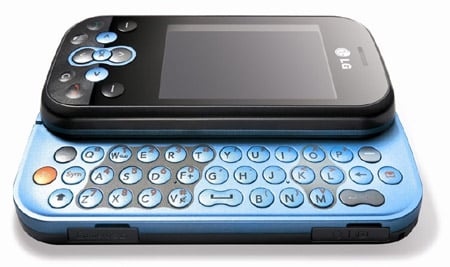 LG's KS360: sliding sideways
The KS360 looks to all intents and purposes like a regular, if slightly chunky, sliderphone. But rather than having a slide-down numberpad, the KS360's screen moves sideways to reveal said Qwerty keyboard. When the numberpad slips out, the screen automatically switches orientation to typing-friendly landscape mode.
That screen does have some touch capability, but it's far from being an iPhone rival. In fact, somewhat curiously, it works for just one particular feature: number dialing, using a virtual numberpad that appears when the phone's slider is closed.
So the Qwerty keyboard is central to the KS360's appeal. The phone is geared up for messaging, with easy to use email and instant messaging apps, as well as regular texting and MMS.
It's also set up for quick access to social networking sites like Facebook, Bebo and MySpace, although what you can get will depend on what sites your mobile network operator allows. Our Orange-locked sample provided additional links to YouTube, Flickr and Dating Direct from the Orange social networking page.

Only Edge, not 3G
The KS360 relies on standard GSM, GPRS and Edge for connectivity rather than 3G, so speed is limited. There's a camera on board, though this is a basic two-megapixel snapper, without a flash.
LG tries to pull a few design strokes to give this phone a fresher, stand-out feel. Eye-catching paint jobs are one way – the KS360 is available in various striking colour combinations, among them black with blue, red, pink or silver keyboards and trim.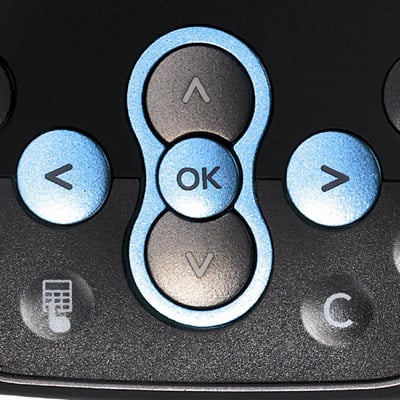 No navpad, just separate keys
Another is the buttonry. Instead of a regular navpad, LG has deployed rounded directional buttons around a central OK key. These smoothly edged buttons are raised just enough off the surface to make them fine to press, though the OK button is a bit too cramped for comfort in between the up and down buttons.
Conventionally laid out soft-menu keys and moulded surface call/end buttons are joined by a oddly marked 'pointing finger' key. Tap this and the touchscreen numberpad pops up. This looks smart on-screen, and numbers are comfortably large for trouble-free pressing. There's even haptic feedback to confirm your digital dabbing. The display itself is a 2.4in, 240 x 320 screen - a good size for a handset at this price point, touchscreen or not.
It's a shame, though, that the touchscreen's not utilised for menu scrolling or applications. It would be handier than using the slide-out keyboard any time you want to press numbered menu options rather than scrolling down list, for instance.
Away from the tantalising but restricted touchscreen, the keyboard is naturally where attention focuses. Of course, it adds to the bulk of the phone – the KS360's overall dimensions are an un-waiflike 101.5 x 51 x 16.8mm and it weighs 111.5g.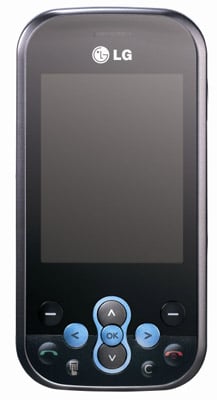 An under-utilised touchscreen
The 35-button keyboard is compact but slides out solidly and smoothly. Buttons are understandably pretty small. Like the front controls, they're rounded and slightly raised above the surface, and there's just about enough daylight between them to make thumb typing viable.
It's not a top-drawer mobile keyboard experience, but it's reasonably effective once you get familiar with the keyboard configuration and button size. You need to be careful as you tap away, though, as it's easy to stray onto adjacent buttons if you type too quickly.
Button labelling could be better too. We found the colour scheme on our sample - blue letters on red - didn't show up letters particularly clearly in dull lighting conditions, despite backlighting, making it trickier to tap at speed. So you won't be able to type as quickly as you might on a regular keyboard. But then the KS360 is designed more for regularly banging out messages rather than serious keyboard-work.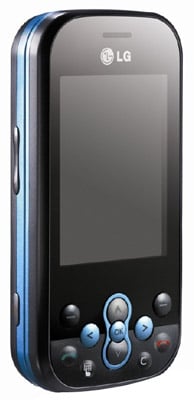 There's haptic feedback to confirm your digital dabbing
Pulling up the phone's main menu system, you get a familiar icon grid of functions, numbered for quick selection if you've engaged the slider keyboard. Selecting options pulls up further sub-menus you can scroll through – although you can also tab back and forwards through menu options using the forward and back navigation keys.
Various options are on-hand within the messaging menu, which pulls together instant messaging, email, and regular text and multimedia messages. You can see threaded messages too, so you can follow conversations.
On the Orange Signature version of the KS360 we tested, the Orange Messenger Windows Live-based service is pre-configured, so you can start chatting quickly. Orange Email is set up too, although you can add your own settings for regular POP and IMAP email accounts.
Although the KS360 majors on messaging and social networking, LG does include a line-up of typical mid-range phone features, including standard-issue music and video players. The music player is fairly basic stuff, with a functional, unsophisticated user interface.
The Orange-branded version is set-up to browse and buy tracks from the Orange Music Store. There's 15MB of internal storage, but Micro SD cards of up to 4GB are supported too. Music category choices are unusually basic, though, so selecting tracks is clunkier than on most music mobiles.
An FM radio is built in - the supplied earphones have to be plugged in for it to work. These are limited, and with no 3.5mm socket on the phone - it's a multi-purpose USB/charger/earphone connector - the audio performance is average. Stereo Bluetooth headphones can be used for wirefree listening, and there's a loudspeaker too, which is loud but not great quality.
The KS360's two-megapixel camera is one of LG's lower-level shooters. It's a simple-to-use affair, with a side-mounted camera button that switches the screen into landscape viewfinder mode. Unusually, the snapper button is on the left and zoom/volume controls are on the right when framing shots, while all button pressing for selecting options is left-hand work - sinistral users will appreciate the novelty.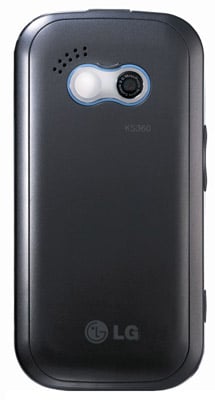 The 2Mp snapper is one of LG's lower-level shooters
With no autofocus system or flash, and a limited resolution, the KS360's camera isn't not geared up to take great shots. It's capable of taking casual snaps but colour quality and detail aren't great – tones can be vibrant, but the auto metering system can also give colour casts to images. Contrast isn't good either, even in straightforward outdoors lighting, while indoor shooting quality is poor.
There are the usual cameraphone standard adjustments and effects to hand, and a facility to upload and back up shots on Orange's network. But really, the KS360's shooting abilities aren't its strong suit. Video shooting, at average QVGA (320 x 480 pixels) resolution, is nothing to text home about either.
Completing the features run down is a basic Wap 2.0 browser, plus a typical selection of organiser functions and tools: calendar, alarm, memo, voice memo, calculator, stopwatch, unit convertor and world clock. There's a selection of Java games and demos – all standard stuff.
The call performance of the KS360 is perfectly acceptable. Audio is clear and loud, and we had no issues with the handset. Battery life is pretty good too, provided you don't spend too much time downloading or uploading content. LG claims it will provide up to five hours' talktime or run for 444 hours on stand-by. We managed just over three days between charges with average usage.
Verdict
With its Qwerty keyboard and limited touchscreen, the KS630 is designed to tap into a niche audience who'll be attracted by the messaging convenience of a Qwerty keyboard rather than a mobile phone numberpad. While there's certainly no shortage of much better-equipped high-end keyboard-packing phones around, the KS360 delivers its messaging message at an affordable, low-end price.