Original URL: https://www.theregister.co.uk/2008/10/03/review_laptop_dell_latitude_e6400/
Dell Latitude E6400 14in business laptop
Dredd-ful new design?
Posted in Personal Tech, 3rd October 2008 11:02 GMT
Review Dell supplied us with a Latitude E6400 set up for German use. Appropriate given the laptop's design that seems Teutonic in its slab-like seriousness. The other word it brings to mind is "ThinkPad".
Let's have a quick look along the Latitude's straight lines and angles, all free from the fripperies of curves. Like the IBM ThinkPads of old, the E6400 looks like it means business. Black clad and no-nonsense, this is truly the Judge Dredd of laptops.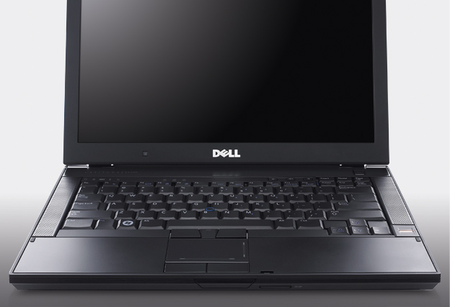 Dell's Latitude E6400: Judge Dredd's ThinkPad
The left side is home to a VGA port, two USB 2.0 ports - one of which doubles up as an eSATA connector - and, toward the front, a smart-card slot. The cooling vent's in the middle and slopes back from the top, just as the optical drive does round the other side.
Next to the multi-format DVD burner, you'll find a four-pin Firewire port, a PC Card slot, a switch for the wireless sub-system, audio sockets and two more USB ports.
Like the sides, the front slopes away from the wrist-rest edge and is home to a five-in-one memory card slot. The battery's at the back - clad in grey to stand out from all the black - in between Gigabit Ethernet and DisplayPort connectors.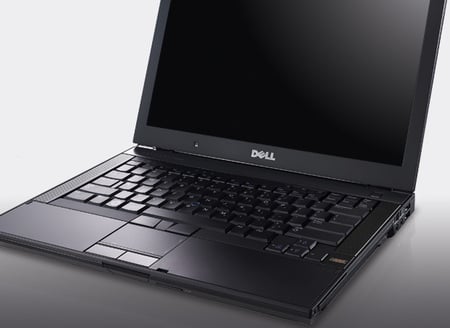 Harsh and angular
Open the E6400's lid and you're presented with the 14.1in screen. There's a webcam in the bezel above it - below the screen sits the ambient light sensor that can be used to adjust the display's brightness in harmony with the lighting conditions you're in.
The Latitude's work surface is no less busy than the rest of the machine. The keys fit comfortably between a pair of MacBook Pro-style speaker grilles at the sides; three volume keys and a bar of blue status lights above; and, below it, three thumbable keys that go with the joystick control.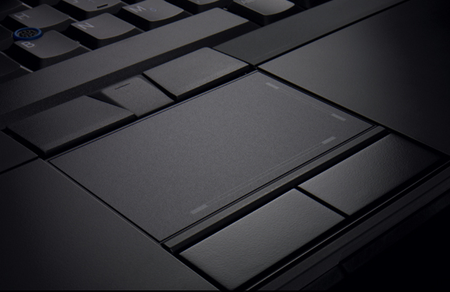 Three-button trackpad - and a joystick
Don't like joysticks? There's a trackpad too, complete with left and right keys and scroll zones. Tucked below the right speaker grille is a fingerprint reader, security fans, and there's a contactless smart-card reader built into the right wrist-rest area.
Back to the keyboard, and while it's not particularly offensive, we weren't keen on the smooth surface of the keys. The travel's good, but the keyboard as a whole does flex, which we don't like at all.
That said, a plus point is the keyboard backlight. We love this MacBook Pro feature, and it's really good to see it make its way at last into the PC world. Anyone who uses their notebook in a darkened lecture hall, or in generally dim lighting conditions, will appreciate this. The only flaw: the light's on or off - you can't adjust its brightness.
Despite the forbidding, old-stoney-face styling, we have to say the E6400 doesn't look bad. This is no bland business box. The body of the machine has a solid, rugged feel - only the wrist-rest area rings hollow when tapped.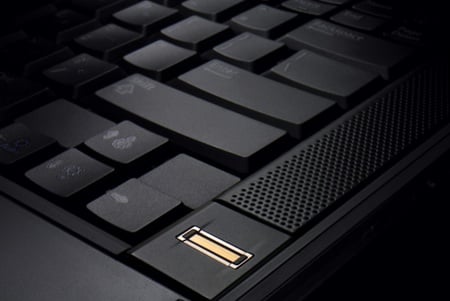 Fingerprint protection
The screen hinges latch onto the display from the back and are fairly stiff so you're as likely to steer the laptop toward you as close the screen if you pull it from the top. Unlike the lower half of the laptop, the lid lacks rigidity. It doesn't bend like the Toshiba Portégé R500's does, but it's thin and has a plasticky feel that's at odds with the solid feel of the keyboard section.
The lower half will clearly take some knocks - but we're not sure the screen will.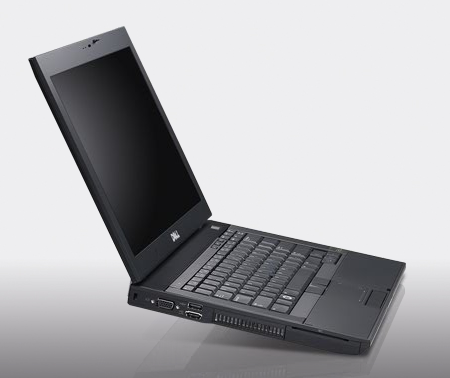 Ports to left...
Our unit came with Dell's 1440 x 900 LED-backlit display, though it also offers a cheaper, 1280 x 800 non-LED job. We can't address that panel's quality, but we quite liked the higher resolution one, though with the default, dark desktop wallpaper, it did look a trifle gloomy at first, and it doesn't go as bright as other LED-backlit panels we've seen.
The E6400 weighs in at just under 2kg, and doesn't feel too much of an encumbrance. Its other dimensions are 335 x 238 x 31mm. It feels large for a 14in machine, though it's no bigger than the 14.1in Sony Vaio C2 we have sitting next to it at the moment. But then the Sony has those consumer-friendly curves, so clearly all those straight lines and right angles make the Dell not only seem serious but large too.
Prices start at £549 exc. VAT, rising to £774 for the model we reviewed and beyond as you run through the many spec options. The test unit came equipped with a Core 2 Duo P8400 processor clocked to 2.26GHz, 2GB of DDR 2 memory and a 160GB hard drive. It also comes with 802.11n Wi-Fi - 802.11b/g is an option, either Dell's unit or Intel's - and Bluetooth on board.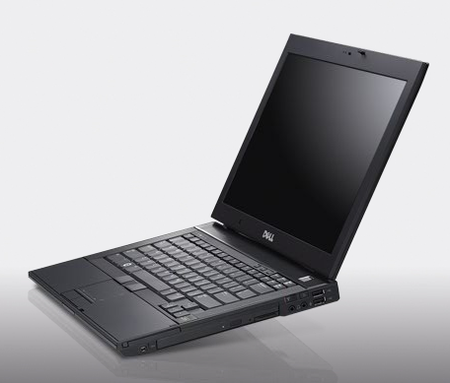 ...ports to the right
There's a similar array of operating systems available, running through the range of 32-bit and 64-bit Vistas. Ours had 32-bit Vista Business Edition, which scores the E6400 with an Experience Rating of 3.8, derived from CPU, memory, desktop graphics, 3D graphics and HDD scores of 5.2, 5.9, 4.1, 3.8 and 5.2, respectively.
Almost all E6400 configurations use Intel's integrated GMA 4500 HD graphics core, though an Nvidia Quadro is available on build-to-order if you feel you need more graphical welly.
E6400 3DMark06 Results

Longer bars are better
As the E6400's 3DMark06 scores show, it's no graphics powerhouse, but then this isn't the kind of machine someone who demands the peak of GPU performance is likely to buy in any case. It's no gamer's machine, then, but it does provide decent all-round graphical horsepower that's fine for 90 per cent of the tasks to which a laptop's likely to be put.
E6400 PCMark05 Results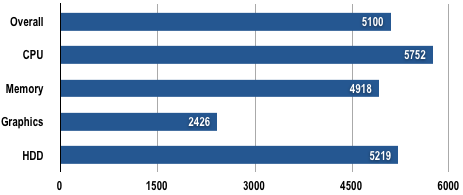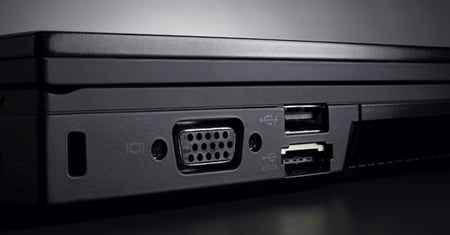 eSata supported through a combo-USB port
Ditto the processor's performance, which yields results exactly what you'd expect from one of the lower-end of latest 'Penryn' 45nm mobile Core 2 Duo CPUs. Again, decent performance for office and internet apps, with plenty of extra to draw up if you need to fire up Photoshop or somesuch. If you think you'll need more, it's easy to spec up a faster CPU, up to the limits of your budget.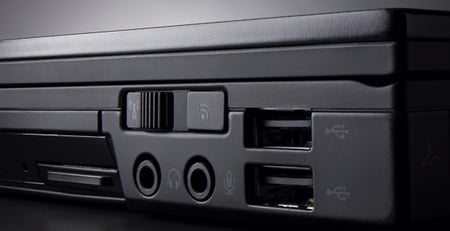 Plenty of ports
That said, performance isn't really what the Centrino 2 upgrade's all about - it's more concerned with delivering a small performance boost while extending the battery life. But alas there's nothing special to report on that point. We ran out customary test - keep PCMark05 on the go until the battery is drained - got just over two-and-a-half hours out of it. That's equivalent, in our experience, to over five hours' real-world usage. Not bad, but not exactly amazing, either.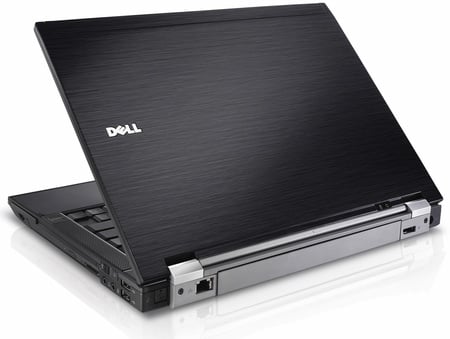 Tough enough?
Still, it's a solid base on which to build, and reducing the backlight level or using the ambient light sensor, and turning off one or both of the wireless radios, will push the effective run time well beyond that level.
Re-running test with the wireless disabled and a much lower screen brightness yielded three hours and 50 minutes using PCMark05, which is just shy of eight hours in real-world usage, maybe longer depending on your own usage pattern. Dell's claim that you can get ten hours out of looks possible.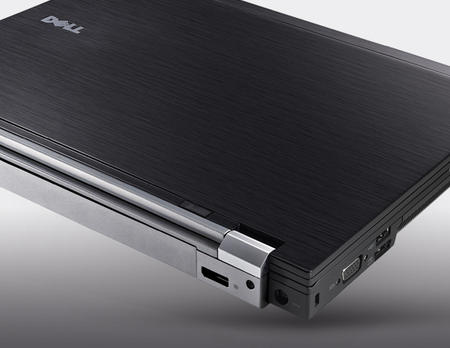 DisplayPort for digital monitor connections
Speaking of power, mention should be made of the E6400's 15mm-thick power slab. It's not particularly small, but being a lot flatter than most AC adaptors is at least easier to pack away. The ends are concave to make wrapping the output cable around it easier.
Verdict
With its angular black mittel-Europa executive styling - BMW rather than Lexus - the Latitude E6400 certainly looks the part of a serious business machine. It provides all the connectivity - network and peripheral - you could wish for and decent performance, all at a surprisingly middle-management price. An excellent machine - as long as you're not intimidated by the styling. It is the law.