Original URL: https://www.theregister.co.uk/2008/10/03/paypal_doormat_unwelcome/
Defrauded punter says 'catflaps' to PayPal marketing stunt
Unwelcome doormat gimmick slips up
Posted in Security, 3rd October 2008 06:02 GMT
A PayPal marketing gimmick has sparked the ire of an online merchant, who reports he was left out of pocket as a result of fraud involving the online payment service.
Ian Ferguson's firm was one of 2,000 UK recipients of a doormat bearing a jolly print of 'Unwelcome'. The mats were sent to would-be business clients as part of a marketing program designed to encourage them to offer PayPal as a payment option, and promoting the customer service of the eBay division.
"Ironically, I was defrauded on PayPal and received a flabbergasting lack of customer service or support - so sending it to me is a bit of an own goal," he said. "Suggesting that I would like to invite them to treat my customers like PayPal has treated me is just adding insult to injury."
Ferguson says he sold a mobile phone on eBay for £300, receiving payment through PayPal. After it emerged that the buyer had used a stolen credit card, the rightful account owner filed a charge back and Ferguson was left owing PayPal £300.
He admits that he might have done more to look for signs of fraud, but maintains that PayPal's lack of customer support or interest in dealing with the fraudster has left him with a downer on the firm - hence his decision to allow his cat to use the mat, in whatever way it sees fit.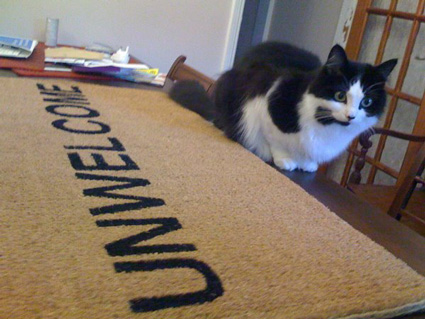 Ferguson has posted an extended and entertaining rant on his take on PayPal doormat marketing drive here. ®
Bootnote The marketing pitch accompanying the doormat promotion is printed on 50 per cent recycled paper, in a nod to green concerns. How the eBay division intends to offset the carbon footprint caused by shipping 2,000 doormats across the country is not recorded.