Original URL: https://www.theregister.co.uk/2008/10/03/leadtek_spurs_card/
Leadtek readies Cell-based video processing card
Will not turn your PC into a PS3
Posted in The Channel, 3rd October 2008 12:16 GMT
Graphics card maker Leadtek has demo'd an add-in card equipped with Toshiba's QuadCore HD graphics chip, the Cell-derived part also known as the SpursEngine SE1000.
It's been showing the single-slot PCI Express card, called the WinFast PxVC1100, at the CEATEC show in Japan. Leadtek's talking about the product as a video-processing tool, and focused its attention on the GPU's ability to encode and decode MPEG 2, along with MPEG 4 codecs H.264 and AVC.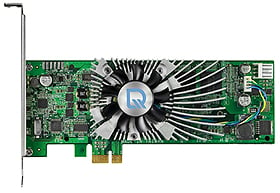 Leadtek's PxVC1100: solution seeks problem for mutual benefit
Most regular GPUs from AMD and Nvidia do that too, even the low-end ones, so it's hard to see why an enthusiast or a PC builder would install one of these, especially since they'll need a normal GPU for the 2D and 3D work anyway.
Even Toshiba's own QuadCore-equipped laptops use Nvidia graphics, suggesting the QuadCore HD chip is something of a solution seeking a problem.
The card has 128MB of Rambus XDR memory on board, though Leadtek didn't say at what frequency the QuadCore HD is set to run at.