Original URL: https://www.theregister.co.uk/2008/10/02/review_portable_dvd_player_philips_pet723/
Philips PET723 portable DVD player
Marriage twixt DVD player and digital photo frame
Posted in Personal Tech, 2nd October 2008 11:02 GMT
Review Combining a portable DVD player with a digital photo frames sounds like a neat idea. But the two aren't the best of bedfellows, especially when you equip them with a low-resolution screen.
The vast majority of portable DVD players sport a laptop-style clamshell chassis. With the PET723, Philips has abandoned this design. The display is instead placed direct on the front of the chassis, and slides up to reveal the optical drive - the idea being that you can use it as both as a portable DVD player and as a digital photo frame for your mantelpiece.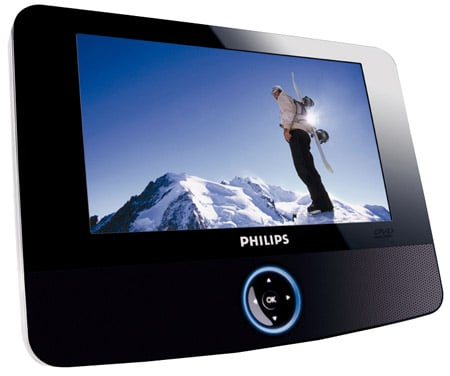 Philips' PET723: downscaling and stretching DVDs has undesirable consequences
First impressions are mixed. The PET723 looks stylish enough, with the 7in, 480 x 234 widescreen display dominating the all-black faceplate. But when you pick it up, the plastic chassis feels almost toy-like. A good old-fashioned volume wheel sits on the left side and is joined by an SD/MMC card slot, single headphone socket, AV output port and power hook-up. Menu and Setup buttons are placed on top, while the power switch sits alone on the right.
The list of on-board controls is completed by the four-way control pad just under the display and between two small speakers. The PET723 can kick out enough noise to fill a small room, but the cones are woefully tinny. If you want to hear any sort of bass you'll need to hook up a decent set of headphones.
The remote control is a slim yet incredibly ugly affair. Navigating the rather amateur-looking on-screen menu is painless, though, if only because there are so few options to play around with.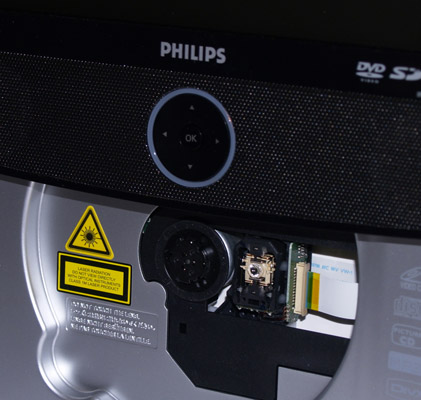 With a clunk, the display slides up to reveal the DVD drive
With a rattle and a clunk, the entire front of the player slides up to reveal the optical drive – or at least half of it. It might look impressive, but this design does create problems. First and foremost, sitting on the outside of the player, the display is extremely susceptible to damage, especially since it doesn't feature a protective layer – we were also a bit miffed not to find a carry-case in the box.
And, unlike clamshell players, it relies on a pull-out stand at the rear to stay upright when in use. Feeling worryingly flimsy, the slightest knock sends the player crashing down with a thump. The screen can only be sat at one angle – with clamshell players you can tilt the screen to the angle that best suits you.
The PET723 is no slouch, though, and gets a DVD up and running from cold in 18s, though fighting with the stubbornly stiff power switch can add to this. Skipping scenes is a similarly speedy process, taking just under 1s, and both fast forward and rewind speeds are available from x2 up to x32.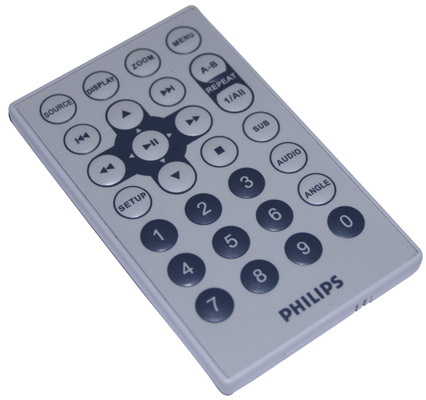 Slim but ugly, the remote control doesn't impress
Something that immediately struck us was the racket created by the drive. Crank the speakers up to a decent volume and the drive-noise will be drowned out, but the constant whirring will ruin a film's quieter moments or, if you're listening via headphones, irritate the heck out of anyone sat next to you.
Along with DVDs, the PET723 can handle MPEG 4 video and is DivX certified. Content can be loaded either from the SD card slot - SDHC cards are supported - or from CD-R/RW or DVD±R/RW discs. Photos will only be displayed if they're in JPEG format and, should you feel the urge to use the PET723 as an oversized music player, MP3 tracks encoded at up to 320Kb/s are accepted. All other audio formats are ignored.
It's also worth mentioning that the multi-region hack for the older Philips PET716, which is still readily available online, works just the same with this model.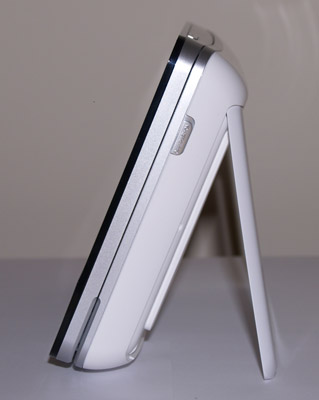 The slightest knock sends the player crashing down with a thump
If you've a keen eye for detail, our reference earlier to the PET723's resolution of just 480 x 234 will have already set alarm bells ringing. And, sure enough, downscaling DVDs and then stretching the picture onto the 7in screen has undesirable consequences: small text is almost unreadable and fine detail thrown out the window.
Get any closer than 30cm and you'll be hard pushed not to be distracted by this – it's difficult not to spend time picking out the individual pixels. Sit a little further back, though, and things look rosier. The resolution issues largely disappear, and the picture looks clear and sharp; fast-paced action scenes are dealt with well, and colours are vibrant without being garish.
You will, however, be left squinting to see all the action in dark scenes, while brightly-lit sequences tend to look a little washed out - fiddling with the brightness and contrast settings did little to help. We also noticed a small amount of backlight creep at the bottom of the screen – nothing detrimental, but it can be irritating at times.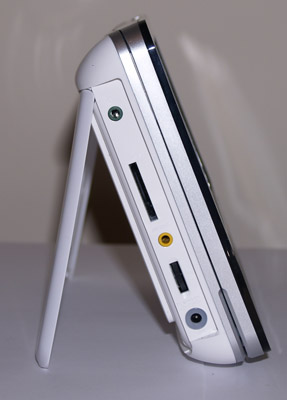 Snaps can be loaded via an SD card or CD/DVD, but there's no internal memory
As a digital photo frame, the PET723 is fine, just as long as you make sure your guests view from a reasonable distance. Get up close and the low resolution display absolutely murders your snaps. No less than 17 transitions help ease the boredom between shots, with a choice of intervals from five seconds right up to two hours.
Snaps can be loaded from an SD card or CD/DVD, but there's no internal memory. A small annoyance is that the power cable can be seen poking out from the side of the chassis - not great if you're planning to have it on show in the lounge.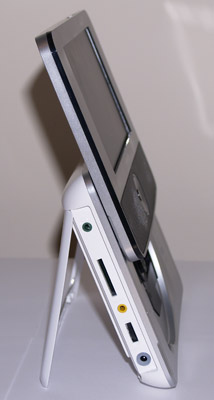 The drive makes a heck of a noise
At 800g, the player won't weigh you down too much when on the move, but with no battery level indicator you're left guessing whether or not a recharge is required before you head out. An unnecessarily large warning icon merrily flashes away when battery level reaches critical, so your last ten minutes of viewing pleasure will be all but ruined.
It wouldn't be so bad if the PET723 could muster up the strength for a decent trip away from the mains, but with a fully-juiced battery we only got one hour 50 minutes into Casino Royale before the player decided enough was enough. You'll be able to improve on this if you're watching a movie from an SD card, but we were hoping for more. And, since the battery isn't removable, you can't simply take a second power pack around with you.
An effective anti-shock feature is present, making in-car viewing possible, and Philips helpfully includes a 12V car adaptor along with the standard mains lead.
Thanks to decent horizontal viewing angles, group viewing sessions aren't a problem but, as ever, vertical viewing angles aren't so hot – place it above eye level and the screen loses all clarity, meaning it's next to useless as a photo frame if you put it on a high shelf.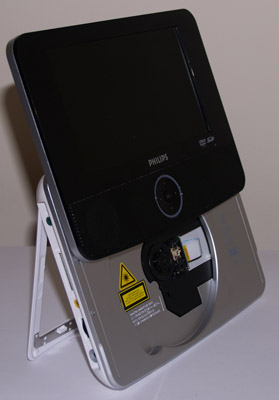 Photos can be loaded via the SD slot or on CD
Meanwhile, the anti-glare screen means you won't have to dodge reflections caused by indoor lighting. But if the sun's doing its job, you'll have to resort placing a towel over you head when watching the PET723 outside.
The battery life stretches to just 110 minutes, and if Philips were serious about the PET723's credentials as a photo frame, why didn't it fit the device with an 800 x 480 resolution screen?
Verdict
With vibrant colours and a decent picture, the PET723 certainly has its plus points. But unless you view from a reasonable distance you'll be constantly reminded of its low resolution. Take it outside, and it's battery life will disappoint. It's a nice idea, giving a photo frame DVD playback, but ultimately Philips has failed to pull it off. For now, we'd recommend purchasing two separate units if you want a portable DVD player and a digital photo frame.