Original URL: https://www.theregister.co.uk/2008/10/01/review_rm_asus_minibook_plus/
RM Asus miniBook Plus netbook
Asus Eee PC 904 HD rebranded
Posted in Personal Tech, 1st October 2008 11:02 GMT
Review Oxfordshire-based RM has formed alliances with makers of Small, Cheap Computers to rebrand sub-notebooks for schools. Its latest is the RM Asus miniBook Plus, its moniker for the Eee PC 904HD.
When it comes to IT products, schools look for a range of features, including portability and affordability. Little wonder then that RM soon found demand for the original miniBook - aka the Eee PC 701 - far outstripping supply. But the company has also taken on board comments from schools that were looking for a miniBook with a larger screen and keyboard – and ran Windows.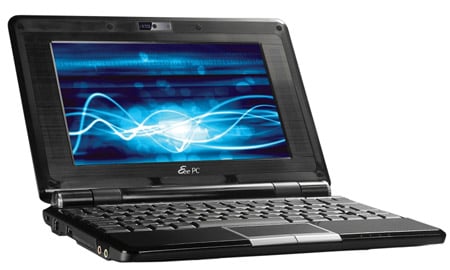 RM's Asus miniBook Plus: ticks all the boxes, except the one marked "Linux"
Although some schools have moved over to open source software, and others are enthusiastic Mac users, the fact is that the vast majority of educational software is still produced for the PC, and even diehard Apple and Linux schools have the odd PC (or two) to run it. That said, it's a shame there isn't a Linux version of the miniBook Plus.
The arrival of the miniBook Plus seems to tick all the boxes for user requirements. It's got a 900MHz Intel Celeron M processor rather than a 1.6GHz Atom N270, which helps keep costs down without compromising performance to any great extent. And there's 1GB of DDR 2 Ram, plus an 80GB HDD - no solid-state storage here.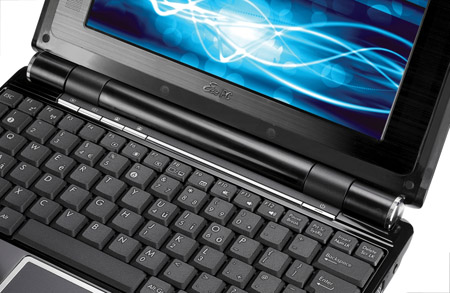 A bigger chassis means a bigger keyboard
The miniBook Plus uses the same chassis as the Eee PC 1000 series, which means a near-full size notebook keyboard - although the miniBook Plus retains the 8.9in screen used by the 900 and 901 Eees. Asus has equipped the machine with four power modes: Auto, Power Saving, High Performance and Super Performance. The power saving mode underclocks the CPU speed to 630MHz while the high performance mode runs it at 900MHz. The auto mode toggles between the two. The super performance mode overclocks the CPU a little, to 960MHz.
The miniBook Plus is available in both white and black. We had the latter, which, with a gloss black finish, looks decidedly sleek and stylish. One drawback is that it wouldn't take long for students to leave their grubby fingerprints all over the glossy surfaces, although they will wipe off easily enough.
The miniBook Plus also has Wi-Fi (802.11 b/g), a large trackpad, 1.3-megapixel webcam, built-in array microphone (for improved sound when video conferencing), stereo speakers and two user-definable shortcut keys, which let you fire up assigned applications at the touch of a button. On the right side are an SD/MMC card slot, two USB 2.0 ports and a VGA connector.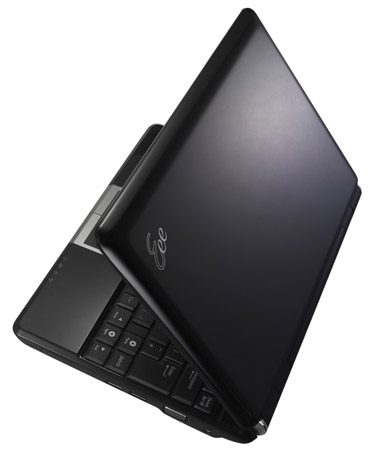 Connectivity includes 802.11b/g Wi-Fi, SDHC and USB
On the left side are a Kensington lock port (we suspect that the miniBook Plus will be seen as a highly half-inchable item), Ethernet (RJ-45) port, microphone jack and headphone socket. The miniBook Plus uses a 6600mAh battery pack rather than the 4400mAh version that shipped with the 900, which should mean good running times. If you believe the Asus website, the battery offers up to 5.4 hours' runtime – but we'll come back to this claim later. The penalty paid for a larger battery (and a larger chassis) is a heavier computer, and the miniBook Plus tips the scales at around 1.4kg. It's not exactly the Kate Moss of computers, but it's still highly portable.
The Plus comes bundled with Microsoft Works, Star Office 8, Intervideo's WinDVD and Skype - the latter is handy for videoconferencing, an increasingly popular activity within schools. There's also the webcam utility Ecam, which includes a facility for capturing still video images (as a 4MB bitmap file at 1280 x 1024 resolution) and video clips (with a 384Kb/s data rate and 640 x 480 resolution). Supplied accessories comprise of a system recovery DVD and a carry case.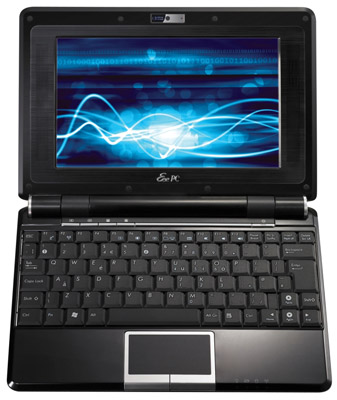 At around 1.4kg, it's not exactly featherweight, but still highly portable
The miniBook Plus is aimed at students and teachers of all ages, so how does it handle? Boot-up time is around 35 seconds, but what did you expect from a computer running Windows? First impressions of the 1024 x 600 resolution screen are good – it looks clear, bright and sharp, although being housed in a lid originally designed for a 10in screen does make it look a tad smaller than it really is.
The keyboard flexes a little when you press it, but it feels fine when typing - and the larger keys means fingers of all sizes will find this a comfortable computer to use. The shortcut keys are a nice idea and it's quite simple to assign applications to them, but these keys are in reality thin metal bars located at the top of the keyboard and not that easy to press. Likewise, if you want to switch the Wi-Fi on or off, you use the Function and F2 keys together rather than a simple switch or button.
The miniBook Plus allows students to do most of the things they want to do on a PC: word process, read documents, browse the web, play streaming video and email. And although the computer doesn't have an internal DVD drive, the inclusion of WinDVD clearly suggests that RM thinks that the miniBook Plus is good enough for running high-quality multimedia.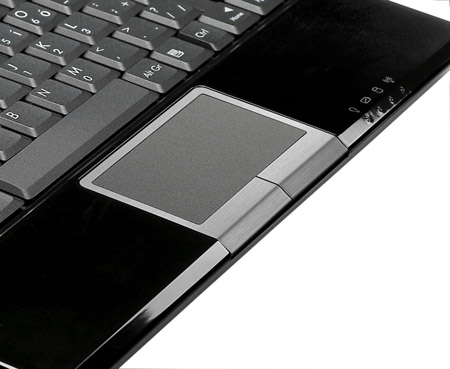 The larger keys means fingers of all sizes will find this comfortable to use
So we connected an external DVD drive to the miniBook Plus, closed down all applications (except the Wi-Fi) and played a music video DVD. The results were very good, with smooth motion and high picture quality. The sound quality of the integrated speakers doesn't match this, alas, and suffers from a distinct lack of bass. However, if you use a pair of headphones, the sound quality is much better.
Talking of headphones, we were surprised to find that the miniBook Plus doesn't automatically mute the speakers whenever you plug them in; you have to tell a pop-up dialogue box what you've plugged in before the speakers are muted. Fortunately, you can disable this annoying feature.
The use of a HDD does mean that the miniBook Plus generates more noise than its SSD-based counterparts, but levels are still fairly low. Overall, the miniBook Plus is a pleasure to use.
Running the PCMark05 test on the miniBook Plus produced a score of 1419 for the CPU, 1576 for memory and 4000 for the hard disk drive. These are respectable rather than spectacular results - the HDD score is at the lower end of what would be expected for a laptop - but figures can be deceptive.
PCMark05 Results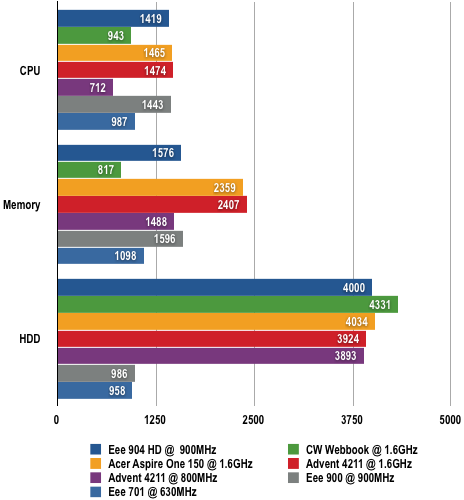 Longer bars are better
We ran the usual Gimp Filter test, which applies a Gaussian Blur filter to four mixed images arranged as a single 2048 x 1366 picture. Under the power saving mode, the miniBook Plus achieved this in 10.74 seconds; in high performance mode it was 7.78 seconds, and in super high performance, 7.08 seconds. By comparison, the scores the Eee PC 901 were 15.21, 10.85 and 9.80 seconds, respectively.
The Gimp Results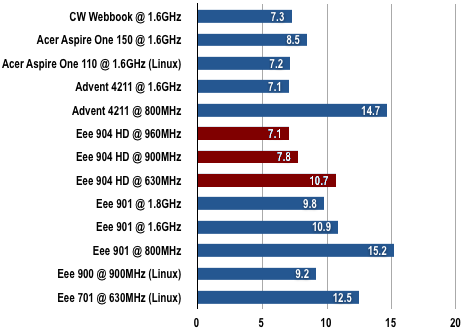 Time in seconds
Shorter bars are better
When it comes to battery life, the miniBook Plus comes up trumps. Under our usual test of running an H.264-encoded movie continuously on a loop (with volume at half setting, screen brightness at maximum and Wi-Fi left on) until the battery went flat, the miniBook Plus ran continuously for 211 minutes in power saving mode, 181 minutes on high performance mode, and 177 minutes in super performance mode.
Battery Life Results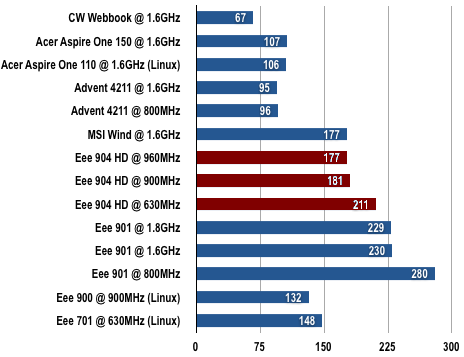 Time in minutes
Longer bars are better
This isn't as good as the figures for the 901, which were 280 minutes, 230 minutes and 229 minutes respectively, but it's still impressive. We also did a real world test, which involved using a battery-powered miniBook Plus for word processing, downloading and installing QuickTime 7 and Adobe Flash player, playing YouTube videos, using the webcam, web browsing - and also plugging in an USB optical mouse and a USB flash drive for much of the time. We also left the Wi-Fi switched on. Under these conditions, the miniBook Plus ran continuously for four hours and six minutes on a single battery charge – again, impressive stuff.
Verdict
The RM Asus miniBook Plus doesn't exactly squeeze a quart into a pint pot, but you do get all the features you might expect to find on a larger computer, such as a good-sized keyboard, reasonably-sized hard drive and Windows XP. And at less than £300, it's also excellent value for money. Sure, compromises have had to be made in terms of size and weight, but it's still highly portable, and we got more than four hours operating time from a single battery charge. Although the miniBook Plus lacks an Atom processor, it's clear that performance hasn't suffered to any great extent because of this.
Schools have been waiting for a highly portable, highly affordable Windows computer that offers good performance and a nice level of functionality. The miniBook Plus delivers all of this – and more.