Original URL: http://www.theregister.co.uk/2008/09/30/review_wd_sharespace/
Western Digital ShareSpace 4TB NAS box
NAS for the non-geek?
Posted in Personal Tech, 30th September 2008 12:02 GMT
Review Western Digital has been selling external hard drives for ages, most notably its MyBook range. That line-up has included NAS boxes, the MyBook World Edition series, but now, here comes their big brother.
There's a sense in which the networkable MyBooks are simply multi-users hard drives ready for backing up and file swapping in the home. The ShareSpace, on the other hand, is a more serious storage appliance.
Take storage size. The World Edition II tops out at 2TB, but that's entry-level for the ShareSpace, which is also available with a stonking 4TB of raw disk capacity. You can take the drives out of the WE II, but it's not a straightforward process. Swapping out drives from the ShareSpace is easier. It also supports four RAID modes to the WE II's two.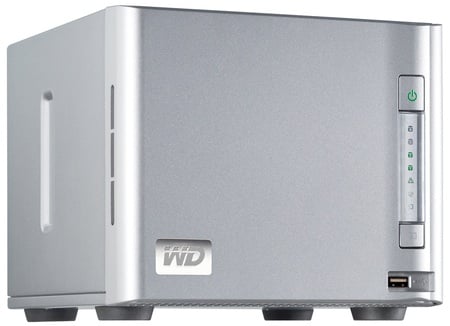 WD's ShareSpace: sober looks
The ShareSpace is a squat box with a minimalist dark-grey metallic look that's rather more sober than the shiny silver styling of rival NAS boxes like Netgear ReadyNAS NV+, or iPod-like consumer-oriented black and white the WE II comes in.
The faceless front panel is home to a USB port above which sits a button that triggers an automatic back-up to any sufficiently capacious external hard drive connected to that port. Moving upward, there's a cluster of indicator LEDs and the power key.
Round the back, alongside a large fan outlet sit two more USB ports, the Gigabit Ethernet port and, further down, the power socket. There's a Kensington lock slot too. The AC adaptor isn't built in - it's a separate brick that, for us at least, came with a European power cable.
Fortunately, we had a UK lead handy. Plugging it in, we were pleasantly surprised to find said cooling fan runs extremely quietly, especially compared to the gale blowing out of the back of our ReadyNAS NV+. It's not silent: drive noise echoes around the inside of the shell, but it's still one of quietest NAS boxes we've tried.
You can feel the air the WD fan is blowing out, but it wasn't particularly warm, even 90 per cent of the way through a 10GB file copy over to the drive array. The drives in the test unit were four WD 3.5in GreenPower-branded HDDs, which each consume a mere 13.5W when running flat out at 5400rpm. The ShareSpace's upper surface remained cool to the touch.
We should say, though, that WD's literature makes no statement on what drives will be included in shipping units other than their capacity.
Instead of a front-facing hatch that flips open to reveal the storage bay, as per the ReadyNAS, the ShareSpace has a pair of hand-turnable screws on the back that, when undone, allow you to lift off the cover and expose the drives. You don't have to disassemble it quite as much as you do the WE II.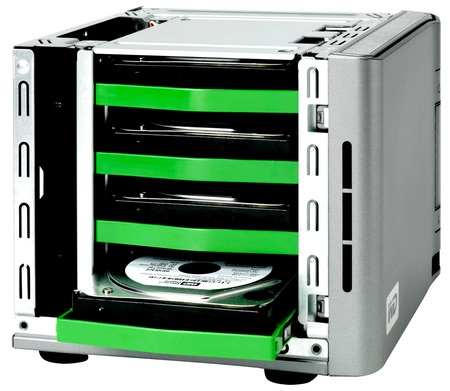 Lift the lid to reveal the removable HDDs
The drives themselves are slotted horizontally, one above the other, facing out of the unit's side. Each tightly-fitted disk is slotted into a green frame, the front of which you use to pull it out.
The four drives are initially configured in a RAID 5 array, though the ShareSpace's management utility allows you to choose alternatives: JBOD, RAID 0 and RAID 1 - respectively, present a single, contiguous storage space; stripe data across all four drives; and mirror the contents of two disks onto the other two.
RAID 5, the default, stripes data across three disks, and saves extra parity information on the fourth one to give a degree of fault tolerance. If a drive fails, it can be repopulated using the parity data. With four 1TB drives on board you end up with 2.68TB of available storage capacity.
Since it's web-based, the management utility is entirely cross-platform, as are the CIFS, FTP and NFS protocols the ShareSpace uses for sharing its folders. The console provides all the essential features you'd need from a multi-user storage box: disk control and configuration; user and group management; the creation and allocation to users and groups of shared folders; and the ability to impose space quotas to individuals and groups.
It also has a Media section that allows you to turn on iTunes-friendly music and video sharing. Drop media files into the pre-defined /Public/Shared Music folder and any iTunes apps on client machines can, if they have sharing turned on, access the files immediately for playback.
Even Apple's own TimeCapsule shared drive doesn't do that.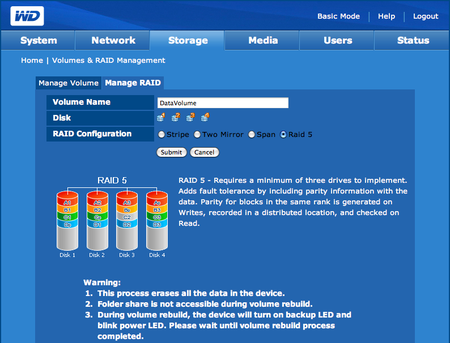 RAID guidance in the set-up system
TimeCapsule does, however, provide easy access to its contents over the internet. Not so the ShareSpace. It comes pre-equipped with support for the MioNet remote access service, which allows you to access and control any computer from any other, provided it's running MioNet's Windows-only software.
MioNet usually wants $8 a month, but WD's bundling access to the ShareSpace to you for free. The snag is, you can only access it through a browser - if you want to use MioNet's desktop app, you'll have to cough up. MioNet promises Mac and Linux clients at some point "in the future", but even when they do arrive, you'll still have to pay.
Our first attempt to access the ShareSpace remotely this way failed - MioNet doesn't like Linux. So we tried it on a Mac, with some success. Yes, we logged in and accessed the ShareSpace's public content, but in a fairly rubbish way. The Java applet displays public folders on the NAS box, and you can open these and folders stored within. But there's no way to, say, drag a folder onto your desktop - or even right-click to download it. Select a file, and the only thing you can do is delete, rename or open it. Opening a file transfers it to some hidden part of the your hard drive from where it's automatically opened by an appropriate app.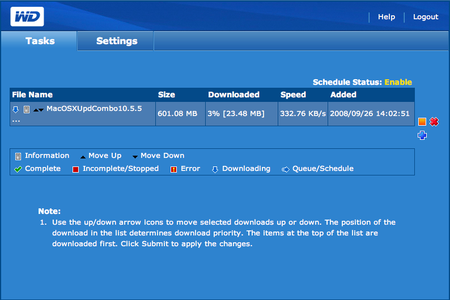 Auto-downloads? No problem
None of this is particularly quick, and is no way near as handy as simply mounting a folder on the desktop and manipulating files in the usual way through the host OS. MioNet's Windows software may make this possible, but since it's an optional extra, we can't really consider it for this review.
WD's approach does at least mean you can connect remotely without having to worry about IP addresses and firewall set-up. But in most cases, the ShareSpace will be hooked up to a router that's on all the time so you can be sure of the IP address and can easily be set to port-forward requests to the NAS box. So why bother with this MioNet lameness at all?
TimeCapsule supports Mac OS X 10.5's TimeMachine auto-backup feature. The ShareSpace doesn't but that's arguably because of TimeMachine's picky requirements rather than any specific failing on WD's part. That said, while lots of other NAS boxes don't support TimeMachine out of the box, they can be made to with a little trickery because they support the AppleShare protocol, AFP. ShareSpace doesn't support AFP access.
The ShareSpace uses Apple's Bonjour technology to make accessing the management console easy from a Mac - but then fails to follow this through by using the same system to connect to the storage without having to sniff out the IP address first.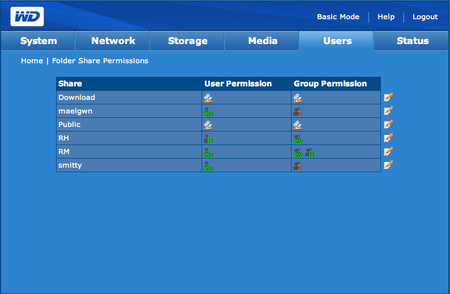 Full user and groups controls
We'd have liked to have seen support for DNLA too, to make the ShareSpace more appealing to folk who want to store media files and stream them, but don't want to use Apple's software.
Fortunately, WD makes amends by bundling a single-machine copy of its WD Anywhere Backup app, which does largely what TimeMachine does albeit without the fancy graphical front-end.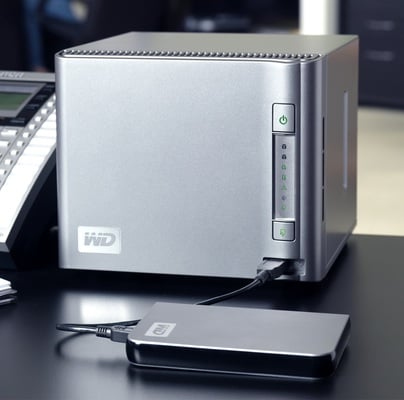 Plug in an external HDD for back-up
In addition to the set-up console, the ShareSpace has a built-in download manager that can schedule http and ftp transfers according to a seven-day timetable, with each day segmented in three-hour blocks. Three is also the maximum number of simultaneous downloads you can do.
We hooked the ShareSpace up to a TimeCapsule, taking advantage of the router's Gigabit Ethernet ports. We also wired up a MacBook Pro, which also has Gigabit Ethernet. Copying a 10.59GB folder containing 180-odd sub-folders and more than 3300 files from the notebook to a shared folder on the ShareSpace yielded an average throughput of 70.73Mb/s.
ShareSpace Data-transer Test Results

Average data transfer rate in Mb/s
Longer bars are better
Copying the same folder to the TimeCapsule came in at 70.4Mb/s. So an impressive result for the ShareSpace, given that the Apple unit has a 7200rpm drive in it.
The data rates were averaged over three runs. As a worst-case scenario, we also copied the folder to the NAS box across 802.11g Wi-Fi. To put the Gigabit Ethernet speed into perspective, the wireless transfer came to just 17.5Mb/s.
ShareSpace Data-transer Test Results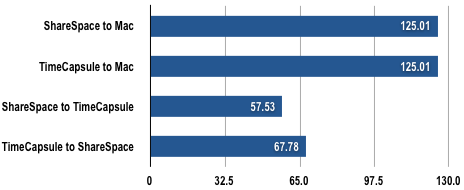 Average data transfer rate in Mb/s
Longer bars are better
Fully provisioned with 4TB of storage, the ShareSpace will set you back £563 - the 2TB model's £480. That compares very favourably with the £1500 you'd spend for a 4TB ReadyNAS NV+. The ShareSpace offers four times the storage a £329 1TB TimeCapsule will provide, and twice the capacity of WD's own £329 MyBook World Edition II 2TB.
Which is best depends entirely on your needs. The MyBook WE II is more straightforward, ideal for adding a chunk of shareable storage onto your network. It'll let you mirror a drive for redundancy at the cost of capacity. The ShareSpace builds on that with greater capacity, more RAID options, easier access to the internals and a less consumery look. Beyond that, there's no significant increase in functionality.
Verdict
ShareSpace isn't everyone's NAS box. Geeks will prefer something more powerful, like the ReadyNAS, while Mac users will no doubt rather have something more Mac friendly, like Data Robotics' DroboShare or Apple's own TimeCapsule. We found the WD box to be a decent small office or home network storage unit, if a little uninspiring. It's weak on access from beyond the LAN, and it lacks consumer friendly features like an integrated BitTorrent client, but it deserves praise for running cool and, crucially, quiet.