Original URL: https://www.theregister.co.uk/2008/09/29/review_carphone_warehouse_webbook/
Carphone Warehouse Webbook
The best value Small, Cheap Computer?
Posted in Personal Tech, 29th September 2008 13:08 GMT
Review The Elonex-made Webbook is a medium-sized machine, built around a 10.2in screen, and so goes up against the Asus Eee PC 1000 and the MSI Wind/Advent 4211, but at a lean price of £249.
The form-factor of Small, Cheap Computers is still rather fluid, with the original Eee 701 and the Fujitsu FMV Biblio U/B50 showing there's a market for machines with screens as small as 5.2in, through 7in to the current sweetspot of 8.9in and on to the only slightly larger 10.2in. With the number of models coming out at this size, it looks as if it could be where the mid-range settles.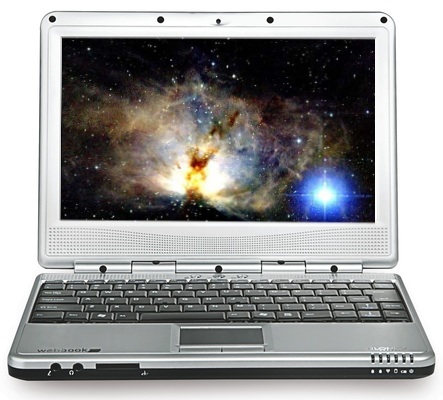 Carphone Warehouse's Webbook: small and cheap
Quite what operating system the Webbook is supplied with can also vary. It used to be that if you bought from the Carphone Warehouse website, you would get one of an initial batch with Windows XP Home SP3 pre-installed. If you bought it over the counter, however, you'd get Ubuntu Hardy Heron and pay around £50 less.
It now appears the machine will be going primarily Windows XP at a price of £274. Yes, the headline figure on CW's website is £249, but you need to add a £15 delivery charge on to that. In any case, when you actually click to purchase the machine, you find you'll be paying £274, albeit minus the delivery charge.
If CW can't display consistent pricing, it's hard to recommend the Webbook on that basis, let alone the quality of the hardware. To muddy the waters further, the Webbook was originally offered by Carphone Warehouse to use as an incentive to encourage punters to take out a mobile broadband contract. You can still buy it bundled for free with a USB 3G modem and a two-year, £25-a-month Orange airtime contract.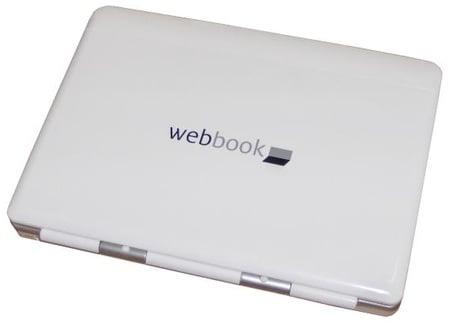 The name's on the lid, in case you forget
Glossy white is the new glossy black, and the Webbook is available in both, with silver surrounds to screen and keyboard. There's no catch to hold the case shut, but the hinge is stiff enough to keep it closed or, indeed, open. With a weight of just 1.3kg, it's easy to carry around and slip into almost any bag. You'll probably need to carry the charger too, though, once you've read the battery life results.
The widescreen 10.2in display is bright and sharp and with a 1024 x 600 resolution, it can display a decent Windows desktop, if a little vertically challenged. Two tiny, tinny speakers are set at the back of the main body of the machine, either side of the power, sleep and internet buttons. While no worse than those fitted to some full-size laptops, we'd still want earbuds to listen to music or movie soundtracks.
Although the keys are a little smaller than on a regular laptop keyboard, we managed to hit the ones we were going for most of the time. The space bar is sometimes a bit reluctant to register, though, so needs a positive touch. The touchpad is light to operate and responds well to a double-tap. The two touchpad buttons sit in front of it, where they should.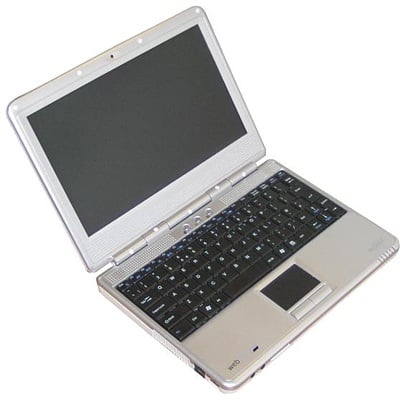 A decent keyboard
Around the edge are socketry for USB, VGA and network, plus jacks for mic and headphone. There's also a slot for SD, MMC and MemoryStick cards at the front. Underneath the laptop, there are covers providing easy access to memory, hard drive and battery, but there's nothing else customer-serviceable.
Unlike most of the other SCC contenders, which have gone for Intel's Atom processor, the Webbook is built around a 1.6GHz VIA C7-M chip. This is coupled to 512MB of main memory and an 80GB proper, spinning hard drive. This is a reasonable spec for a machine designed primarily to provide internet access when you're on the move.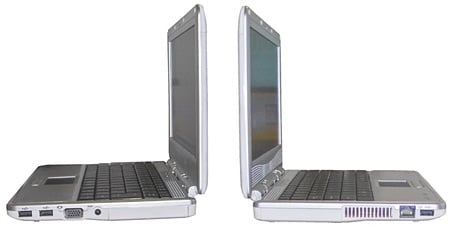 All the usual SCC portage
Built-in 802.11g Wi-Fi enables hotspot connections and, of course, if you take out a mobile broadband contract, you get that too. When are we going to see something neater than a 2in dongle sticking out of a USB port, ready to knacker the socket when it gets knocked?
Things missing include Bluetooth - which was obviously considered, as there's a function key for switching it on and off - and a camera, for which there's a hole above the screen, but with a blanking plate rather than a lens behind it. Another 512MB of memory would be useful, as would a memory card slot where the card didn't stick halfway out of the case, tempting the dodgy to nick it and the clumsy to snap it off.
The use of the VIA chip hits the Webbook's performance. Although it runs at 1.6GHz, PCMark 05 rates it's performance at 943, substantially lower than the Advent 4211's 1.6GHz Atom and the Eee 900, running a Celeron M at just 900MHz. It's even slower than the original Eee PC 701, running its Celeron M at just 630MHz. Yet another example, if you needed one, that clock rate is little guide to spec-sheet performance these days.
PCMark05 Results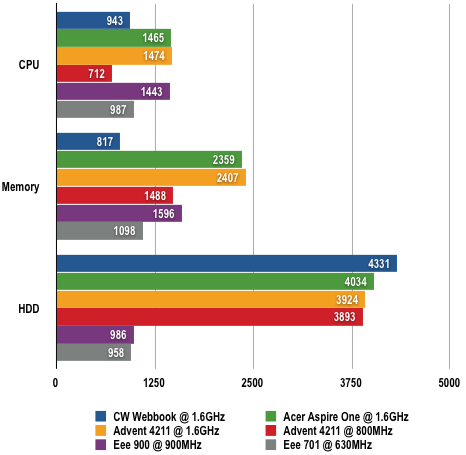 Longer bars are better
The memory index is also lower than these three, and lower than the Advent 4211, running at 800MHz. The saving grace is the performance of its hard drive, which at 4331 beats both SSD and HDD-based competition.
The Gimp Results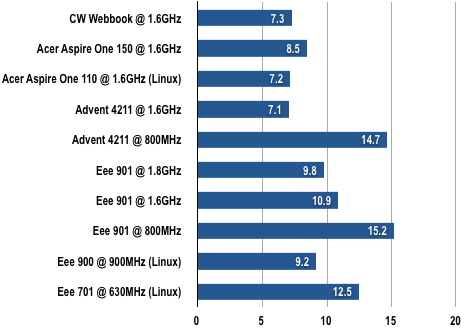 Shorter bars are better
OS is Windows XP unless stated
You shouldn't go just by maths benchmarks though, and running the GIMP Gaussian blur test produces an average time of 7.25 seconds, within a gnat's underparts of the Advent 4211 and the Acer Aspire One. Subjectively, the machine is fast enough for regular web and office duties, and we never felt we were waiting for it to catch up.
The machine switched into standby and needed a recharge after just 67 minutes' H.264 video playback, making it no good for a feature film. Under less intensive use, typing reviews and playing solitaire – the joys of train travel – we got over two hours out of the same three-cell battery pack, but it's still disappointing given its size and Elonex's claim of three hours.
Battery Life Results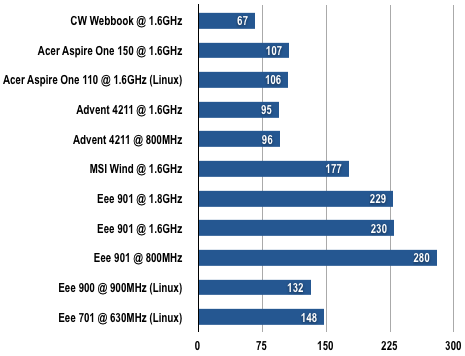 Longer bars are better
OS is Windows XP unless stated
The fan, which is near silent, poured out quite a bit of heat while the video was running, but that's what fans do and the machine itself stayed cool. There's little chance of damaging anything biologically important using this laptop on your lap.
The sample MPEG 4 video we played under QuickTime during battery life testing was jerky, with a low frame count, so you would need to watch in a smaller window to be able to view media comfortably. BBC iPlayer videos played without jerking.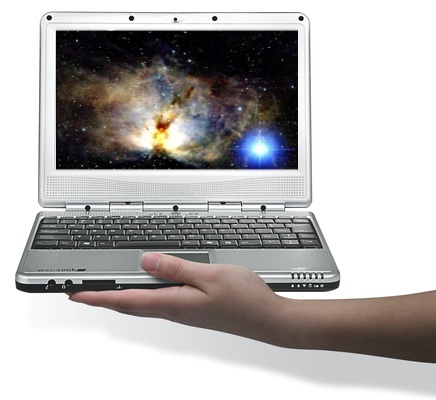 Certainly portable
Verdict
Apart from a bit of trouble playing videos, the Webbook is a very reasonable SCC. There are no major glitches in its design and although things like a webcam and 1GB of memory might be good to have, the machine functions well enough without them. Its keyboard, trackpad and screen are good, and the display in particular is pin-sharp. The downsides: poor battery life, and we've yet to be sold on the VIA C7-M CPU.
But we like the Webbook, and if you can tie it to a good mobile broadband deal, it's likely to cost you less than buying an SCC and dongle separately.