Original URL: https://www.theregister.co.uk/2008/09/26/advanced_wars_murder/
German man arrested after UK gamer's murder
Online war of words went too far?
Posted in Personal Tech, 26th September 2008 15:09 GMT
A German gamer has been arrested on suspicion of murdering a British man who ran a website devoted to the Nintendo DS game series Advanced Wars.
Matthew Pyke, 20, of North Sherwood Street, Nottingham, was found stabbed to death at his flat one week ago.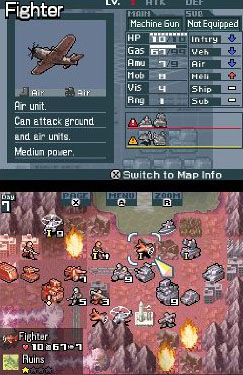 A screenshot from Advanced Wars: Dark Conflict
On Wednesday, German police arrested 21-year-old David Hess, from Limburg, Germany, after he was discovered by British law enforcement officers to have posted a note in a forum on Pyke's Wars Central website, in which he apologised to Pyke's girlfriend for "having caused so much trouble lately".
A few days after the murder, Hess left a second message, this time on Pyke's girlfriend's Facebook page. He reiterated that he was sorry for having caused so much trouble lately. Police say he had never contacted the girl through Facebook until that point.
Investigators believe that Pyke and Hess may have had a disagreement over the game, and that Pyke was then murdered in some sort of revenge attack. Hess now faces extradition to the UK for further questioning.