Original URL: https://www.theregister.co.uk/2008/09/25/review_samsung_u800/
Samsung U800 3G mobile phone
Bringing a little Soul to the mid-range market?
Posted in Personal Tech, 25th September 2008 12:35 GMT
Review It may have some elements of Samsung's Soul chic in its design, but the U800 is an altogether more straightforward affair than that touch-controlled sliderphone.
There's no touch-sensitive pretensions on the U800 - instead it's a smart-looking though conventionally buttoned candybar with an attractive brushed-steel casing that's a shade under 10mm thick.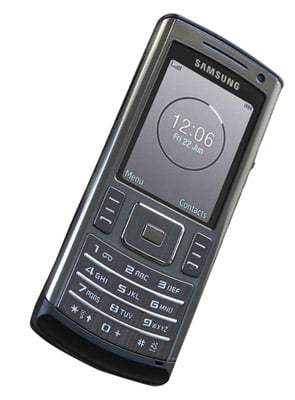 Samsung's U800: an altogether more straightforward affair than the Soul
Inside that slim but solid-feeling bodywork, the U800 is a decently-featured mid-tier 3G handset. It's equipped for mobile multimedia, with HSDPA high-speed data connectivity at up to 3.6Mb/s, 1GB of internal storage and a three-megapixel camera. It's fitted with music and video players, plus a full web browser.
It certainly has some first-sight appeal. The minimalist, curved-edge look invites comparison with the Nokia 6500 Classic - but with a spec list that trumps it.
Well-balanced in the hand, the U800 feels comfortable to hold and operate. Its numberpad gives a design wink to the Soul, with flush rows of keys nicely separated by sliver-thin curved ridges. Speed texters may find text-input action just a touch heavy, but otherwise it's fine. The main navigation control and soft-menu keys are similarly low profile, with subtly-raised details as fingertip guides.
The central navpad – which delivers feature shortcuts as well as menu navigation - is large enough for comfortable thumbing, giving a well-ordered feel to the overall key set-up. Getting around the menus is uncomplicated. Samsung's navigation system is constructed along fairly conventional lines, with an icon-grid main menu, and sub-menus with numbered options you can scroll through or select with a quick number press. Selecting and changing settings is straightforward too, and the phone controls are responsive as they zip you through the options.
Samsung hasn't gone overboard with the display size though – it's a 2in 320 x 240, 16m-colour screen which is suitably bright and clear but average-sized for a mid-tier device. Above this, there's a secondary low-res camera for face-to-face video calls.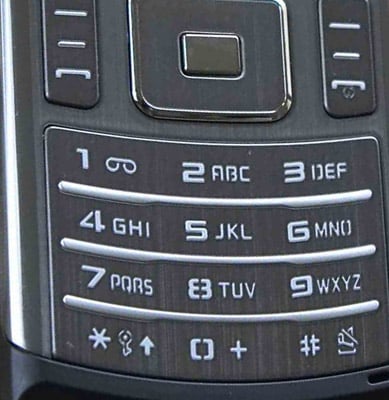 The central navpad is large enough for comfortable use
All-round dimensions are 111 x 46 x 9.9mm, but at 92g it's reassuringly substantial. The skinny side panels still allow room for a Micro SD card slot, a camera button and volume keys, though predictably there's no 3.5mm headphone socket – Samsung uses its customary charger/headphone/USB port. Amends are partially made with the in-box earphone set, a two-piece affair with a 3.5mm adaptor mid-way.
The U800 has a steady set of mid-tier features that cover most of the 3G multimedia standards without straying into gimmick territory. Anyone looking for GPS, Wi-Fi or smartphone customisation will have to look further up-range. Nonetheless, it has a fair amount of functionality on board.
With 1GB of internal storage plus Micro SD support for cards of up to 8GB, the music player on this phone has the scope to be a tidy runabout for your favourite tunes.
The player can be synced up to copy music from a PC using Windows Media Player 11, and tracks are organised into regular music categories, including one for podcasts. Tunes can also be copied over using Samsung PC Studio software, dragged and dropped in mass storage mode, or received via Bluetooth.
The music player puts in a satisfactory performance, with the supplied earphones sounding better than your average mobile phone boxed ear-gear. Samsung has once again included Bang & Olufsen ICEpower technology, but while it's good enough for a mobile, sound quality doesn't quite match the performance of the best Walkman music phones or standalone music players.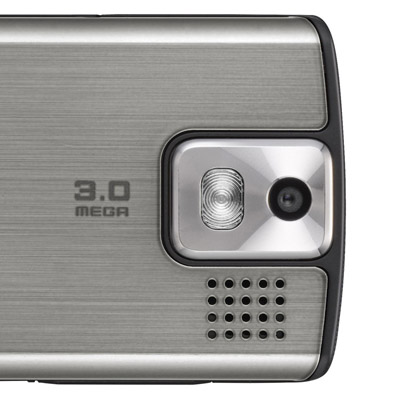 The 3Mp snapper isn't one of Samsung's more advanced shooters
Complementing the music player is an FM radio, which you can use with the earphone cable plugged in as an antenna. The side positioning of the connector though is unfortunate for pocket-sleekness, especially with the rest of the phone being so svelte.
The three-megapixel camera on the back panel of the U800 is a couple of millimetres proud of the smooth casing, though it isn't an attention grabber in itself. An LED photolight sits next to the lens for low-light shooting, but the camera itself isn't one of Samsung's more advanced shooters. Autofocus is missing, so the fixed lens device offers point-and-shoot action rather than more sophisticated focusing. It flips into landscape mode for shooting. There are a spread of standard cameraphone settings, adjustments and effects you can tweak, including white balance and brightness, along with multi-shot and panorama modes, and various frames and colours.
But it's a step down from the autofocus, face detection and so on you get with Samsung's recent five-megapixel cameraphones. Still, the camera delivers reasonably good shots within its limitations. The lack of autofocus obviously limits the precision with which you can capture the shots you're after, and there's no close up macro shooing mode. But you can take some pleasant enough snaps.
The level of detail is typical for a three-megapixel shooter, though it seems to handle exposure, contrast and colour rendition particularly well for this grade of camera. Indoors, low-light shooting isn't quite so good, and images can be soft despite the rather limited flash illumination. Video capture too is limited on this phone, shooting at a basic low quality 176 x 144 pixels resolution. Still, Samsung has enabled this phone for uploading of video clips and snaps to blogs and content sharing sites via an embedded Shozu application, should you wish to show off your images online.
The U800's HSDPA connectivity means you can get quick over-the-air video or audio downloads, and relatively speedy access to websites using the NetFront v3.4 browser. This provides a typical mid-tier mobile experience, with a variety of screen-optimised viewing options, plus pan and zoom facilities. It does a fair job, though it can have problems rendering large pages. The phone also supports RSS feeds for fast access to regular updates from favourite websites and blogs.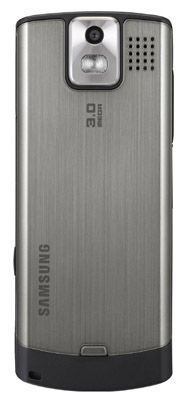 Solid rather than spectacular?
The U800 plays it straight on its other features, with a standard set of organiser tools, including a document reader for email attachments and transferred files, plus the usual voice recorder, calendar, memo, task, calculator, converter, world clock, timer and stopwatch functions. There's a trio of uninspiring games too.
Like its features rundown, there are few surprises when it comes to call quality - it does the job perfectly well without any fuss or drama. Battery life was better than average for a mid-line 3G phone. Samsung estimates that the U800 will run for up to 320 hours of standby on GSM networks or 290 hours in 3G coverage, or give up to six hours of GSM talktime or three-and-a-half hours on 3G. With our average usage, including some music playing, we managed to get a pleasing three-and-a-half days' juice out of the U800.
Verdict
Thin and stylish it may be, but the Samsung U800 isn't a phone that tries to dazzle with the very latest gadgetry. Instead, it's a reliable performer that has a decent spread of 3G mid-tier functionality and multimedia action on board. Understated rather than flashy, solid rather than spectacular, Samsung must be hoping that the U800's attractive design - mixing slimline chic with a touch of Soul – will let the phone stand out from the mid-tier crowd.