Original URL: https://www.theregister.co.uk/2008/09/25/lg_xenon/
LG Xenon phone leaked
Take note...
Posted in Personal Tech, 25th September 2008 12:05 GMT
A picture's emerged online of an upcoming LG phone that's known only as Xenon.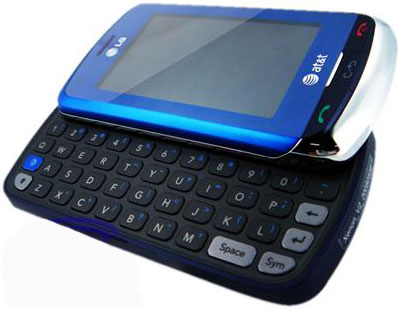 LG's Xenon has HSDPA 3G and a "proximity sensor"
Image courtesy of BGR
A source known only as "Daddy G" has told website Boy Genius Report that the phone's currently undergoing a series of tests by US network operator AT&T and that it should be in the shops by Christmas.
Daddy G's also revealed most of Xenon's specifications, the most interesting of which is a proximity sensor. Exactly how this has been put to use in the phone isn't known, but it's likely the device is used to turn Xenon's screen off when it's held up to your head during a call. The iPhone uses its proximity sensor this way.
Connectivity wise, Xenon's said to be capable of HSDPA 3G and Wi-Fi connections, in addition to quad-band GSM/GPRS/Edge and Assisted GPS guidance.
The 2.8in LCD can display content both horizontally and vertically. There's a three-megapixel camera hidden on the rear and it's reasonable to assume that the snapper will be teamed up with a Xenon flash, given the phone's name. Content will be stored onto Micro SD cards of up to 16GB and Bluetooth's on board too.
Since the phone hasn't been officially announced by LG, a UK specific launch date or price hasn't been captured yet.