Original URL: https://www.theregister.co.uk/2008/09/25/air_mouse/
A mini mouse that loves wrist action
Flick left to open iTunes
Posted in Personal Tech, 25th September 2008 13:13 GMT
Motion-sensing firm Movea has launched a mouse that controls your PC with a flick of your wrist and doesn't need a desktop to work.
The Air Mouse uses a technology called MotionSense, which acts a little like the Wii's controllers to let users, say, launch an application or fast-forward through a film by flicking the mouse in one specific direction - whether it's sitting on the desk or being held in your hand.
A trigger underneath the "ambidextrous" palm-sized mouse lets users take control of the on-screen cursor by waving the mouse around. Special gestures can be used to create coloured lines, boxes and shapes; select text; and to zoom in and out of what's on screen.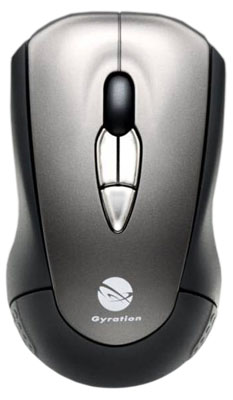 Movea's Gyration Air Mouse: a new take on mouse movement
Buttons on Air Mouse's top surface can also be used to launch a whole range of applications. For example, pressing one button and flicking the mouse to the left could launch Windows Media Player, but flicking it upwards could then fast-forward a movie.
Air Mouse communicates with an RF USB dongle, meaning the user doesn't have to point the mouse directly at a sensor bar as per the Wii Remote. The mouse's maximum communication distance is 100ft.
During an Air Mouse demonstration, Greg Smith, VP of Marketing at Movea, told Register Hardware that the mouse has been designed to increase the functionality of a standard desktop mouse by allowing users to do more than just click through windows. But he admitted that it's not designed to replace a desktop mouse.
Air Mouse will be available in the UK next month, priced at £70 ($130/€88). It's Windows only.