Original URL: http://www.theregister.co.uk/2008/09/24/review_htc_touch_pro/
HTC Touch Pro smartphone
HTC's best handset yet?
Posted in Personal Tech, 24th September 2008 10:02 GMT
Review HTC brought out its iPod-bothering Touch Diamond back in May, but four months can sometimes seem like a lifetime in mobile phone terms.
We've been promised the Pro since then, but while the newest kid on the HTC block has many similarities to its predecessor, there have also been several improvements, all of which go to make this arguably HTC's best handset yet... and that's saying something.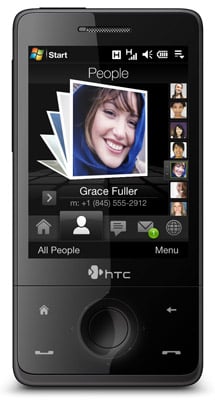 HTC's Touch Pro: the company's best handset yet?
If the Diamond put style first, with its slimline casing and glossy casing, its successor is all about the business. On the face of it, the Pro looks much the same as the Diamond, with the same 2.8in touchscreen atop a circular navpad and four flush buttons for call start and stop, plus back and home.
But as if to emphasise that it has power where you need it, it's within a few millimetres of being twice as thick as its predecessor: it's 18.5mm, the Diamond was an unhealthily slim 11mm. The Pro's 55g heavier, too, weighing in at 165g. It's a hefty handful, though at 102 x 51mm face-on it's small enough that it will fit into pockets that the iPhone, for example, isn't suited to.
The big difference between the Pro and the Diamond is, of course, its hard-key Qwerty keyboard. It slides out to the left with a decent push, nicely balanced so it's easy to open but is unlikely to do so by accident. It's got five lines of keys, each of which are necessarily on the small side, but which have raised middles made of rubber-plastic, which makes them easy to differentiate with your thumbs.
There's just enough resistance to register a press, without making things awkward, and the screen responds to key presses instantly without any noticeable lag. Everything is where you'd expect plus there are direction arrow keys and shortcuts for symbols, text and email making it all feel very natural and easy to use.
On the sides, the theme is minimal, with only volume controls on one side, a power button on top, and a USB port on the bottom. Incidentally, the back, while retaining the angled design of the Diamond, is a sober matte black rather than the glossy fingerprintprint-magnet the Diamond has.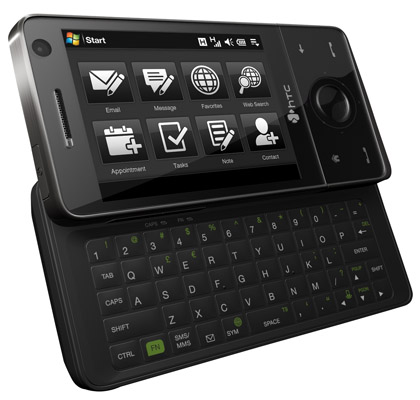 The keys have a slightly raised centre, making them easy to differentiate
There's a Micro SD port too though you'll need to remove the back - but fortunately not the battery - to get to it. There's no card supplied with the basic package but you'll probably need one to augment the Pro's surprising lack of on-board memory – just 512MB.
Switch the phone on and you're confronted with HTC's TouchFlo 3D user interface, which does a great job of livening up the Windows Mobile 6.1 Professional. We couldn't measure it, but we got the feeling that ramping the RAM up to 288MB might have had the effect of speeding up the system while we were finding our way around the menus.
You can move between applications with a flick of the thumb and there are some nice graphic tricks too, like the flipping envelope with emerging letter for email messages and the animated weather icons - yes, weather is still a big thing with HTC, though it's no longer part of the home page. The touchscreen is easy and precise to use, and though there's a stylus provided - which slips neatly into a magnetised slot on the side - we rarely had cause to use it.
Next to messaging, the other big plus of a slide-out keyboard is browsing, freeing up all that screen real estate to concentrate on rendering pages. In fact, with the Pro, the keyboard is virtually obligatory, since although there's an accelerometer on board which works with games and pics, the screen won't automatically flip into landscape mode when you turn it – unless you unleash the keyboard.
Once you have, of course, it's perfect for entering web addresses and details, and it's easy to move around websites simply by sliding the page in any direction with your finger. You can also zoom in or out with a quick double tap on the screen or by using the circular navpad, which doubles as a scroll wheel when you're in browser mode.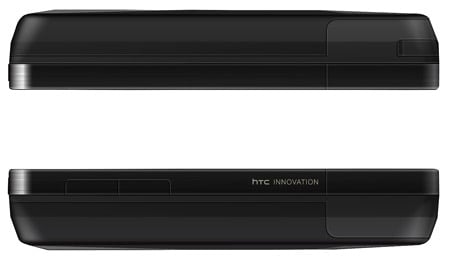 There's only a volume control on the sides
There's a choice of Internet Explorer or Opera 9.5 for your browser - for the record, we found Opera to be faster overall - and you can set it to automatically switch to widescreen mode when you're not using navigation controls. There's also a special YouTube app which worked particularly well, making that maze of a website a joy to stroll around. Videos streamed without any hassle too, whether using a Wi-Fi link - very easy to set up - or the 7.2Mb/s HSDPA 3G connection.
Like the Diamond, the Pro has GPS on board, feeding into Google Maps. We found it easy to get a fix on our north London coordinates and plot a route into town. It's also fun to switch to Google's satellite pics and see exactly where you are in the real world.
The camera is a 3.2-megapixel model with a photo-light flash, but of all the Pro's impressive features it's the most disappointing. The pics themselves are okay in good light if there's not too much movement, but there's too much lag on the screen when you're framing your shot, and with no dedicated shutter button, it takes too long to get into camera mode - a good four seconds after we'd found it on the main menu.
The picture gallery is still a joy though, allowing you to flick through your pics with the drag of a finger, plus zoom into or flip your images by twirling your digit on the screen.
The music player is a cut above the average, offering all the usual filing options, plus a proper ten-band graphic equaliser and the ability to flick through your album covers in a decidedly iPhone-like manner. The supplied headphones aren't bad, though without a 3.5mm socket you won't be able to upgrade them without an additional adaptor. You'll need them, however, for the 20-preset FM radio, which worked like a charm.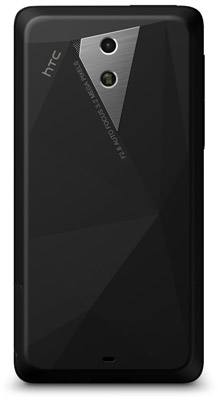 The 3.2Mp camera is the HTC's most disappointing feature
The Pro's business credentials are reinforced by the presence of Microsoft Office for creating Word, Excel and PowerPoint docs, plus Adobe Acrobat for viewing PDFs.
Battery-wise, we got about three and a half days of moderate use out of it, and that's including day-to-day calls, browsing, music playing and a bit of photography. Not bad for such a high-specified handset.
Verdict
HTC's Touch Pro is chunky and a bit on the heavy side, but together that's a small price to pay for the benefits: to whit, one of the best slide-out Qwerty keyboards we've tried, one of the very few touchscreens that comes close to the prowess of the iPhone, a snazzy front-end for Windows Mobile, a decent music player and GPS. The Touch Pro most definitely means business.