Original URL: https://www.theregister.co.uk/2008/09/20/review_ipod_shuffle/
Apple 2G iPod Shuffle
Two years on, still going strong
Posted in Personal Tech, 20th September 2008 07:11 GMT
Review The tiny Shuffle remains the iPod Apple makes the least of a song and dance about, but it's no less a player worthy of buyers' consideration than its label-mates.
The second-generation Shuffle Apple revamped last week remains almost entirely the same as the version announced way back in 2006. The colour scheme has been changed again, but in essence a Shuffle bought, say, September 2006 will do exactly what one bought in September 2008.
As we noted in our 4G iPod Nano review, it it ain't broke, don't fix it.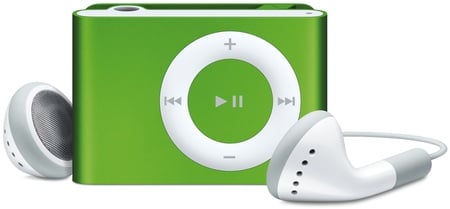 Apple's latest iPod Shuffle: clipped
One difference between then and now is the price. A 2GB Shuffle will set you back today £45/$69 - £10 and $10 less than a 1GB model would have cost you two years ago. Then, the 1GB Shuffle was priced at £55/$79. Now it's £32/$49.
It's not the best-value iPod. The new 2GB Shuffle works out at £22.50 a gigabyte, compared to £13.63 per gigabyte and £9.31 per gigabyte for, respectively, the 8GB and 16GB Nano. The Touch is £21.13 per gig (8GB), £13.69 (16GB) and £9.03 (32GB). That's the Flash line-up - the HDD-equipped Classic is £1.12 per gigabyte.
We had hoped that Apple might have been able to eke out a few more hours from the Shuffle's tiny battery, but no, now, as then, the manufacturer reckons you'll get about 12 hours' continuous playback out the gadget. Our testing over the past week or so gave us no reason to doubt that figure.
For the casual user, that's fine, and will get you a good distance on an modern jetliner before you have to recharge. Unless you're on an Airbus A380, of course, in which you can just plug the player's USB cable into the back of the seat in front of you.
Speaking of USB cable, we'd have like to have seen Apple come up with a new one. As before, the latest Shuffles come with a dock. It's not like a regular iPod dock - with the Shuffle, the power's pumped in through an extended 3.5mm jack, and the dock allows the player to sit snuggly on this while it's being synced and charged.

Eminently wearable
That's the theory - in practice, we found iTunes will lose the connection if you nudge the Shuffle as the power and data electrical connection is momentarily broken.
The other problem with the dock is that while it's fine for deskbound Shuffle owners, as laptop users we'd prefer a simple cable with a USB connector at one end and the extra-long 3.5mm jack on the other. It'd be just as easy to connect and a darn sight easier to wrap up and stow with your laptop.
Stowing the Shuffle itself is a doddle, thanks to the clip on the back which was, and remains, a work of genius, no matter what you think about the rest of the player. It's ready to attach to almost any part of your clothing - lapel, pocket, sleeve rim, shirt opening, whatever - and with your body behind it, pushing the control ring is easy.
Only a lack of Bluetooth A2DP support and the resulting need for wired earphones stops this little lad becoming the music player equivalent of Star Trek: The Next Generation's comm-badges.
Unlike rip-offs there's no radio on board, as per other iPods.
Just tap the centre of the ring to play. There are only four other controls - volume up and down, and track skip forward and back - you need during playback, so even if your Shuffle's not correctly aligned, it's not going to be any struggle working out which button you need to press to trigger a given function.
The base of the Shuffle has two more switches: one to flip between shuffle mode and in-sequence playback, and the power slider. We'd like these to be slightly longer, to make them easier to push back and forth, but they're easily slid with a fingernail. Having a physical on/off switch also means there's none of the power leakage you get with soft-touch power controls.

Colour refresh
Loaded up with songs and charged, the Shuffle's ready to go. We've heard much better earphones than Apple's standard buds, but we've hear a lot worse too given away with MP3 players. Apple's set will suit casual listeners, and we'd defy any but the sniffiest 'real music lovers don't accept lossy compression' brigade to not get on with the Shuffle's sound quality itself.
Complain about other iPods, but bizarrely perhaps, the Shuffle offers one of the best sonic performances of the lot. It beats our first-gen iPhone and our old Nano, for example. Songs have more clarity and more immediacy on the cheap model.
If you've not seen a Shuffle before, there's no screen, but that's not what the player's about: it picks the songs, not you. Unless, of course, you set to to play every track in order. We've been using our review unit in the car, connecting it to the hi-fi and just letting it get on and pump out tracks at random.
Verdict
It may not be the best value iPod around, but the Shuffle is among the ones at the front when it comes to sound quality. It's still a great player to keep in a bag or in the car for those occasions when you don't have your main music player or phone to hand, or you just want a simple, easy machine for random playback or casual listening.
It has to be said, there are rather cheaper players out there if you look, but few if any from well-known brands. Thirty quid is the going rate for 'name' 1GB players, give or take a couple of quid depending on who you buy it from. But we think the Shuffle's worth the premium, for its metal casing and that oh-so-useful clip.