Original URL: https://www.theregister.co.uk/2008/09/19/roundup_mp3_portable_speakers/
Ten of the Best... MP3 speakers
Play it all night long
Posted in Personal Tech, 19th September 2008 11:42 GMT
Round-up Portable loudspeakers are always a tricky proposition. Generally, small speakers produce an equally small sound. If you do try to pump up the volume then the sound tends to become distorted.
So there's a difficult balancing act between the size of the speakers and the quality and volume of the sound that they can produce.
Because of this, portable speaker designs tend to be very diverse. At one end of the spectrum you've got big fat systems, such as Harman Kardon's Go+Play boombox, which produces a huge sound but only barely qualifies as portable. Going to the other extreme, there are some tiny little speaker systems, such as Creative's TravelSound 400, which can last for almost three full days off a set of AAA batteries but produce fairly modest volume - albeit with quite good sound quality.
So before buying any set of portable speakers, you really need to decide what you'll be using them for. The travelling sales rep who needs to run presentations on a laptop will appreciate a compact model such as the TravelSound or Cygnett's GrooveCube, while a teenage backpacker may prefer the beefier sound of Logitech's Pure-Fi speakers.
With the iPod still dominating sales of portable music players, it's inevitable that many speaker systems are designed with the Apple player in mind. But in the interests of fairness, we've tried to focus on speaker systems that also provide secondary inputs, allowing you to use them with other makes of player too.
Altec Lansing SoundBlade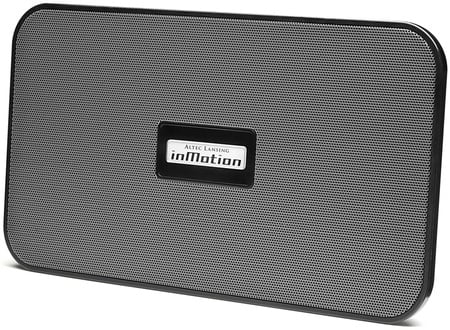 Altec Lansing makes a wide range of very good portable speakers, mostly designed for use with the iPod. However, the SoundBlade is an attempt to cast the net a bit wider. Measuring barely 2.5cm thick, the SoundBlade is an extremely compact and lightweight set of wireless speakers, primarily designed for use with Bluetooth phones - though there's an AUX input that will allow you to connect it to a regular MP3 player too. You can listen to music from your phone, or take calls by switching into speakerphone mode, which uses a built-in microphone to pick up your voice. Audio quality is good, with plenty of volume for such a slimline device, although a little more bass wouldn't go amiss.
Reg Rating 80%
Price £75
More Info Play.com
Creative TravelSound 400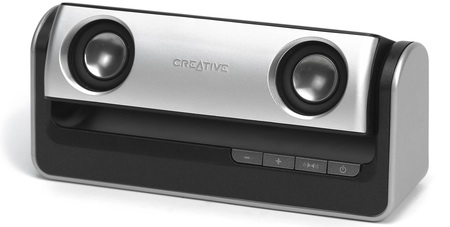 Most of these portable speakers will run off batteries, but are primarily designed for use in locations where you'll have access to mains power. In contrast, Creative's TravelSound 400 speakers don't include a mains adaptor at all, and are clearly designed to be picked up and carried around with you. This compact and lightweight set of speakers can run for more than 30 hours off four AAA batteries. The audio quality is good, but those little AAA batteries don't pump out as much volume as most of the other speakers in this group. Even so, the TravelSound 400 is still a good choice if you want to listen to music as you lounge by a swimming pool, or give an impromptu presentation with your laptop.
Reg Rating 80%
Price £41 - click to compare prices
More Info Amazon.co.uk
Cygnett GrooveCube ReCharge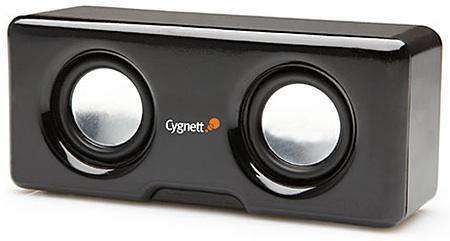 Like Creative's TravelSound 400, the GrooveCube ReCharge is a battery-powered unit clearly designed with maximum portability in mind. In fact, it's even smaller than the TravelSound, measuring just 12.5cm long and small enough to slip into a jacket pocket when you're ready to get moving. However, there are a few differences between this and the TravelSound. As the name implies, the ReCharge has a built-in rechargeable battery, which runs for about six hours and can be charged from a USB port on a computer or a car power supply - the cables are all included. It's quite a bit louder than the TravelSound too – although the sound quality gets a bit shrill when you turn it all the way up.
Reg Rating 75%
Price £25
More Info Cygnet
Gear4 Duo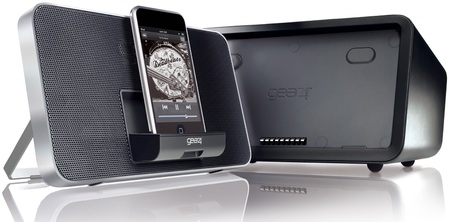 It's a bit pricey, but the Duo's ingenious design effectively gives you two speaker systems in one. The Duo is a two-piece unit that consists of a sub-woofer and a flat-panel set of stereo speakers. When you're at home you clip the two parts together to produce a powerful 38W speaker system, but you can also unclip the stereo speaker panel and use it as a self-contained set of portable speakers. The portable section is just 2.5cm thick, but produces very good sound that doesn't break up even when you turn the volume right up. The portable section includes an iPod dock and a secondary input that can be used with other types of players, as well as a rechargeable battery that lasts for 2-6 hours, depending on how high you set the volume.
Reg Rating 85%
Price £150
More Info Gear4
Harman Kardon Go + Play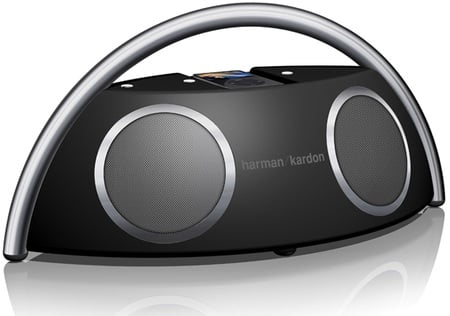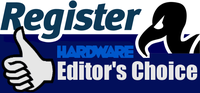 You won't be slipping this rather beefy boombox system into your backpack when you go on holiday. However, the carrying handle will let you drag it into the garden for a BBQ, or onto the backseat of your car if you want to take it on the road with you. It has an iPod dock – complete with video output for watching slideshows or video downloads – and an AUX input for connecting other types of MP3 player too. The stand-out feature, though, has to be the sheer noise that this beast pumps out – a total of 120W that puts most other portable systems to shame. The sound quality is also excellent – clear and crisp and with plenty of bass kicking through, thanks to the built-in sub-woofers.
Reg Rating 85%
Price £190 - click to compare prices
More Info Harman Kardon
JBL On Tour XT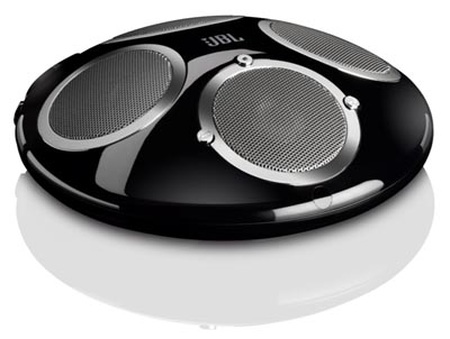 JBL is well-known for its 'Creature' desktop speakers and the original On Tour portable speakers. The latest addition to the range is the On Tour XT, a compact set of speakers with a distinctive flying-saucer design. It has a standard 3.5mm audio socket that will allow you to connect most types of portable music player, as well as a USB port that you can use to charge devices when the XT is running off the mains. The XT includes a complete 2.1 speaker system with sub-woofer that produces good sound quality, and its 24W output was more powerful than we'd expected from such a compact set of speakers. Our only minor complaint is that the higher frequencies can become a little shrill when you turn the volume all the way up.
Reg Rating 80%
Price £90
More Info Amazon.co.uk
Kensington FX500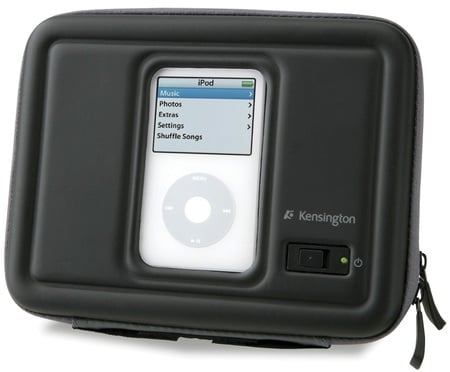 The FX500 is a cleverly designed combination of speakers and a splash-proof carrying case. The rectangular slot inside the case is clearly designed for an iPod, but you connect your player using a standard 3.5mm audio cable, so you can use the FX500 with other types of player too. However, the player's controls need to be on the front of the unit, as you can only access the controls through the transparent plastic panel on the front of the case. The speakers run off three AAA batteries, which should last for about ten hours. The audio quality and volume are both respectable although, as with a number of these smaller speakers, the sound does start to become distorted when you turn the volume all the way up.
Reg Rating 70%
Price £35
More Info Kensington
Logitech Pure-Fi Anywhere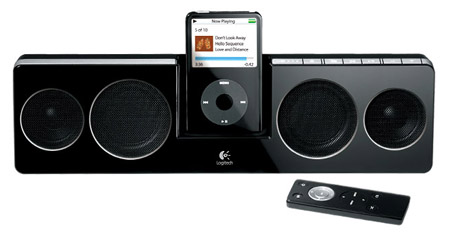 There are two versions of these speakers available. The 'Anywhere' model shown here has an iPod dock, but there's also a version called the Pure-Fi Mobile that ditches the dock and opts for Bluetooth wireless capabilities instead. Both models have a standard 3.5mm audio input as well. The unit is about 32.5 x 3.8cm, so it's not the most portable of portable speakers. There's none of the thin, tinny sound that afflicts many small speaker systems. But when we blasted out some bass-heavy tracks, the performance was passable but nothing more. With the volume up full, we've heard better from smaller and less expensive offerings. The Stereo XL mode makes things a little better, but not all that much. But it gets bonus points for the rechargeable battery and reinforced travel case to protect against bumps and bruises caused by reckless baggage handlers.
Reg Rating 65%
Price £100 - click to compare prices
More Info Logitech
Nimzy Vibro Max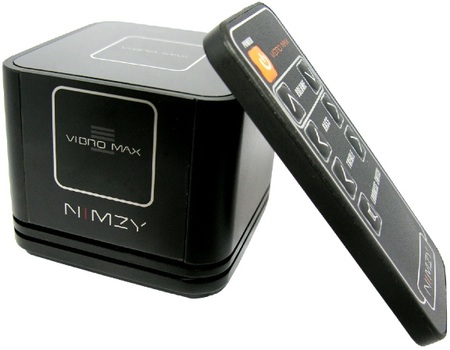 The Vibro Max is a bizarre but ingenious little device. This compact little cube – 6.3cm on each side, but surprisingly heavy – uses 'electro acoustic' technology to pump sound waves through the base of the unit so that they resonate and produce sound from whatever flat surface the cube is resting on. We were surprised that such a small device could produce such a big sound. However, the audio quality is somewhat dependent on the surface that the Vibro Max is used on. We found that resting it on solid wooden floorboards produced a fuller sound than a small coffee table, for instance. It will work with any device that has a standard 3.5mm audio jack, but there's no room inside it for batteries so you can only use it in locations where you have access to mains power.
Reg Rating 80%
Price £50
More Info Widget.com
Orbitsound T3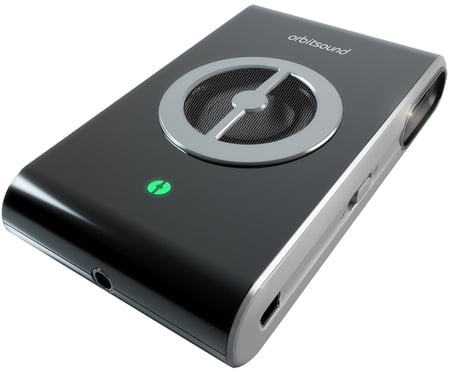 Forget portable speakers that you can slip into your pocket or backpack – the T3 is a wearable speaker that you can dangle around your neck when you hit the streets. A built-in rechargeable battery provides ten hours of playing time. The T3 actually includes two separate sets of speakers. The main speaker points straight forward, but you can also activate a second set of stereo speakers that project sound out to the sides, creating a 'spatial stereo soundfield' that hangs in the air around you. The T3 produces surprisingly high volume for such a compact device, and the sound quality is good. But, like all the other really small speakers in this group, the T3 does start to distort when you crank the volume all the way up.
Reg Rating 65%
Price £79
More Info Orbitsound