Original URL: http://www.theregister.co.uk/2008/09/17/review_benq_w500_projector/
BenQ W500 projector
There's more to image quality than a massive pixel-count
Posted in Personal Tech, 17th September 2008 10:42 GMT
Review An entry-level 720p projector will give you a huge display that's great for gaming and TV. BenQ's W500 sits just above that price point and delivers some improvements in image quality.
With all the hype surrounding Full HD you may scoff at 720p, but there's a lot more to image quality than a massive pixel-count and the W500 incorporates a lot of clever technology to ensure your picture looks great, be it from a high definition or standard definition source.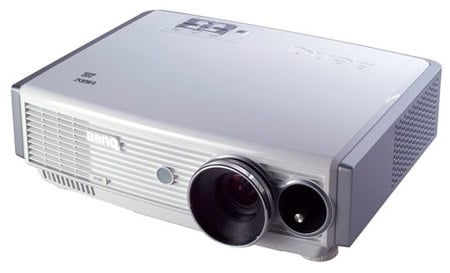 BenQ W500: designed more to blend in than to stand out
BenQ's product photos don't really do this projector justice. Yes it's just a white box, but it's a very smooth and shiny white box – with silver bits. OK, it may not have the same kind of space-age looks we've seen in similar models from Samsung or InFocus, but this W500 is designed more to blend in than to stand out. What's more, being white it'll be lot less conspicuous should you decide to mount it on the ceiling.
At 349 x 120 x 277mm it's a little larger than the smallest 720p projectors. While it may be considerably larger than Optoma's tiny HD65, it's much smaller than a 1080p projector, so finding somewhere to put it really shouldn't be a problem. Because the main air vent is at the front of the device, you can mount it safely on a shelf where's there's not much space at the rear.
Horizontal and vertical digital keystone adjustments are available via the on-screen menu, but one of the most useful features of the W500 is its omni-directional lens-shift: Getting your picture lined up squarely on your screen can test the patience of the best of us, but a small joystick on the front of the projector lets you move the whole protected image around quickly and easily without the distortion introduced by digital adjustments.
A pair of screw-mounted rubber feet at the front lets you control elevation and tilt with adequate precision when mounting the projector on a flat surface such as a table, although ceiling mounting is of course also an option.
The supplied remote is big and long - and therefore difficult to lose, with buttons that light up orange like electric Jelly Tots. Having a lot of buttons means you can jump directly to the right input and tinker with settings such as aspect ratio scaling without having to browse through a menu of options, keeping visual interruptions to a minimum.

There's a good selection of inputs, including HDMI and a VGA d-sub connector
Unlike Samsung's Hybrid SP-A400B, the W500 is a pure home cinema product with a native 16:9 resolution, which means it'll project an image the same shape as your TV rather than your widescreen PC monitor. It's very good at scaling all sort of content, but if you do want to use it on a PC, you won't be able to get a true 1024 x 768 image without some distortion.
The W500 is unique in BenQ's projector portfolio in that it uses LCD technology rather than the ever-popular DLP system. Rated at a modest 1100 ANSI lumens, this 5000:1 contrast ratio projector nevertheless produces a bright, clear image with plenty enough power for most home theatre setups.
The selection of inputs includes a single HDMI port as well as a VGA d-sub connector and a pair of component video inputs. You also get composite and s-video thrown in, although they're hardly the best use of a projector such as this. RS232 and USB control ports are also provided.
The image quality from the W500 is very good indeed. It produces a sharp picture with good colour depth and contrast, while skin tones look noticeably more life-like than those produced by competitors such as Samsung's SP400B.
However, this level of quality was not achieved without some tweaking of settings. When viewed side-by-side with some competing models our opinion on which projector looked best changed many times as we made alterations via the configuration menu.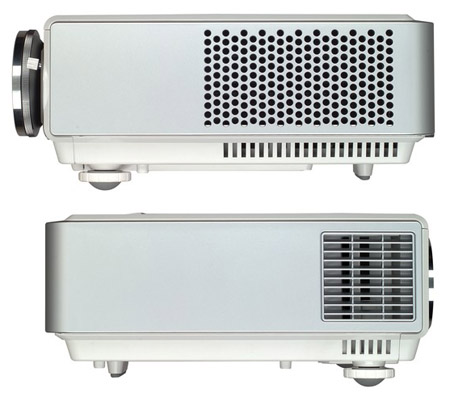 The W500 uses LCD technology rather than the ever-popular DLP system
Most important when viewing movies was to leave the dynamic iris function enabled. The improvement this achieved was more noticeable on the W500 than on many other projectors and without it, black levels looked really un-impressive. However, once enabled the picture quality was easily among the best we've seen. Other than that setting, we liked the picture best with all the remaining image enhancements left disabled. This W500's use of LCD technology has one major advantage – and that's the absence of the so-called rainbow effect often noticed with DLP projectors. Some people seem to notice this unpleasant coloured banding more than others, so if you are one of these unfortunate individuals, the W500 is going to be streets ahead of a DLP projector for you.
Yes it's "only" a 720p projector, but there's much more to image quality then sheer pixel resolution. We feel that, for the price, most users will be more than satisfied with the images the W500 can deliver.
Uncalibrated the W500 didn't produce colour quite as measurably accurate as the Samsung SP400B, but overall the subjective image quality was considerably better. Everything appeared much, much more realistic on the W500 - Skin tones in particular looked more natural and alive, with a subtlety few projectors can match. Movies are engaging and film-like.
The ace up the W500's sleeve is the HQV (Hollywood Quality Video) image processor from Silicon Optix. Regardless of your opinion on the quality of video emanating from Hollywood you'll find the HQV chip enables the projector to deliver excellent-looking results whether you're up-scaling from standard definition DVD content or scaling down from interlaced 1080i HDTV output. All of our test clips looked smooth and natural with minimal digital noise.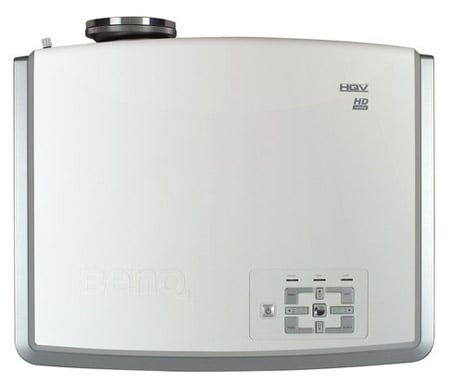 The ace up the W500's sleeve is the HQV (Hollywood Quality Video) image processor
When in its 'normal' mode, the W500 is audibly quite noisy at 32dB– however, switch to eco and things pipe down to a more acceptable 28dB without a huge decrease in brightness. However the W500 isn't particularly bright to start with, so you'll need a room where you can control the light levels if you want to use the projector to its best effect during the day.
Some setup is required to get the best picture, especially when it comes to black level and shadow detail, which can appear a little washed out if not managed carefully. Its zoom range of 1.2:1 isn't very wide either, limiting your options when it comes to positioning the projector for any give screen size. As with any 720p projector you won't want to be sitting too close to the screen if you want to avoid noticeable pixilation, but if you're about two screen widths away you should be fine.
Verdict
If you do a lot of your viewing in the daytime and you can't darken your room, then you may want to consider a brighter projector, such as Panasonic's 2000-lumen PT-AX200E. However, if the W500 fits well with your room and viewing conditions you'll find it offers good image quality from any source and is easy to use. Best of all it's currently available online for only £578 with an Xbox 360 and five games thrown in. A replacement lamp will cost you £189 and will need changing after around 2000 hours in standard mode or 3000 if you stick to the economy setting, making the W500 comparatively cheap to run.