Original URL: https://www.theregister.co.uk/2008/09/16/tandberg_rdx_blockbuster/
Tandberg's RDX blockbuster
Major success on its hands
Posted in The Channel, 16th September 2008 07:28 GMT
Tandberg Data looks to have a major success in waiting on its hands with the ProStor RDX QuikStor product - 90,000 drive docks have been sold in less than two years.
ProStor's RDX is a removable cartridge containing a 2.5-inch notebook hard drive, up to 500GB in capacity, in a ruggedised case. It is slotted into an internal or externally-attached dock and so provides a removable disk backup facility, meaning a combination of disk-to-disk backup speed and tape removability for off-site storage. It comes in single drive and multi-drive InfiniVault form.
Both Symantec Backup Exec and Yosemite FileKeeper are available for it. Typically, RDX customers do not run grandfather-father-son style backup schemes. They'll have one cartridge in the drive, one nearby and one offsite. That's why the simpler-to-use FileKeeper product has been made available.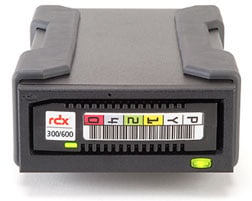 ProStor RDX product.
FileKeeper is a little like FalconStor's CDP product. But it is file and not block-based and only saves user data, not system files. It does have a bare metal recovery, DR-capability though, like FalconStor's product. The idea is that the RDX + FileKeeper combo offers complete practical protection for smaller businesses, such as hotels.
Files are saved to version levels and only byte-level differences are saved with each fresh version. In effect it's file-level deduplication. The number of saved versions is a user-specifiable parameter. The DR saving of an entire system is a different FileKeeper operation and recovery is done direct from the RDX drive with no need for a recovery CD.
RDX roadmap
Product manager McClain Buggle says RDX will grow to 750GB capacity in the first half of 2009 and a 1TB version is expected by the end of 2009 or in early 2010, still using 2.5-inch drives. Tandberg uses either Western Digital or Fujitsu drives. Samsung, Toshiba and Seagate have also been certified as hard drive suppliers.
The multi-cartridge product will get a SAS interface in 2009. Tandberg reckons that the RDX technology can go into the consumer market, duking it out with EMC Iomega's lower-capacity removable REV disks, and also into larger server environments as the higher capacity catridges become available. RDX may well have 1TB cartridges before LTO terabyte tape cartridges are available.
OEMs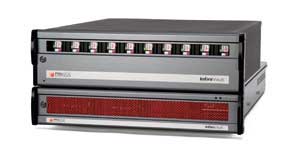 ProStor InfiniVault multi-cartridge product.
Buggle says that both Tandberg and Imation have manufacturing rights to RDX, but Tandberg has won all the OEM deals so far. The speculation is that Imation, primarily a tape and optical disk media manufacturer, has no experience as an OEM drive manufacturer, whereas Tandberg has, using the same Chinese contract manufacturing facilities that it uses for its tape drives and automation products. (Imation wasn't able to comment in time for this article.)
Tandberg makes the drives and docks for Dell, Fujitsu, Fujitsu Siemens Computers, NEC and, only recently, HP. The 90,000 units sold to date is the total reached before HP has started its selling efforts. The outstanding OEM possibilities are Acer, Apple, IBM, Lenovo and Sun.
IBM was a reseller of Quantum's GoVault competing removable cartridge drive and dock but that product shares just 10 per cent of the removable drive market with Imation's in-house Odyssey product, according to IDC, with ProStor having the rest. Buggle speculates that Quantum has simply not focused on GoVault, being directed towards enterprise sales, not small business ones. It's no surprise to learn that IBM withdrew its GoVault product at the beginning of the year. We may imagine that Tandberg reps are talking to IBM, Sun and the other OEM candidates. Their message will be that the entry-level tape market with a simple, uncomplicated backup schedule involving 10 or fewer tapes is migrating to removable disk.
Why? Disk is faster to restore than tape, simpler and more certain to restore than tape, offers continuous data protection (CDP) and bare metal recovery which tape does not, and has the removability of tape to offer a disaster recovery capability. It's also affordable - RDX drives and media cost, ProStor says, less than half a similar capacity DAT drive and tape - and much simpler to manage. Yosemite CEO George Symons says: "The customers will figure it out."
IDC thinks the removable disk drive cartridge market will be worth $98m this year, $178m next year and on up to $515m in 2012.
With RDX having 90 per cent of that and Tandberg having, let's say, 90 per cent of RDX sales, then its RDX business this year will be worth almost $80mi - not at all bad for a business unit that started its volume shipments in January, 2007. The outlook for Tandberg, assuming percentages stay the same, is 2010 RDX revenues of $144.2m and 2012 revenues of $417m.
That will help transform its business, weakened by near-bankruptcy at the end of 2007. Already the acquired Exabyte VXA tape technology is receiving little investment and is effectively mature. Its RDX that's getting the lion's share of Tandberg's R&D.
Tandberg has a 7,000 - 9,000 monthly run rate for RDX docks and has shipped 250,000 cartridges with the average being 3.5 cartridges per dock. Buggle says its RDX volumes are growing at double digit levels each quarter.
Given the numbers we have from Tandberg and IDC we could play around with a spreadsheet model and predict 250,000 units sold by Q3'09 and half a million reached by Q3 2010. But these extrapolations require growth rate assumptions and, as the old sales training gag goes, never 'assume' because it makes an 'ass' out of 'u' and 'me.'
Cloud Backup
Buggle thinks cloud backup services can complement RDX - D2D2C so to speak - but are also competition. RDX offers much faster bulk restore than a cloud backup service can but a cloud data centre, hopefully many miles away, will offer extra security. Symons said Yosemite is to offer a cloud backup service and will usr Nirvanix's infrastructure to do so.
Only customers' data files will go to the cloud, not their system files. Symons reckons doing data recovery from the cloud is not practicable, the data volumes being too high for the network links used by FileKeeper - and RDX - customers. You need local media to restore systems in a timely manner.
If Tandberg decides to offer a cloud backup service to complement the RDX cartridges then Yosemite is well-positioned to supply such a service as an adjunct to FileKeeper. Buggle observes about all this: "It's very intriguing."
There is a looming issue here, about cloud backup. Granted, it's convenient for backup. But it is simply not fast enough for bulk restores. Cloud backup is appropriate enough for light file restore loads. But for bulk restoration, it is suitable only when the business' recovery time objective (RTO) is flexible enough to cope with the amount of time involved. As RTO limits narrow then cloud backup will surely be ruled out for this.
You get the feeling that that's what the Tandberg RDX people are hoping. RDX is a great backup medium, they say, because it is fast and local. Yes it can be off-site but it can still be local - near enough so that your recovery time can be a lot less than with either cloud backup or tape.
There's an air of suppressed excitement about them. For sure McClain Buggle can see plenty worse products than RDX to manage and Tandberg must be thanking its lucky stars that in the horribly executed mess that it realised its tape business was in during the closing stages of 1997 there was this little nugget of solid RDX gold. ®