Original URL: https://www.theregister.co.uk/2008/09/16/gm_shows_production_volt/
GM shows off production electric car
Volt face
Posted in Science, 16th September 2008 17:01 GMT
'Leccy Tech General Motors has formally unveiled the production version of the Chevrolet Volt, the auto giant's attempt to prove that electric cars needn't look butt ugly.
Originally unwrapped at the Detroit motor show last year, the Volt won't go into production until "late 2010" for the US market. It's not clear when - or if - it'll appear over, though it'll undoubtedly undergo some cosmetic changes to make it more appealing to Brits and gain the Vauxhall logo.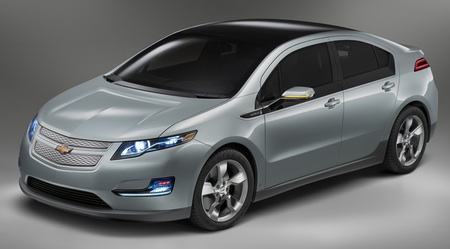 GM's Chevy Volt: have battery, will travel... 40 miles
The Volt is almost entirely battery powered, relying on a 16kWh lithium-ion battery for day-to-day usage, with a petrol engine discreetly tucking under the hood in case you forget to plug the thing in over night. Driving on gas generates electricity that feeds the drive and charges up the battery.
Interestingly, the Volt's designed for power feeds of both 120V and 240V, so it's already equipped for the international market, though it lacks the slide-across steering wheel of GM's past green auto effort, the fuel-cell packing Hy-wire.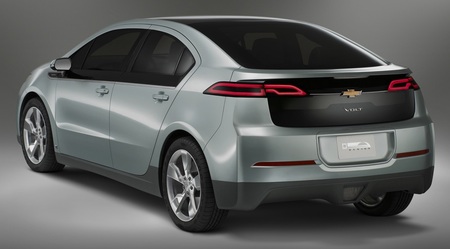 Sleekly aerodynamic, apparently
GM reckons the Volt's battery will fill from empty after eight hours connected to a 120V feed, or just three hours on a 240V socket.
A full battery gives the Volt power enough for a top speed of 100mph. The power plant's rated at 150 horsepower and can deliver 273lb-ft of torque. Alas, it'll only reach 40 miles before the battery's drained and the petrol engine kicks in to generate electricity.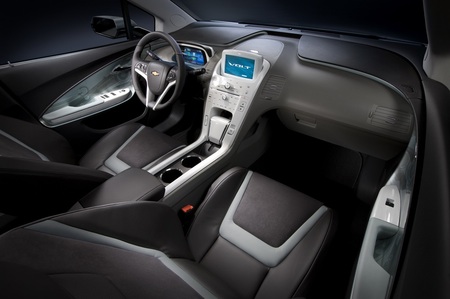 Glad to be grey
It's not clear at what point the battery is considered sufficiently full by the Volt's computer brain that the car goes back to electricity drive and switches off the combustion engine.
Alas, there's no vrooom - the Volt's "extremely quiet", GM gushed. Pedestrians, you have been warned.
GM's not saying yet how much it plans to charge for the Volt.
GM Volt Photo Gallery