Original URL: https://www.theregister.co.uk/2008/09/15/online_crime_vs_censorship/
Ad hoc malware police besiege net neutrality
When does crime fighting become censorship?
Posted in Security, 15th September 2008 16:44 GMT
Analysis Over the past couple of weeks, white hat netizens have scored two important victories in their tireless quest to clean up some of the internet's darkest recesses. While the events are encouraging, forgive us if we don't jump for joy.
The first win came when Directi - a registrar criticized for making anonymous domain-name registration available to an inordinate number of scammers - agreed to beef up its policing of malicious sites. The Mumbai provider of a service known as PrivacyProtect now promises to suspend abusive services within 24 hours of receiving a legitimate complaint. It's also agreed to completely suspend the service to Estdomains and other customers accused of using it to protect owners of illegal websites.
Malware opponents scored an equally decisive victory last week when Intercage - a California-based network provider with more than 30,000 internet protocol addresses - said both of its longtime upstream providers were canceling service. The terminations came in response to a report that Intercage enables a rogue's gallery of customers to punt spam, malware and online (illegal) pharmaceuticals. Late last week, the company came close to going dark, but at the 11th hour was saved when a provider called Pacific Internet Exchange agreed to take it on.
Yes, the wins may make it harder for bad guys to spread malware, spam and illegal scams, but at what cost to a robust and unfettered internet? The inability of traditional law enforcement to crack down on online scammers - or for private individuals to target them with civil lawsuits - has unleashed a new breed of enforcement that turns registrars and webhosts into de facto gatekeepers. By and large, these groups are honest and well intentioned. But their lack of due process has implications for free speech, net neutrality and other concerns that ought not be trumped by our zeal to stamp out cybercrime.
Doubting Thomases need look no further than last year's summary termination of a popular security website by registrar GoDaddy. It came at the request of MySpace, which claimed a single page on the Seclists.org listed account names and passwords purporting to belong to users of the social networking site.
"It's a dangerous thing," Eric Goldman, a professor specializing in cyber law at Santa Clara University, says of the expectation that registrars and network providers make legal judgments about their customers. "Once they become the police, they are the only power brokers that matter. Their decisions will affect billions of dollars of investment decisions."
Fred Von Lohman, a senior staff attorney at the Electronic Frontier Foundation, agrees the practice is a proverbial slippery slope.
"There's all kinds of groups who want to take all kinds of websites off the internet," he says. "Copyright owners are on the top of that list. The same thing is true of the Chinese government. I'm sure they would love to persuade domain name registrars to pull the plug on certain websites."
Indeed, looking to more established industries, it's hard to find a precedent to the arrangement that's become standard online. Few expect phone and electric companies to disconnect customers accused of engaging in drug dealing or organized crime. And in many jurisdictions, landlords who evict nuisance tenants must first submit extensive evidence establishing that there's illegal behavior.
Not so on the internet, where private groups like Spamhaus make pronouncements that exert a huge influence over some of the world's biggest network providers. Spamhaus CEO Steve Linford, who contacted us after this story was first published, remains unapologetic about his organization's blocking of Intercage and pointed us to this page offering some rather unflinching criticism of Intercage.
"The person who runs Atrivo/Intercage, Emil Kacperski is an expert at playing the 'surprised janitor', unaware of every new criminal enterprise found on his servers and keen to show he gets rid of some criminals once their activities on his network are exposed," the writeup contends. It also links to this page listing some of the specific transgressions Intercage has been accused of.
(Editor's note: A previous version of this story referred to Spamhaus as an "anonymous group." While the group declines to name several senior team members and volunteers, Linford has always publicly revealed his role as CEO. We regret use of the word "anonymous.")
Similarly, GoDaddy and just about every other registrar reserve the right to pull the plug on customers for any reason. On the net, these groups often get to play judge, jury and executioner with little transparency or recourse.
Piercing the Online Rat's Nest
Of course, the difference between the online and physical worlds is stark when it comes to law and order, and that has a lot to do with the current state of affairs. In most industrialized societies, there are a variety of authorities that crime victims can call on, and assuming a reasonably high priority has been assigned to enforcing laws against the offense, there's a reasonable likelihood that the perpetrators will be caught - or at least deterred from victimizing others.
On the internet, a rat's nest of jurisdictional and technical complications provide shelter for a huge proportion of the crime taking place. Someone in Chicago or London who gets duped into installing malware has virtually no chance of catching the responsible miscreant, who is frequently on a different continent. Even worse, there is little authorities in either the US or the UK can do to take down the offending website. This inability has given online criminals a sense of impunity.
To see just how skilled miscreants have gotten at milking the system, witness the shell game that took place late last week on Intercage's network. When we contacted Patrick Jordan, senior malware researcher at security provider Sunbelt Software, he had no trouble producing an Intercage IP address (69.50.190.135/?to=010388&from=ru, to be exact) being used to send visitors to a potpourri of abusive sites. The first time we visited it we were led to scan.antispyware-free-scanner.com, which falsely claimed our PC was infected and needed to be cleaned using software that would be provided free of charge. (Note, we used a virtual machine to visit all suspicious addresses. We strongly recommend steering clear of these sites unless you know what you're doing.)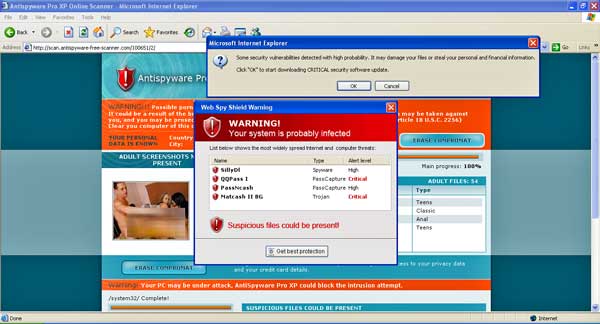 This site was brought to you by Intercage
The next time we hit the Intercage IP we were directed to hardcore-free-video.com, a site claiming we needed to install a free codec before viewing content. Those who take the bait find that their domain name system server will be changed to one that sends them to fraudulent pages.
On Wednesday, we brought this IP address to the attention of Intercage president and owner Emil Kacperski, who shut it down within a half hour. But within hours, Jordan discovered the miscreants simply moved their rotational scam site to 69.50.190.136/?to=010388&from=ru, just one address higher in Intercage's IP range. Shell games like this one are a never-ending fixture on Intercage that has gone on for years, a chorus of security experts say. They have become convinced the only way to put an end to it is for providers of Intercage to pull the plug on their customer.
"What [Intercage] did, no matter their vehement denials otherwise, was assist in the process of dramatically hurting a lot of people, whether it was because of somebody having to shell out a lot of money to buy a security product or because they were extorted," says Alex Eckelberry, Sunbelt's president. "Rogue ISPs who have been friendly to bad guys should be on notice that their activities are being watched and are being publicly reported and there may be a price to pay."
Malware Main Conduit
Indeed, the cost to Intercage has been abundant. Host.net, a backbone provider that serves Intercage, decided to dump its customer following several reports. One came from Spamhaus and another, issued two weeks ago by an organization called HostExploit.com, portrayed Intercage as "a main conduit for financial scams, identity theft, spam and malware."
"Obviously, there's a lot of pressure to do something about this," says Randy Epstein, co-founder of Host.net. "Our acceptable use policy allows us to disconnect customers that are violating our rules. You have a right to protect your company."
Indeed, companies should be able to police their own networks. We've argued as much for more than a year. The question is whether take-downs should be summarily executed within a few days of a report being issued or taken only as a matter of last resort.
According to Kacperski, none of the security researchers publicly criticizing Intercage have ever bothered to call or email him or otherwise report the abusive sites using the company's resources.
"If these abuse people are serious about stopping malware sites, you would think they would at least send me a list of sites to quickly remove," he says. "How hard is to send an email and say, 'Emil, these are the sites that I'm seeing. Can you please knock them off. They're causing damage.'"
We asked a handful of Intercage's most vocal critics if they sent take down requests to Kacperski. None said yes. "In his defense, what may have finally happened is that malware researchers stopped bothering to report" abusive sites," Eckelberry says.
Kacperski says his company swiftly responds to messages sent to abuseatintercage.com, and in the two instances we reported fraudulent sites, the company removed them in less than an hour. Yes, it's possible those reports got special treatment since they included the IP address of a known security reporter, but because few others seem to send abuse dispatches, there's no way of knowing for sure.
The Mission Creep
This style of self-service law enforcement can get even messier when it comes to registrars, who are being called on to police an increasing number of activities being carried out by their considerable base of customers.
A group called Scaminvestments.com, for instance, has gotten in the habit of exerting pressure on registrars to pull the plug on sites that promote ponzi schemes. They group has recently taken registrar eNom to task for failing to suspend at least 26 sites the group claims offer illegal investment opportunities. (Interestingly, the group says Estdomains, which has long been criticized as a haven for scammers, has been "nothing but cooperative with respect to suspending domain names for illegal activity.")
"It's not eNom's fault that these things happen," says Kristopher Paine, Scaminvestment.com's administrator. "But once they're notified, they should take action."
("eNom can and will disable a domain name registration upon proof of illegal activity, or upon issuance of a court order or other governmental decree or decision," a company spokeswoman says.)
Scaminvestments.com's well-intentioned campaign is an example of what is known as mission creep, in which the scope of a project or activity expands over time. While everyone agrees ponzi schemes are bad, they're also fraught with legal nuances that are likely to be lost on laymen. Do we really want people in registrar abuse departments making determinations based on complex securities law?
ICANN't
If registrars and network providers continue in the role of gatekeeper, there's no telling where it will lead. What was once limited to sites clearly punting malware and phishing scams has already expanded to include pharmacies and investment sites that are presumed to be illegal. It's not a stretch to imagine that sites offering BitTorrent downloads or material deemed to be obscene are next.
Contrary to claims by Scaminvestments.com, HostExploit.com and Knujon, another group that's taken the lead in pressuring registrars to suspend customers suspected of illegal activity, there are no requirements by the Internet Corporation for Assigned Names and Numbers governing the take down of malicious sites.
"ICANN's role technical coordinator," says ICANN spokesman Jason Keenan. "If someone is using a domain name for illegal activity, that's a matter to be dealt with by law enforcement agencies."
One possibility is for a broad base of participants to develop a set of procedures - similar to ICANN's uniform domain name dispute resolution policy - that would govern when and how abusive websites are taken down. While the domain name policy is by no means perfect, it's gone a long way to stemming the arbitrariness and unpredictability of resolving copyright disputes.
None of this is to suggest that cybercrime isn't a problem, or to disparage the hard work of security experts who donate considerable time and energy reining in some of the net's most nefarious elements. But it's time to recognize the current takedown system for what it is: a temporary and highly imperfect stopgap. If it's allowed to continue on its current course, we may throw the proverbial baby out with the bathwater. ®