Original URL: http://www.theregister.co.uk/2008/09/15/greenbird_kingpin_record_dash_dashed/
Climate change blows out eco-boss's record bid
Wind farm firm's spin-inflated rep
Posted in Science, 15th September 2008 14:10 GMT
Opinion An attempt to set a new wind-powered land speed record, backed by a self-described "hippie" businessman and wind energy promoter, has failed. Dale Vince OBE, founder of energy-trading and windfarm firm Ecotricity, blamed carbon-induced climate change for the setback.
Ecotricity is backing the "Greenbird" high-speed land yacht team in an attempt to break the record. The plan was to make an attempt on the flat bed of Lake Lefroy in Western Australia this month, but unseasonal rains have put a spanner in the works.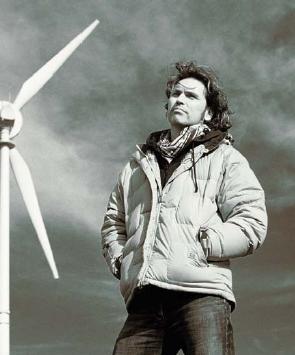 Dale Vince - a big bag of wind?
Writing at his blog, zerocarbonista ("Viva the next industrial revolution"!) Vince explains:
This year's Greenbird land record attempt is a washout. I didn't even get to Australia... The lake is normally dry in September, but this year it's wet due to uncharacteristic rain fall... These unusual and changing weather patterns, typical results of the impact of climate change, have scuppered our record attempt... it's an irony not lost on us while that while Greenbird is intended to show how the world might be getting around when fossil fuels run out - the changes that fossil fuels are causing to our climate right now appears to be the very thing that has stopped us.

In the next twenty years, I firmly believe that wind power will be our main energy source and wind-powered cars will no longer be the stuff of dreams.
Vince says he's a vegan, former bus-dwelling New Age traveller, peace campaigner, and "a hippie".
He doesn't mean that wheely windjammers like the Greenbird will one day back and fill in the traffic jams of tomorrow. Rather, he proposes relatively conventional electric battery cars, which would charge up from a future UK electricity grid pretty much entirely powered by wind. The Greenbird itself is merely a publicity stunt.
But that's not to say that Vince doesn't have some amazing stuff on offer right now. His main business venture is Ecotricity, which like many other companies will sell you "green" electricity. Unlike those others, however, Ecotricity also says that "for every £1 you spend with us through your electricity bills we spend another £1 building new sources of green electricity... that's not a promise, it's a fact".
Well, kind of. In its annual progress report, Ecotricity enlarges somewhat:
Over the last four years we've invested on average £460 per customer per year. The typical household bill for electricity in the UK is about £400 – that's why we say for every pound you spend with us through your electricity bill, we spend a pound building new sources of clean energy.
The company says it had 33,000 customers by January this year. However, "more than 2,300" of these were businesses - for example Ford Motors at Dagenham, which is expected to take 6.7 million kilowatt-hours from Ecotricity annually. This should yield revenues of several hundred thousand pounds at least, from just one client: giving a clue as to how the firm is able to afford £460 of new windmills per customer every year without fail.
So it really is a "fact" that Ecotricity will spend a pound on windmills for every pound you spend with them; but only if you spend £460 or less. If you're a big customer, Ecotricity will spend perhaps one-tenth of a penny on new windmills for every pound you give them.
Still, at least it's green 'leccy, isn't it?
Well, no, actually, not according to Ecotricity. The company's juice was 24 per cent renewable at the last count, from its own turbines. This is expected to rise to 30. The rest was approximately one-third each from nuclear, coal and gas. The idea is that the profits from the company's main business - that is, selling "brown" electricity at the same retail prices as the major brown-electricity providers, a highly lucrative activity - are ploughed into the wind turbine programme. Well, and a few other things like the Greenbird, directors' pay etc. Details are sketchy - the Ecotricity Group is set up as a maze of different privately-held companies.
But by golly, Vince isn't skimping on the windmills: "One in six of all the wind projects in England today were planned and built by Ecotricity. Or looking at in another way, we produce more than 12 per cent of England's wind energy..."
Or you could look at it still another way. The British Wind Energy Association says there are over 2500 megawatts of wind plant operational as of going to press. Ecotricity admits that it has 50 megawatts of wind farm capacity to date, providing 15 megawatts output averaged over time - that is to say, less than two per cent of the UK's wind energy.
Being big in England is not a big deal in UK windfarm terms. After 12 years of effort, Ecotricity remains an insignificant wind provider - and wind provides only a tiny fraction of British energy. The company is a small minnow in a small pond as regards renewables, though it seems quite a profitable little energy-trading operation.
Nice. Who said you can't produce big, significant numbers using spin machinery?
Well, we seem to be looking at about 130 million units pa of green 'leccy from Ecotricity's windmills, which we're told was a quarter of what it sold last time it added up. The total annual units flogged must thus have been 520m odd, indicating revenues in the £50m range at current retail prices*.
For the 06/07 year, wholesale leccy was going for approximately 4p a unit on average, so buying in brown juice to resell will have set Vince back say £15m, leaving him £35m ahead. He spent £20m of that on new windmills, he says, leaving £15m for the Greenbird, running costs and whatever else was deemed appropriate.
In reality, for every pound you give Ecotricity, it will not spend a pound on windmills. Broad brush it will spend around 30p on buying brown 'leccy, 40p on windmills, and keep the rest like any other energy firm.
Forty per cent of what you pay on new windmills is still far and away more than any normal electricity company would spend. If you really really like windmills - though there are those who offer cogent reasons not to - you should surely give your money to Dale Vince so that he can buy himself some more.
Just check everything he tells you, like, rilly rilly carefully, man. Dale Vince talks the talk of a righteous hippie eco-peacenik vegan dude, but he walks the walk of The Man. ®
*Vince has a reputation for hardnosed bargaining with his corporate clients, and they don't have to chip in a penny on development for their onsite PR-bonanza wind turbines. They probably wind up paying close to retail rate; and anyway this is a minority part of the business.