Original URL: https://www.theregister.co.uk/2008/09/12/review_sony_prs_505_reader/
Sony PRS-505 Reader e-book
More popular than the Celestial Home Care Omnibus, better selling than 53 More Things to do in Zero Gravity
Posted in Personal Tech, 12th September 2008 11:02 GMT
Review Since words written on paper have kept civilised humans amused and off the streets for the best part of five-and-a-half thousand years, anything that hopes to replace it had better be good.
With this is mind, and in an effort to make the printing press obsolete, Sony has released the PRS-505 Reader - a book, Jim, but not as we know it.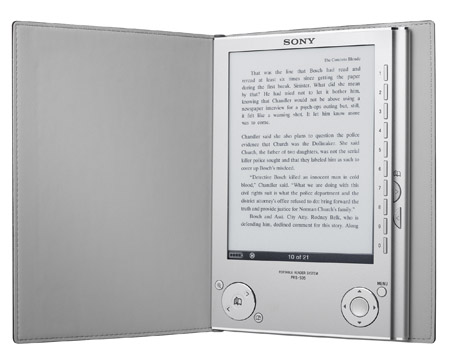 Sony's PRS-505 Reader: stylish
To date, media reception of the Reader has been little less than hagiographic, though to be fair it is a little difficult not to gush when you get your paws on something that looks this, well, cool.
In essence, it's an aluminium slab weighing 260g and measuring 122 x 175 x 7.6mm, and fixed into a very nice tan mock-leather "book cover", Sony has obviously spent a lot of time and effort making sure that 'book lovers' will be impressed by the Reader from the beginning.
While the front of the Reader is dominated by the screen and navigation controls, Sony has managed to cram a fair amount into its sub-8mm upper and lower surfaces: two memory expansion slots and the power on/off control up top, and a mini-USB port, 3.5mm headphones jack, 5.2V DC in jack and volume control down below.
The mains power supply is an optional extra, so out of the box you can only charge the Reader through the USB cable. The battery takes around two hours to go from flat to fully charged.
One thing the Reader has coming out of its ears is controls. It has more of them than you can, well, throw a book at, with many of them doubling up on each other.
To the right of the screen there are ten buttons that correspond to tabs on the screen and allow you to reach the main menus by which you access content on the Reader.
To the right of them are the buttons you use to 'turn' the pages forward and back. Another, circular control in the left hand corner does the exact same thing and is flanked by buttons to increase the text size and bookmark the page you are on. Finally, below the right-hand side of the screen is another circular control for general navigation, equipped with a central action button and a smaller circular menu/back key.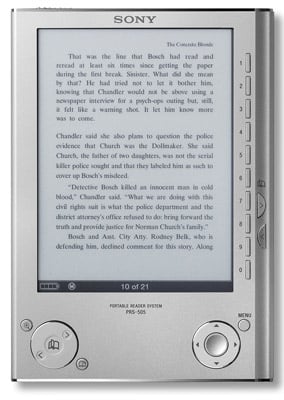 We think that a touch screen UI would be a more elegant solution
If you have been keeping up you will by now have figured out you can turn pages using no less than three different controls, though oddly the main navigation key only lets you turn a page forward if you have already accessed it using one of the other page turn controls.
It all works well enough, but we couldn't help but feel that a touch-screen UI would be a more elegant solution, assuming of course it was technically feasible.
The lack of any sort of keyboard also rules out a search facility. Not an issue if you only have a few hundred books on your Reader though it may become one if you have a few thousand. It also raises issues of navigation around reference books – flipping pages all the way to an index, then heading back to the relevant entries you want to read could, we suspect, get a little taxing after a while.
Managing content on the Reader requires the installation of Sony's eBook Library software – think Sonic Stage without the music. This happens to be a Windows-only application but luckily for Mac and Linux users the Reader shows up as a mass-storage device so you can drop files – at least ones without any sort of DRM protection – directly into the Reader's Media folder.
The device itself comes with 192MB of storage, which Sony say is good for around 160 books. Clearly this depends on the length of the book, as all 1984 pages of David Copperfield come in at 2.9MB, though to be fair 66 major Dickens' novels isn't bad on a device that's smaller than a paperback copy of A Christmas Carol.
Memory expansion is, however, very well catered for with both SDHC and MemoryStick Duo slots in the top of the player. Shove an 8GB card in either and you could load up more literature than could be easily read in the average lifetim: more than 1700 copies of War and Peace, for example.
The external memory cards integrated seamlessly with the Reader's on-board storage, the system taking files from all three locations and presenting them as a unified whole.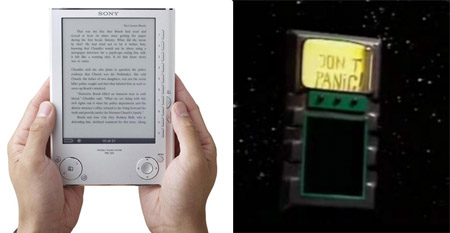 The concept of electronic books has been kicking around for a while
Once loaded, the Reader can sort books by author, title and date loaded, though in the last view it regarded books in fact loaded four days previously as loaded "today". The author view indexes by first name, so anything by the Bard ends up under 'W' for 'William' rather than 'S' for 'Shakespeare'. This may have more to do with file tagging than the Reader itself but it's nevertheless a little annoying. Still, at least it doesn't file books starting with 'The' under 'T', and for that we should be grateful.
The Reader's display is a 6in portrait, eight-level greyscale "electronic paper" item from E Ink with a resolution of 170 pixels per inch. What that means in everyday use is that pages are rendered with great clarity and definition as full black ink against a very pale grey background.
In good light, the Reader's screen is actually slighter easier on the eye than reading a traditional book and benefits from three available text sizes – small, medium, large – the smallest being more or less the same as you'd find in any standard-format paperback.
In poor artificial light, we sometimes wished that there was some sort of contrast control though it could be argued we shouldn't have been trying to read in those conditions to begin with. The screen can be moved from portrait to landscape though we aren't wholly sure why or when anyone would want to do so - this is not a display for picture books.
While the screen is essentially matte in finish, it does have a tendency to reflect strong light sources, especially tightly focused reading lamps. Altering the angle of the light or the reader usually gets around this, though, and it was not a major issue.
When a page is 'turned' the Reader's display refreshes or changes with reasonable speed, though the transition 'flash' from black-on-grey to grey-on-black and back again as it does so makes it seem slower than it is.
Did we say reasonable speed? Well, for moving from one page to the next, yes. But for flipping back from say page 235 to page 45 because you forgot what one character said, or to flip back and forth to any maps you have forgotten to bookmark - vital if The Lord of the Rings ever comes out as an eBook - it's really just a little slow and cumbersome.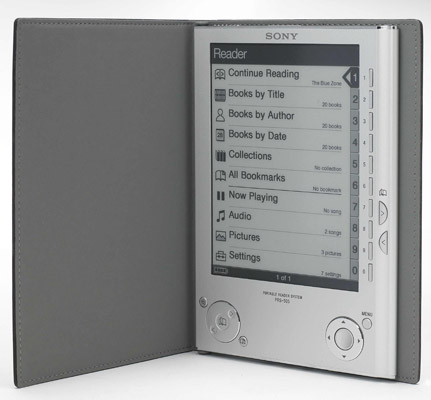 Expanding the built-in 192MB of memory is easy
On the plus side, the Reader remembers where you are in any book you have opened, so to get back to the same place just 'open' the book, hit the 'continue reading' button and bingo.
A curious feature of the Reader is that even though its knows the day and date to access said data, you need to navigate away from the page you are reading and all the way back to the main menu and then access the Settings tab to find out this information. Common sense should surely have dictated putting the day and date in the black status bar at the bottom of the page where there is ample space.
Because the screen draws no power when not in transition, the Reader's battery life is pretty impressive 7000 "page turns", according to Sony. As ther's no real way to test this that doesn't involve you reading this review three months hence, we'll restrict ourselves to saying that after a week of heavy use, and playing a good few music files, the battery is still showing a 75 per cent charge.
The Reader supports a pretty broad array of e-book files, including EPUB eBook and BBeB Book – with and without DRM – as well as PDF, MS Word and .txt files.
The Reader will also happily play back MP3 and AAC files, though it lacks the whit to store albums and tracks in any sort of order other than pure alphabetical-by-track-title. It renders album art quite nicely though, albeit in black and white.
Music played by the Reader doesn't sound at all bad, and you can read a book and listen to music at the same time. We found listening to Beethoven's Op. 131 string quartet while reading Conrad's Heart of Darkness at 41,000 ft on a Boeing 777 a most improving experience.
So long as you don't mind your pictures coming out in shades of grey, the Reader also supports static images in JPEG, GIF, PNG and BMP formats.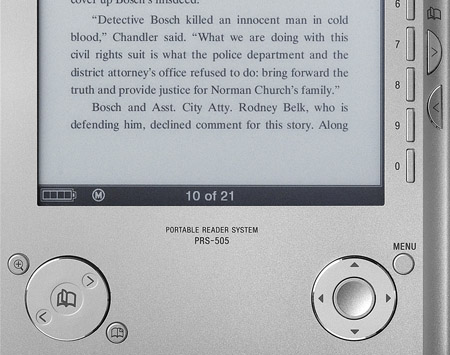 More controls than you can... well... throw a book at
At £199 and in the absence of anything to directly compare it with, the Reader is probably best described as reasonable value for money. Initial shipments of the Reader come with a CD with 100 out-of-copyright classics, including Beowulf – dust down those Ray Winstone accents - Thomas Paine's Common Sense and various works by Dickens, Poe, Tolstoy and the rest of the guys in the band.
Checking the small print, we noticed that the disc is will only come with Readers "while stocks last". Bearing in mind the cost of making a CD these days we can't see why Sony simply can't continue to stick the disc in every Reader box they ship from now until doomsday, but consider yourself warned. Of course, to a large extent the Reader's success will depend on the availability and cost of content.
At the time of going to press, there are nearly 6000 eBooks available from Sony's bookselling partner, Waterstones, of varying quality and price. But you can also get literally stacks of free out-of-copyright books – including the majority of the ones on the CD - from sites such as Feedbooks, which is where we snagged George Orwell's 1984 and HG Wells' War of the Worlds.
The short of it is, the more you like your classics, the more you will get out of the Reader and the less you will have to pay for the privilege.
Verdict
So is this the biggest thing to hit the written word since some Egyptian decided to stop trying to hack the weekly shopping list into a block of granite and invent papyrus? Probably not, but while not perfect it is a nicely presented and reasonably usable device, and the ability to stuff a couple of hundred novels into the same physical space as one thin paperback is self recommending, especially for regular travellers. After only a week with ours, we are going to miss it when it goes back.