Original URL: https://www.theregister.co.uk/2008/09/09/review_creative_mozaic_4gb_mp3_player/
Creative Zen Mozaic MP3 player
Tough, capacious and affordable
Posted in Personal Tech, 9th September 2008 11:02 GMT
Review First announced back in July, the Mozaic settles nicely into Creative's MP3 player range sitting between the Zen Stone Plus and the Zen proper.
Fashioned from slightly cheap-feeling, but nevertheless extremely scratch resistant, black plastic, the Mozaic measures up at 80 x 40 x 13mm and weighs around 40g. It's available in 2, 4, 8 and 16GB flavours, and lacks anything in the way of a memory expansion slot.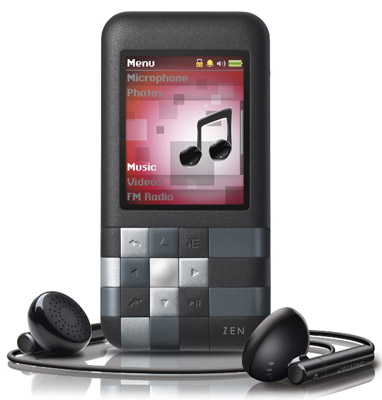 Creative's Zen Mozaic: for lovers of Byzantine art
The base specification is pretty much what we've come to expect from Creative. You get an FM radio with 32 station pre-sets - no RDS, though - a small built-in speaker; alarm clock; calendar; to-do list; and contacts database. The Mozaic also has a built-in microphone so it can double up as a basic voice recorder, saving up to ten hours of your thoughts and storing these as WAV files.
Aesthetically, the front of the device is dominated by a 1.8in, 128 x 160, 65,000-colour OLED screen below which - and slightly offset to the left - is a 3 x 3 grid of buttons for navigation. The controls are all in a slightly different shade of the device's base colour, hence the name.
The on/off/lock switch resides on the upper right side of the device - at the bottom you'll find a 3.5mm headphones socket and a mini-USB port. The nicely rounded contours of the player make it a good bet for stuffing into a pocket or handbag without ending up with any unwanted entanglements or snags.
The keypad is classic Zen in layout, with navigation and volume controls at the compass points of the grid, and menu/back, options, a user assigned shortcut key and play/pause/record buttons at the corners. In the middle is the select/OK button. The buttons are slightly domed and have a pleasant click action making navigation extremely sure and easy. We'll go further: this may be the easiest compact MP3 player to navigate about that we have come across. Creative could do worse than adopt this as its new standard, it's that good.
For anyone worried about how the lack of a scrollwheel impacts on the ability to swiftly move up and down long track lists, don't be. Holding down the up/down navigation keys ramps up the scroll speed nicely but it never gets so fast that you end up zipping up and down lists like a ferret on speed trapped in a drainpipe.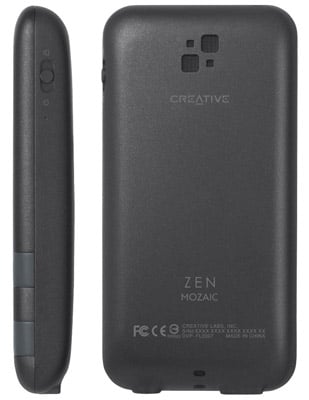 The rounded contours mean it doesn't get snagged on anything
By offsetting the keypad to the left, Creative has made the player fantastically easy to use one-handed if it's held in the right hand. But it's equally made the player harder to use when held in the left hand. Unless you have the thumbs of a baboon that is.
File support is pretty basic: WMA, MP3, WAV, Audible 4 for audio; Motion JPEG for video; and JPEG for still images. It's about time Creative followed SanDisk's lead and added at least Flac to that list.
Video file support actually isn't worth worrying about because playback isn't the screen's strong point. Being an OLED unit, the screen is bright and power efficient so works fine for reading text, but has a dismal refresh rate and flickers badly when transcoded video is played. Static images also look pretty grim too, so it's just as well album artwork isn't supported. Still, this is all a little beside the point, for basic navigation the screen is certainly a lot better than the simple LCD jobs you find on the likes of the SanDisk Sansa Clip and Zen Stone Plus.
As with Creative's X-Fi, the Mozaic is an MTP-only device. While this won't be a problem for the majority of purchasers, we are having difficulty working out quite why Creative dislike Mac and Linux fans so much. To be fair, you can in fact set up a part of the Mozaic's storage as a removable disk, but only up to 1.5GB. This does show up as a mass-storage device on Mac and Linux boxes, but the player can't access any of the files copied over to this space.
Moving data from one place to another was also an issue with the X-Fi – it won't let you move music or video files from an SD card into the player's memory - so we're beginning to suspect that this is a fundamental issue with Creative's OS. If it is, the company needs to get it fixed, and fast.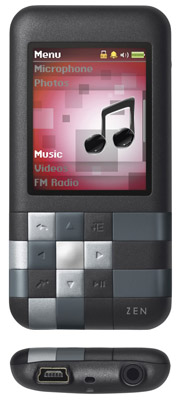 With a built in microphone, it can double as a voice recorder
Having loaded up the player, we were a little disappointed to find that Creative's generosity with its earphones hasn't carried over the from X-Fi. The in-ear phones bundled with the X-Fi are superb, but the regular ear buds bundled with the Mozaic are frankly rather ordinary. As we still had the X-Fi and its funky 'phones on our desk we auditioned the Mozaic using both pairs of bundled Creative 'phones and our trusty Griffins.
Sound-wise, the Mosaic does a decent job but no more than that. Shorn of the X-Fi's "Crystalizer" sound-enhancement software, the Mosaic makes do with a bass boost and the usual range of EQ settings, but even with all that guff turned off the sound was more muddy and constrained than on the X-Fi with all its sound modifiers turned off. This was particularly apparent when we listed to Seth Lakeman's Poor Man's Heaven, an album that really does need a feeling of air and space about it to sound its best.
Moving on to John Elliot-Gardiner's ground-breaking 1986 period instruments recording of Mozart's Requiem, the Mozaic's lack of clarity was again an issue. Swapping back and forth between the Mozaic and a Sansa Fuze, the lack of higher frequency definition around the strings was very apparent.
As with all MP3 player sound quality tests, what you really have to ask yourself is will the majority of likely purchasers be unhappy with what they are hearing? Even in the Mozaic's case the answer is, probably not. While we prefer the sound generated by the likes of the X-Fi and Sansa Fuze or iPod Nano, the Mozaic is far from unacceptable.
The Mozaic shares two minor problems with the X-Fi. Firstly, if left on pause for a while it shuts down fully rather than hibernating. Secondly, the speaker keeps coming on whenever you unplug the earphones, making the menu option to turn it off pointless.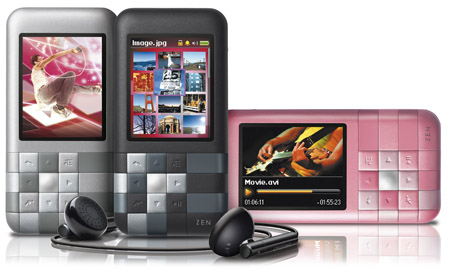 Four flavours are available: 2, 4, 8 and 16GB
Creative claims the player delivers 32 hours of audio playback from a full charge. For once, the manufacturer's numbers were nearly spot on – we got just shy of 31 hours from our 4GB player.
The Mozaic also does pretty well in the value-for-money stakes, starting at £50 for the 2GB version, rising to £120 for the 16GB device. That's ten quid less than a 3G iPod Nano with half the storage space will set you back.
Verdict
The Mozaic is nothing to get too excited about, but it is very sturdy, small, light, easy to use and demonstrated excellent battery life. It's pretty good value too. If the sound quality was a little better and it showed up as an MSC device on Linux and Mac boxes, we'd have marked it higher. Notwithstanding that, it is still Creative's most convincing product of late, by some margin.