Original URL: https://www.theregister.co.uk/2008/09/08/mitsubishi_laser_price/
Mitsubishi prices up 65in laser HD TV
65in and 73in whoppers en-route
Posted in Personal Tech, 8th September 2008 16:41 GMT
Mitsubishi has finally unveiled how much it plans to charge for its laser-based HDTV and, as expected, the 65in stunner will be expensive.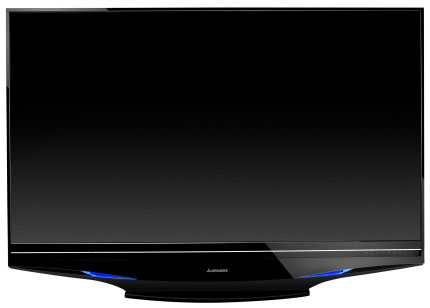 Mitsubishi's 65in LaserVue will cost £4000
The firm previously announced plans to make both a 65in and a 73in LaserVue TV. But it's only now said that the smaller model will cost $7000 (£4000/€5000). A price for the larger model has not yet been made public.
Laser isn't a TV type in its own right. Rather, it's a technique for improving existing designs, in particular LCD and Digital Light Projection. All these approaches need a light source and have traditionally used bulbs that pump out white light, which is then optically separated into beams of red, green and blue light.
A laser TV replaces the white light lamps with precisely coloured laser beams, which it's claimed generates a much wider range of colours than currently possible.
Other benefits include the ability to make laser sets thinner than current LCD or plasma sets, and the eradication of screen burn.
Mitsubishi's 65in LaserVue will be available between late September and early October. A UK price hasn't been given yet.
Special Report Telly Vision: future display technologies