Original URL: https://www.theregister.co.uk/2008/09/08/dual_core_atom_september_launch/
Dual-core Atom to be released by month's end
First system spied
Posted in Personal Tech, 8th September 2008 14:15 GMT
UK PC supplier Tranquil PC has begun taking orders for a compact desktop PC based on Intel's upcoming dual-core Atom chip.
The £299 PC comes with a "dual 1.6GHz" Atom of model number "Z330". Intel's current, single-core desktop Atom is simply called the 230, and the dual-core version is actually expected to debut as the 330.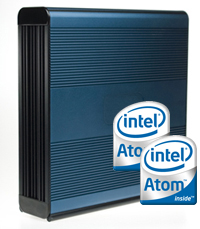 Tranquil PC's T7-HSG: dual-core Atom on board?
The part also support 64-bit computing, a feature absent from the original 'Diamondville' desktop Atom.
The 330 will come soldered onto Intel's new D945GCLF2 mobo, a mini-ITX board based on the 945GC chipset and GMA 950 integrated graphics.
Tranquil's fanless T7-HSG can be configured with 512MB to 2GB of DDR 2 memory and 500GB to 1TB of hard drive storage. It has Gigabit Ethernet on board thanks to the D945GCLF2, and was designed for home server roles, Tranquil say.
The unit operates through a 12V power brick and consumes up to 33W of power, Tranquil's claims.
The company also said that while it's taking orders for the machine now, they won't be fulfilled until 30 September.
Low-power desktop CPU reviews
Intel Atom 230 ultra low-power desktop CPU
VIA Nano ultra-low power processor