Original URL: https://www.theregister.co.uk/2008/09/08/asus_unveils_glide_ui/
Asus Glides in with Win Mobile über-UI
Better than MS' own interface?
Posted in Personal Tech, 8th September 2008 11:22 GMT
Asus has hopped onto the 'we can do a better Windows Mobile interface than Microsoft can' bandwagon set in motion by Palm but given a big push by HTC with its TouchFlo UI.
Asus calls its touch UI Glide - are its handset engineers old 3Dfx fans, we wonder? - that provides a tweaked Today screen and an iTunes' CoverFlow-style flick'n'tap interface for navigating through your music files, photos and other content.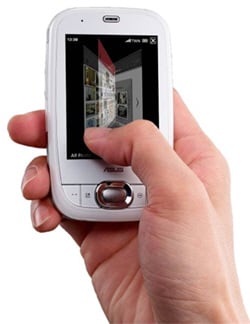 Asus' P552w: iTunes-alike
Glide appears on the P552w smartphone, an 3.6Mb/s HSDPA 3G-equipped touchscreen handset that runs Windows Mobile 6.1 Pro.
The phone's equipped with a 624MHz Marvell processor - the latest in the company's line of ARM chips that used to be Intel's XScale family - and a 2.8in, 240 x 320, 65,000-colour screen. There's 128MB of Ram and 256MB of Flash on board too.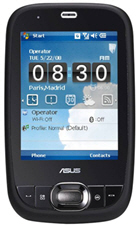 Tweaked Today screen
In addition to HSDPA, the P522w has 802.11b/g Wi-Fi and Bluetooth 2.0+EDR. There's a SiRFStar III GPS receiver built in too, ready to work with Google Maps to pinpoint your location.
Round the back is a plain old two-megapixel camera, but there's no front-facing snapper, so video calls are out of the question.
The 102 x 60.5 x 14.5mm, 105g handset has battery life for three hours' 3G calling, rising to five hours on GSM networks. In stand-by mode, it'll last for 300 hours (3G) or 250 hours (2G), Asus claimed.
The P552w will be made available in black and white models, Asus said, though it didn't indicate when this will take place. Pricing hasn't been phoned in, either.
Windows Mobile phone reviews
Asus M930 Windows Mobile smartphone
Celio Redfly Windows smartphone terminal
Asus P750 Windows Mobile smartphone
HTC Touch Diamond