Original URL: https://www.theregister.co.uk/2008/09/05/us_cto_poll_results/
America's CTO: We have a winner
The people's choice vs Larry
Posted in Bootnotes, 5th September 2008 15:08 GMT
Poll Results In one of the tightest contests ever seen in a Reg poll, columnist and software developer Ted Dziuba has emerged as the people's choice to be Barack Obama's "Chief Technology Officer". Dziuba beat off a stiff challenge from Hans Reiser, the fallen Linux guru who was sentenced to 15 years for murder in an Oakland, Ca. court last week.
After Stanford professor and freetard pin-up Lawrence Lessig had campaigned so very publicly for the job, we felt the field of candidates should be opened up, and almost 200 votes were received.
It was clear from the outset that this would be a close contest - so we enlisted the help of former US President Jimmy Carter to oversee the process, and ensure there would be no foul play.
Dziuba raced into an early lead, but it was clear that Reiser was mounting a strong challenge. Jeff Merkey was a popular choice, but could never gather enough momentum to catch the two frontrunners.
By mid-week it looked as if we might have a sensational result on our hands, as Reiser edged into the narrowest of leads. At this point, the winner of the 2000 Nobel Prize for Peace fell asleep, a syringe of ketamine rolling suspiciously away from the recliner in which we'd placed him.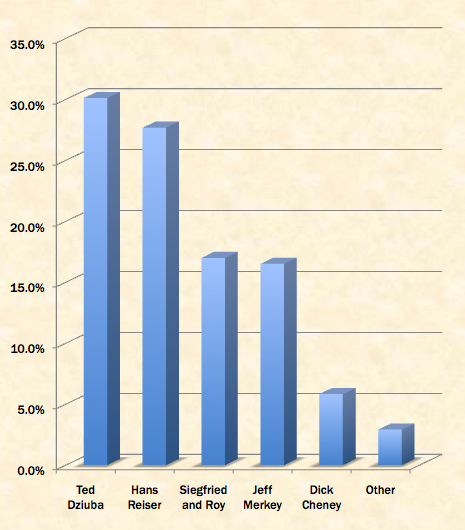 Voting was tight - but in the end, Dziuba beat off Reiser
After a flurry of counts and recounts, Dziuba emerged as the winner by just four votes.
So it's more disappointment for Reiser, but it's "FAIL" no more for the profane former Uncov blogger. Of course, for Dziuba to take up the post of America's CTO, Obama needs to be elected, and then listen to the will of the people.
Wooden spoon
There's consolation for The Professor, however. A grand total of five write-in votes were received, with former Hewlett-Packard CEO Carly Fiorina picking up two. Lessig also received two, as did another forward-thinking cult figure, amanfromMars.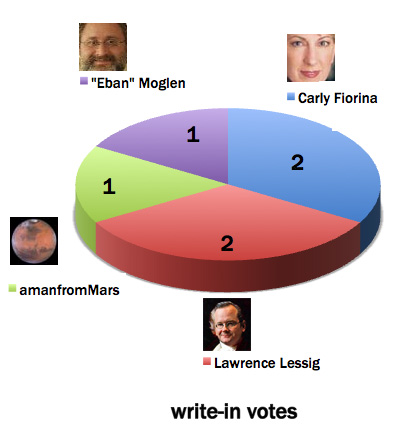 But the Professor may be dismayed to learn that 50 per cent of his votes were sarcastic. "Lets face it - he knows nothing - perfect for a Govt IT job," wrote Colin, one of the write-in Lessig supporters.
We ascribed the one vote for "Eban Moglen" to Eben Moglen, Columbia law professor and legal overlord of the GNU General Public License (GPL).
Now turn over to see why America* voted as it did...
How (and why) America voted
While Reiser captured some of the vital Linux demographic, there were pragmatic reasons for voting Hans. As Jeff Zahourek put it: "We could pay prison wages! This last bright point saves Obama the trouble of justifying a stupendous salary for Lessig."
Reader Gordon elaborated: "Already in a furnished suite; already has security and will be enforced; where most our government belongs; pay scale per area is affordable; green transportation for short commute willing work force to train and experiment new rules on."
Bill Richardson said he couldn't wait for a Reiser CTO-ship.
"All filesystems other than reiserfs4 would be illegal, and anyone who objects would be sent to gitmo. Trial by jury would be replaced with internet flame wars. The 'I think she's hiding' defense would be a valid one. I can't wait."
"He's killed far fewer than Cheney," points out Ronald P.
The ability to make a tiger disappear seems to be sadly underrated by most readers, although Siegfried and Roy had their loyal followers:
"Outside of CTO, they will be able to give prez Obama insight in the Russians and Chinese, who are the top tiger-disappearers (as well as anything else rare and alive) in the world," wrote Marvin the Martian.
Shane Dempsey had a great suggestion: "As you don't provide Al Gore as a candidate to reinvent the internet, Siegfried and Roy are the only sensible option. Another alternative is a virtual CTO representing a hive mind of random editors. If only the IETF made RFCs available as anonymous wikis! They SHOULD do this.
"Or a reality TV show where each of the candidates has to respond to various IT challenges like formatting a table correctly in Word or improving BGP. It's a serious position so the selection process should be rigorous."
"If Siegfried and Roy can make a tiger disappear, what's to say they can't do the same for spam?" asked Vasantha Crabb, hopefully - but that's the kind of optimism we like to see.
The colourful Jeff Merkey too, received a consistent stream of support. No fewer than 20.5 per cent of Merkey voters mentioned "breasts".
But Dziuba was an acclaimed winner, and his talents were well explained by Steven Raith. "His press releases will be technically accurate enough to be useful, and sweary enough to be entertaining. As a side note, you can mentally cross people in the office off of the 'who to go to the pub with' by their reaction to his work."
"I'd cast my vote (or two, or three!) in a heartbeat for anyone who can use profanity in such eloquent and poetic ways. That he knows a thing or two about IT is a major plus!" echoes James.
And the victor's response?
"I'm 24...how long until I can take my pension?"
Cheers, Ted.®