Original URL: https://www.theregister.co.uk/2008/09/05/ten_aspire_one_tips/
Ten tweaks for a new Acer Aspire One
Take charge of Linpus
Posted in Personal Tech, 5th September 2008 14:02 GMT
Acer's Aspire One is ready to go out of the box, but if you've opted for the Linux version and you're new to the OS, you may be wondering how to get started. Here are ten things to try.
Before we start, a warning. Later tips involve working with Linux configuration files, which do not take kindly to errors. Check your typing very carefully, particularly spaces and capital letters, and only proceed if you're comfortable. Back up your data, and ensure you have a recovery disk on stand-by. We've done our best to check the text below, but we won't be held responsible if your AA1 crashes and data is lost. Nothing here will damage your machine or void your warranty - at worst, you'll have to reinstall the OS using the Recovery Disc that comes with the AA1.
Please don't try this on an AA1 that has Windows XP installed.
1. Run Live Update
When you start up the AA1 for the first time, you'll be taken through a basic set-up Wizard, after which the mini laptop will restart. When it's back up and running you'll find yourself facing Acer's desktop GUI.
It's best to set up wireless networking in the Network Centre preference panel, but don't do this yet - just log in using the networking icon in the task bar. Next, click on the Preferences label then on the Live Update icon. The AA1 will present a list of updates that you should apply.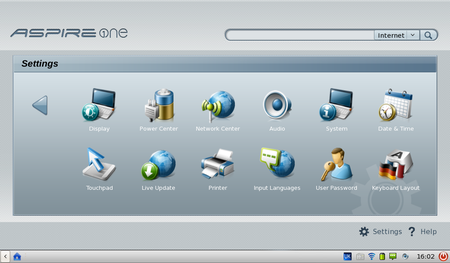 Run Live Update from the AA1's Preferences screen
When it's done, Live Centre will restart the AA1. It'll also zap your wireless details, which is why there's no point setting this up at the start. Once the AA1 is back up and running, now you can use the Network Centre wizard to set your AA1 to always log onto your WLAN.
2. Make a USB recovery disk
While Live Centre's doing its work, start up another PC with the AA1's Recovery Disk CD. This will load and run a utility allowing you to restore your AA1's Linux installation. Fine, if you have an external optical drive - if not, the utility will create a USB Recovery Drive on any USB Flash drive that's at least 2GB in size. Tweaking the AA1 can sometimes lead to unplanned consequences, so it's good to have the recovery stick handy, just in case.
If you don't have an external optical drive or a second PC to make the USB recovery drive, don't proceed past tip number five.
3. Enable the Advanced Menu
Acer's AA1 desktop doesn't display all the apps and options available to you. To get them all, you need the machine's so-called Advanced Menu.
Press Alt-F2 on the keyboard. This pops up a dialogue like Windows' Run... panel. Type xterm and hit the Run... button. A Linux command line will appear in a window - type in xfce-setting-show and hit Enter.

Linpus Run... window: activated with Alt-F2
XFCE is Linpus' GUI controller, and its Settings Manager will now be displayed. Click on the Desktop icon then select the Behaviour tab. Check the 'Show Desktop on Right Click' option then close each window.
Now when you're looking at the Acer desktop, clicking the right mouse- or touchpad-button brings up a menu listing all the apps and utilities you can use. Newly installed apps will also appear here.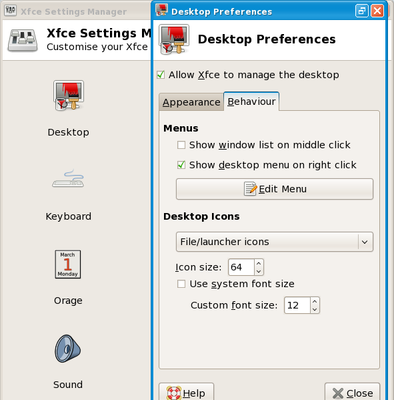 XFCE's settings window
4. Install The Gimp
The Advanced Menu contains a handy entry in the System sub-menu: Add/Remove Software. Select it then, when asked, enter the password you chose when you first started the AA1. After a moment, you'll be able to browse and search a list of programs you can download and install.
Here's a handy one: the GNU Image Manipulation Program, aka The Gimp. In the Package Manager's Search tab, type in gimp then scroll down to The Gimp's entry in the list that's displayed. Click on the check box next to it then on the Apply button.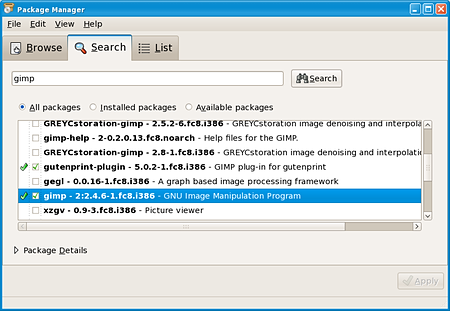 Linpus' Package Manager - aka 'pirut'
Package Manager will seek out other files that Gimp needs in order to run - tell it when asked to install these too. When everything's downloaded and installed, quit Package Manager. You'll find Gimp in the Advanced Menu's Graphics sub-menu, ready for editing photos or any other images.
5. Install Skype
The AA1 is a great communications device, but Skype doesn't come pre-installed. Head over to the Skype website and download the VoIP app. You're looking for the Linux versions and, in particular, the release for Fedora 7, the Linux distribution on which the AA1's Linpus Linux is based.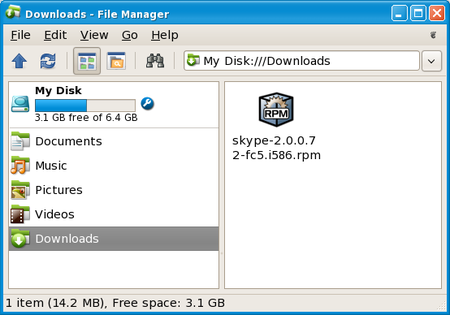 Skype's .rpm downloaded
When it's downloaded, open up your AA1's Downloads folder - click on any of the entries in the desktop's Files section - and double-click on the skype-2.0.0.72-fc5.i586.rpm icon.
Again, when it's installed, Skype will appear in the Advanced Menu, part of the Network sub-menu.
6. Add Desktop Icons
It's all very well having the Advanced Menu, but for some apps you'd also like the fast access provided by the AA1 desktop. Here's how you make them appear. Press Alt-F2, type in xterm to open the command line window - experienced Linux hands call it a Terminal - and click on Run...
At the command line, type sudo mousepad /home/user/.config/xfce4/desktop/group-app.xml and hit Enter. This calls up the desktop's configuration file. Scroll through and you'll see how the entries are arranged. Skype's already present, but it's set so that the desktop will ignore it - remove the !-- at the start of the line it's in and the -- at the end. You'll also need to change the app sequence= number - set it to 8.
Save the file then restart your AA1. Click on the right-arrow button in the Connect section, and you should see a new Skype icon. Drag and drop it higher in the list if you prefer.
Other apps are kept in the AA1's /usr/share/applications folder as .desktop files. You can add these to the desktop UI by editing the group-app.xml file as above, copying the Skype line, pasting it into any of the four sections and changing the name of the app to be loaded. Make sure all the apps in a section - indicated by the <id>x</id> tags - have different app sequence= numbers.
7. Install VLC
The AA1 comes with a video player app, but it's not the best. VLC is far superior but not available through Package Manager. Linux software archives are called 'repositories', and VLC is missing from the ones pre-programmed by Acer.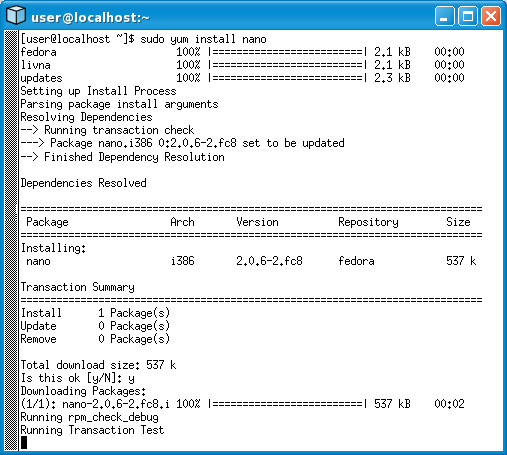 Installing with Yum: here we're installing the Nano text editor but VLC's install looks much the same
The VLC website will tell you to use the Livna repository, details of which are included in a .rpm file you can download and install. Once you have, open the terminal as above and type sudo yum install vlc. You'll be asked some questions along the way, but eventually you'll have VLC installed and ready to play a wider range of video formats than the AA1's Media Master app can.
VLC can be run from the Advanced Menu, or you can add it to the desktop, as above. If you choose the latter, you'll find VLC's .desktop file is down as livna-vlc.desktop. You can change this to vlc.desktop using the command line. Type cd /usr/share/applications then sudo mv livna-vlc.desktop vlc.desktop to change the file's name.
8. Mount your NAS box
The AA1's Thunar file manager is fine, but it can't access folders on your network. To do so, you need a little command-line trickery. First, click on the My Files icon in the Files section of the desktop then create a new folder called, for instance, NetFolder.
Right-click on the empty space next to the new folder and select 'Open Terminal here' - this is another way of accessing the command line. Type sudo mount -t cifs //[fileshare IP address]/[fileshare name] NetFolder, filling in the IP address and name with the those of your server or shared folder, minus the square brackets. Hit Enter, and the AA1 may ask you for a username and/or password - these are the magic words that apply to the shared folder not to the AA1.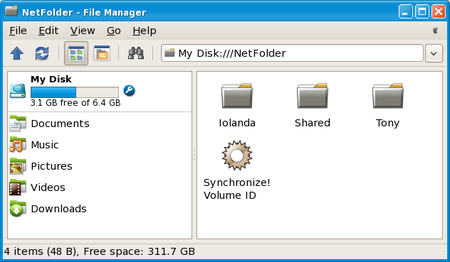 The Thunar File Manager with an SMB fileshare
Assuming there are no errors - check your network connection and your command-line typing if there are - going back to the File Manager and opening the NetFolder folder will reveal the server's contents. Run VLC, select Open File, navigate to NetFolder and select a video to play over the WLAN.
9. Tweak Linux for SSD usage
Linux has a number of optimisations for reading and writing data from a hard drive, and these are in place even on AA1s with solid-state drives. However, you can adjust the OS to ignore these optimisations, which should lead to faster SSD performance.
Open a Terminal window and type sudo mousepad /boot/grub/grub.conf.
Once again, be very careful editing this file - mistakes can prevent Linux starting properly. So double-check your typing, make sure your data's backed up and have the USB recovery drive you made earlier to hand.
Looking through the file, you should see the line:
kernel /boot/bzImage ro root=LABEL=linpus vga=0x311 splash=silent loglevel=1 console=tty1 quiet nolapic_timer
Edit this to add elevator=noop at the end, making sure there's a space between the end of the old line and the new code.
Save the file and restart your AA1. If you've done it right, you probably won't notice anything specific, but Linux will now be better tuned for SSD usage.
10. Install Firefox 3
The AA1 comes with Firefox 2 - and a version tweaked by Acer, at that. Installing Firefox 3 should be simple, but it isn't because some of the pre-loaded version's support files are used by other apps too - removing them will break these programs.
First, get Firefox 3. Type sudo wget http://rpms.famillecollet.com/remi-release-8.rpm into a Terminal window and hit Enter. Then type sudo rpm -Uvh remi-release-8.rpm and hit Enter.
Next, type sudo mousepad /etc/yum.repos.d/remi.repo and make sure that the [remi] section has its enabled value set to 1. Make sure [remi-test] has its enabled value set to 0.
Now type sudo rpm -e --nodeps firefox to delete the old version of the browser - but leave files other apps may need intact - and then you're ready to do sudo yum install firefox.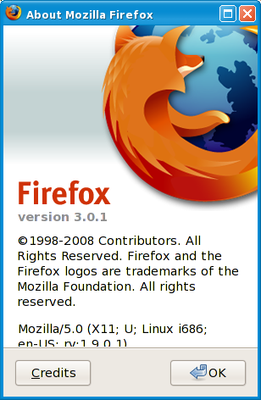 Firefox 3 on the AA1
To fix the broken apps, you need to re-download Firefox 2 and re-install just the shared code. This isn't a simple process, so we'll hand over to a couple of guys who made it easy for the rest of us: Jorge Barrera Grandon and Nacho Marin. At Jorge's Road to Elysium blog, you'll find a script you can copy and paste into a file, along with instructions on how to make the script executable. This co-operative coding is one of the things that makes using Linux such a joy.
Pop over to Jorge's site and follow his instructions - scroll down a bit, past the basic Firefox 3 installation details. We've tried them and they work as they should, as does the script itself. We have Firefox 3 running on our AA1 and RSS Reader and Acer's OneMail.
In addition to thanking Jorge and Nacho for the Firefox 3 tip, we'd also like to thank blogger Jason Perlow for the Linux SSD tweak suggestion.
Thanks also go to the many contributors to the Aspire One User for the postings that made the creation of the other tips possible.