Original URL: http://www.theregister.co.uk/2008/09/05/sign_compo_results/
Those old timer sign results in full
And the winners are...
Posted in Bootnotes, 5th September 2008 09:03 GMT
It's hats off to you, our beloved readers, for your massive response to our challenge to create an "Elderly people" sign to replace the current couple of cripples hobbling down to the bingo - an image which doesn't much impress campaigning old timers organisation Age Concern.

Well, it's taken us a while to sift through your contributions, and we'd like to thank you all for your exertions. Below you'll find our pick of the crop, leading ultimately to the winners. Obviously, we couldn't run all the submissions, so don't take umbrage if yours isn't featured.
Firstly, we have a bunch of suggestions which wholeheartedly failed to embrace the concept of being a bit kinder to wrinklies. Many of you, including Captain Daft, suggested that senior citizens are in fact cantankerous warmongers behind the wheel of battery-driven chariots of death: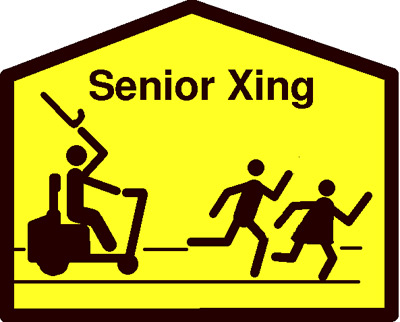 Here are some more completely unnecessary digs at old codgers, courtesy of (l-r) Kae Verens, Steve Muir, Maryn Wynn and Donald Stewart:

Yup, that last one leads us nicely on to the inevitable:

Well, Richard, Colin Barfoot, Lee Tuckwell and Peter Cranch - you just couldn't stop yourselves, could you? Mind you, neither could Jeff Davies and Niall Roche, who caught our eye with these: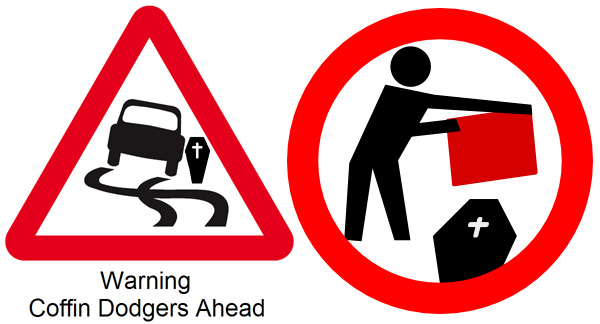 Onwards. Here are a few efforts from the "stick a picture of an old timer on a sign" line of attack:

Nice, but we can't help but feel Allan Weaver, Ants Murdoch and Richard Cain haven't fully addressed the copyright/royalties issues there. The idea of slapping an extra 20p on a gallon of petrol just to fund Sir Cliff's retirement is enough to make the average Vauxhall-Corsa-driving septuagenarian's blood boil.
We come now to the runners-up in our exciting signage challenge, in no particular order. They win nothing more than eternal internet fame, but hey, it'll be something to tell their grandchildren while they're offering them a particularly tasty toffee...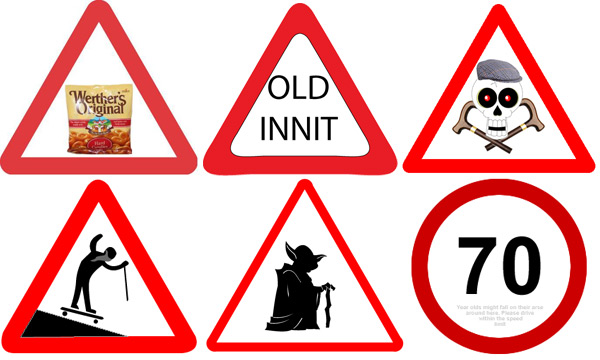 A round of applause please for (top row l-r) Joseph Kirk, Neil Corbett and Louis Cowan (bottom row, l-r) Anna Debenham, Nicolas Bégat and Chris Savage. In case you're wondering what the last one is all about, the text under the big "70" reads: "...year olds might fall on their arse around here. Please drive within the speed limit".
And the winners are...
...Dave Evans and Jose Luis Martin Mas, for these two cracking interpretations: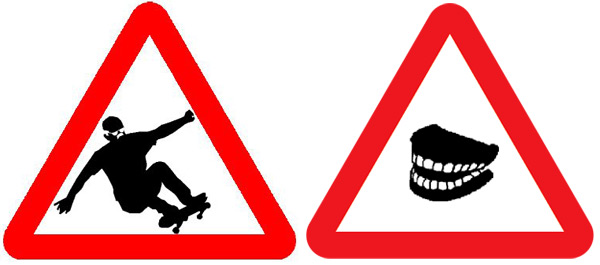 Terrific stuff. Our world-beating sign designers have secured for themselves a free example of their designs on a shirt down at our Cash'n'Carrion Signs o' the Times section, plus a selection of four further shirts of their choice from the Vulture Central merchandising tentacle. Here's how the signs look after a tweak by our art department: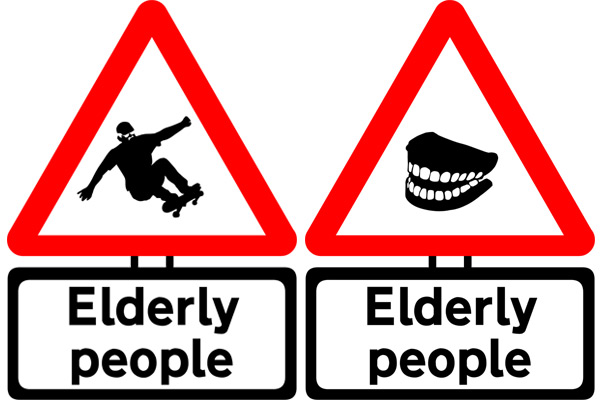 Lovely. We look foward to a zimmer-supported stampede as elderly people rush down to C'n'C to avail themselves of this must-have kit, which will be available shortly. In the meantime, thanks again to all of you who participated. ®