Original URL: https://www.theregister.co.uk/2008/09/05/review_pure_digital_evoke_flow_internet_radio/
Pure Digital Evoke Flow internet radio
Pure entertainment pleasure
Posted in Personal Tech, 5th September 2008 12:02 GMT
Review After two years in development, Pure Digital has created what it hopes will become internet radio's first genuinely iconic product.
Our first reaction was that this is a really attractive little radio. The company has kept the familiar Evoke casing, but coated the device in a gloss piano-black finish with stylish and solid-feeling metal controls and speaker grille.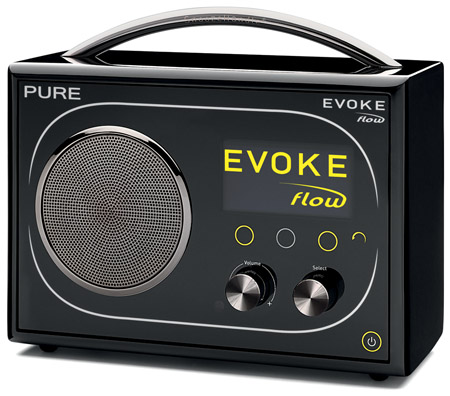 Pure Digital's Evoke Flow: internet radio's first genuinely iconic product?
There are touch-sensitive buttons on the front that are used for a number of different functions, and we found these to be easy to use and reliable. That's not the case for many touch-sensitive interfaces, often on much more expensive products.
The Evoke Flow combines DAB, FM and Wi-Fi-received internet streams and has the aim of delivering the best of what's available on all three platforms. Pure believes that just giving access to the thousands of internet stations that are out there isn't quite the point.
So it's created a dedicated portal called the Lounge, bringing the listener many ways to tailor the internet radio to suite personal tastes. There's no need trawl through hundreds of options to find something worth listening to - the search power of the Lounge can be applied to sort, arrange and create a bespoke listening experience. The site isn't available to the public as yet, but Register Hardware was given special access to try the service out.
Once you've registered your Evoke Flow with the Pure Lounge, favourites can be set up quickly and simply. This can also be done on the Flow itself, but a computer's web browser, with its ability to show more information, makes the process considerably easier. We found the user interface of the site really simple and straightforward to use, with all the options and abilities clearly laid out on the home page.
Another useful feature is that whether an option is set up or favourites changed using either the radio or the portal, the two automatically sync with each other. The Lounge and the Flow both enable you to search by station name, genre, location, language and audio quality.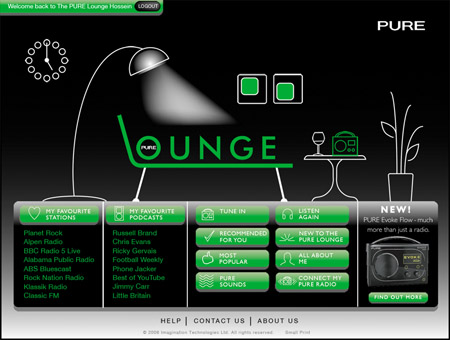 By accessing the Lounge portal, you can set individual preferences
There's a lot of poor quality content out there, so the ability to ignore this is most welcome. It's possible to add your own categories of favourites and store them as 'my podcasts', 'best rock stations' or whatever you so choose. The Lounge interface can even change its colour to suit your taste. In general, whether using the portal or the Flow to search and load content, be it radio stations or podcast subscriptions, the process is quick and reliable.
Pure also promises that its partnerships with radio stations will deliver increased services and functionality over the coming months, including more unique and premium content. In the meantime, Pure has provided some exclusive audio of its own, known as Pure Sounds. These consist of 100 sounds designed to allow the listener to set a desired mood. Options include seagulls, the human heartbeat or even a thunderstorm. Not everyone's cup of tea, but it could be useful for creating a relaxing atmosphere to work in or even drop off to sleep to.
Other online options will also be added. The ability to purchase music through the radio and the portal will be available before the end of the year as will 'tagging', whereby listeners can request more information on an artist or advert they've heard. New services like these will be made available through automatic software upgrades delivered over the Wi-Fi network.
It's pretty obvious that the Lounge portal has been created to service more than just one product. No details are available as yet, but Pure will certainly release other products that will tap into the Lounge's features.
As far as good, old-fashioned DAB is concerned, the unit performs very well. Pure claims that this product, apart form its recognisable Evoke looks, has been redesigned from the ground up will all-new components. An Evoke on steroids is one way the company described the product. A claim like that can't go unexamined, so we decided to let our model do its first search for DAB stations in nasty little corner of Vulture Central were many a DAB radio has struggled.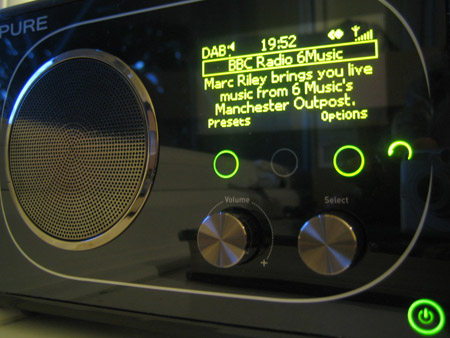 The OLED display is one of the clearest and largest available on a radio
The Flow didn't miss a beat, delivering all available stations in really impressive audio. The quality of the sound is particularly pleasing - it's one if the best performing single-driver units we've heard in this kind of price range. Precise, powerful and with good depth, the Flow handles all types of audio from Gardener's Question Time to Norwegian Death Metal with aplomb. Some 30 pre-set stations are also available.
FM mode is as strong as DAB with the same easy access to stations and great sound quality.
The interface on the radio itself is as well designed as the portal. The OLED display is one of the clearest and largest we've seen on a radio. The size of the screen means that often there's no scrolling needed to see all the information available, but when it is necessary, the moving characters remain pin sharp. There is also a good set of connection options, including headphone, auxiliary speaker option (Pure's S1 speaker), audio in and a stereo out socket in case you want to plug the unit into something more serious.
The radio is mains powered, but Pure also offers its ChargePAK accessory, which can deliver around 15 hours of listening time.
Verdict
Put simply, this is a great little radio. In terms of features and performance compared to price point, it's one the best we have seen for many a moon. It's not very often that we get a product that really feels like big step forward, but this is one of those times. Everything is smooth with the Flow, the unit and its portal can do a lot, but you never feel like you are on a learning curve, all the thinking had been done for you, you simply need to choose what you want to listen to and how. The unit will launch in September, but there is more to come form Pure and its dedicated Lounge portal approach.