Original URL: https://www.theregister.co.uk/2008/09/02/review_sony_ericsson_w980/
Sony Ericsson Walkman W980 music phone
Too few non-music features
Posted in Personal Tech, 2nd September 2008 13:44 GMT
Review The extensive Walkman phone line-up now has a new flagship: the W980, a glossily stylish clamshell that features 8GB of built-in storage among its spread of music-centric features.
Unlike Sony Ericsson's previous 8GB-packing Walkman W960i effort, the W980 doesn't bring touchscreen smartphone functionality into play. Instead, it's an evolutionary upgrade from Sony Ericsson's recent series of 3G Walkman handsets, such as the W890i and W910i.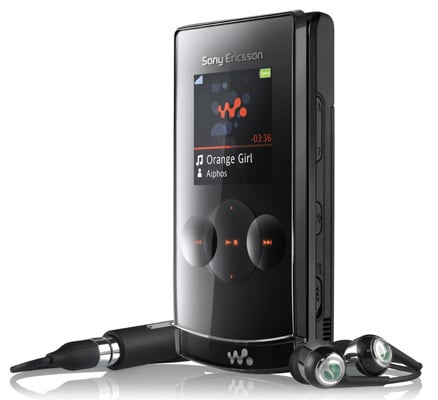 Sony Ericsson's W980: HSDPA enabled
It's another HSDPA high-speed data enabled 3G handset that's loaded up with the latest Walkman player gadgetry, including Sony Ericsson's Shake Control wrist-flicking track attention-grabber. More usefully, Sony Ericsson has also added an integrated FM transmitter to the phone, so you can play tracks stored on the phone, iTrip-style, through any nearby radio, including car stereos and even friends' tuner-toting mobiles.
Touch-sensitive Walkman player controls have also been brought into the W980's stylish look, glowing out from behind an eye-catching indented circular design on the front panel when the player's active.
This isn't a slimline clamshell. Measuring 92 x 46 x 17mm and weighing 100g, it's chunky and solid in hand, but doesn't feel a pocket-sagging burden.
A rubber-feel back panel gives a good grip - welcome if you're going to be throwing Shake Control shapes - while the front is covered in shiny smooth plastic. This is a bit of a smudge magnet, but the circular motif around the controls, and a decent external display, make for an attractive design.
The 176 x 176, 262,000-colour outer screen is hidden at rest, popping up when the phone's activated or the music player switched on. Underneath, the Walkman player control set up, glowing orange or white through the black, is rather nicely done. You can scroll through categories and track lists, viewing them on the mini screen as well as operating the standard forward/back/play/pause keys - so you can effectively operate the W980 as a music player without opening it. Haptic feedback lets you know when the touch buttons have been tapped, and a slider on the side locks the keys from accidental pressing.
Holding in the play/pause button enables you to play with the Shake Control function. Left or right motion switches tracks, while up or down movement does volume. It's very gimmicky, and functionally unnecessary. It's far simpler – and more reliable – to change tracks just by tapping the forward/back button directly next to the play/pause key, and there's a no-nonsense volume rocker too that avoids the possibility of sending the phone flying.

This isn't a slimline clamshell
Another side button allows you to toggle the external display between the music player, a regular standby screen and the FM radio, which can also be operated from the external controls.
One design element you may want to turn off is a light effect in a strip of transparent plastic at the bottom of the flip, which pulses in time to tracks. Unless flashing lights on your phone are your thing, of course...
Open the flip, and the inside is neat and tidy rather than head-turning. Round keys, edged in chrome on a black panel, carry on the circular design theme. The flush numberpad seems slightly elongated and narrowly arranged but the buttons are large, fine to handle and responsive. The control keys around the large navpad, however, are a little too cramped for our liking, particularly on a panel that looks large enough for more separation. It's possible to press adjacent keys too - such as the call end, clear and softkeys - if you have larger fingers or are using the phone in the gloom.
This model adopts straightforward control conventions, with regular Call and End buttons. The menu navigation system is the latest user-friendly Sony Ericsson standard-issue icon-plus-tabbed-menus set-up.
The main display is a reasonable 2.2in, 240 x 320, 262,000-colour screen, displaying bright and clear graphics. The W980 has a motion sensor inside which can automatically flip the screen between landscape and portrait mode for media apps, including the photo gallery, and the video and music players, but not regular menus or the browser – or, indeed, the camera.
The camera is the unremarkable kind of 3.2-megapixel shooter employed on the W890i and W760i Walkman, with no higher-end features like autofocus or flash.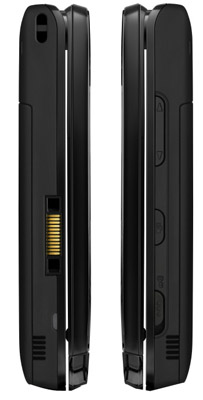 There's no memory card slot
Oddly, too, the camera positioning on this clamshell isn't well thought out for snapping. There's no side-mounted button for landscape shooting, so snaps are taken holding the phone in portrait mode with the clamshell open, pressing the navpad to take images. But the camera position - on the back of the phone at the top side - means that when you hold it in a comfortable, balanced position to line up shots, your index finger naturally strays over the lens. Of course, you can move your grip to a slightly more unbalanced one, but it still seems a design oversight.
The poor positioning of the camera aside, the 3.2-megapixel camera on the W980 can produce reasonably good images for mid and longer range shots. Images are colourful and vibrant in good lighting conditions, and have a decent level of detail for this quality of camera. Without autofocus and flash, though, the overall capability of this cameraphone is limited, and its fixed-focus lens isn't set up for close up shooting. Inside shots in good ambient light can be OK, but when illumination deteriorates, so quickly does picture quality.
There are the usual Sony Ericsson settings, effects adjustments, and in-phone editing options, plus the standard straight-to-Blogger blog upload option, but this camera is a relatively straightforward shooter rather than anything out of the ordinary. Similarly, video capture quality is averagely uninspiring mobile phone quality, shooting at 320 x 240 resolution at 15f/s.
In the usual Walkman phone manner, the W980's low-key imaging capabilities play supporting act for the headline music player. The 8GB of user storage inside gives sizable out-of-the-box track space for a mobile phone – putting it up there with the 8GB capacity of the iPhone and Nokia N95. Unlike other Walkman phones, though, there's no memory card slot which is a shame when multi-gigabyte memory cards are a convenient and affordable way of upping a phone's capacity.
Nonetheless, this Walkman is a high-class music device. Whether you're using the external controls or playing with the phone open, the interface is typically user friendly. There's support for cover art if available, as well as the SensMe playlist option for arranging tunes by tempo and mood.
SensMe works only with tracks transferred from a PC using Sony Ericsson's Media Manager software, though you can also drag and drop tracks to the phone, Bluetooth them over, or download them over the air, taking advantage of HSDPA.
The audio performance is top drawer for a mobile device - Sony Ericsson boxes its decent HPM-77 in-ear earphone set, which produce a good quality, detailed and balanced performance, with ample bass. You can also add your own headphones, if you like, using the 3.5mm socket on the two-piece earphones cable. However, the W980 still uses the usual side-mounted Sony Ericsson bulbous headphone/USB/charger connector rather than something more convenient for the pocket. There's a loudspeaker, but it's quite harsh and tinny.
As well as the standard stereo Bluetooth option for streaming music to wireless headphones or speakers, the on-board FM transmitter is a welcome way of getting your music wirelessly. It works within a 10m range by tuning to a spare frequency on the radio and then matching that frequency on the transmitter, which you can activate in the Walkman player. It worked as advertised in our tests, doing the business effectively in-car, on our kitchen radio and on another mobile's FM radio.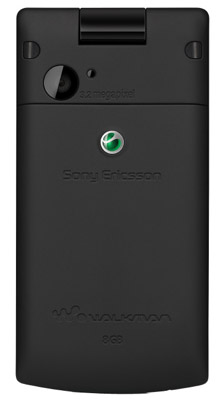 The camera user interface is not as user-friendly as Cyber-shot phones
The W980 naturally has its own FM radio built in too, with 20 slots for storing your favourite channels. TrackID music identification software adds to the music package.
The W980 doesn't have Wi-Fi, relying entirely on 3.6Mb/s HSDPA and 3G for web connectivity. The NetFront browser used is the full web version employed on other mid-range Sony Ericsson handsets. It offers a user interface that features Google search plus web address bar, RSS feed options and other links listed on the start-up screen, all in a simple to follow layout. You can pan and zoom web pages, and choose between Smart-Fit and full screen view versions of sites. Sites are rendered speedily enough, and it's another reasonable, standard Sony Ericsson mobile internet experience.
Another useful service that's becoming standard issue on Sony Ericsson phones is Google Maps. Unlike the recent W760i Walkman phone, there's no GPS receiver to give exact positioning, but the phone uses mobile network triangulation so you can get your location approximated to within a few hundred metres and view it on zoomable map or from a satellite image.
This can be very useful if you're in an unfamiliar place and need to get your bearings or find somewhere nearby. You can use a range of search and route planning facilities, with info and mapping data refreshed over the air.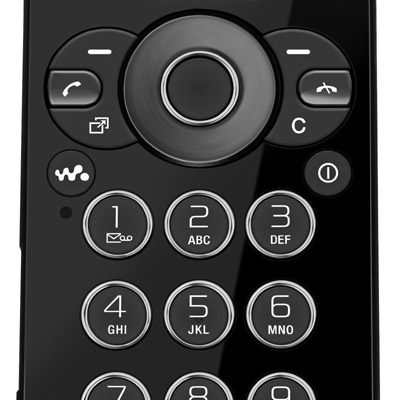 The control keys around the navpad are a little cramped
Sony Ericsson has added plenty of additional applications to the W980, some a bit of fun and others useful tools to have in your pocket. There's a Walk Mate step-counter to monitor your daily strolling using the motion sensor; Music Mate 5 music tuner/chord guide/beats app; sound recorder, world clocks; unit convertor; and the AccuWeather.com weather tracker. A motion-controlled driving game, Need for Speed ProStreet, is included among the three pre-loaded games.
While music majors on this device, audio quality for voice calls is of a consistently high standard too – we had no problems with a very good performance and reliable network call handling from the handset.
Battery staying power will depend on how much you'll be using the headline Walkman features and other gadgetry. Sony Ericsson estimates the W980 will deliver up to 16 hours of music playback - standby time is reckoned at up to 370 hours, while talktime is quoted at 4.5 hours on 3G networks or up to nine hours in GSM coverage. We found with our average use and a bit of track-playing we were charging up every couple of days.
Verdict
It lacks some top-end functionality, such as Wi-Fi and GPS, and its camera is a reasonable but ordinary shooter. Expandable memory would also have been desirable. For a non-smartphone device, though, the W980 does have a pretty decent set of features and applications. But its appeal is based on its musical abilities and its neat design: its 8GB of storage, nifty Walkman controls and the FM transmitter.
While it may not have everything you could want from a mobile, when it comes down to tune playing, the W980 delivers a classy performance.