Original URL: https://www.theregister.co.uk/2008/09/01/sony_s_series_walkman/
Sony's slips out slender, sensory Walkman
Touchy-feely
Posted in Personal Tech, 1st September 2008 11:00 GMT
IFA Sony has extended its Walkman MP3 player range with a slim and sophisticated design that also bosts mood-sensing technology, the company claimed.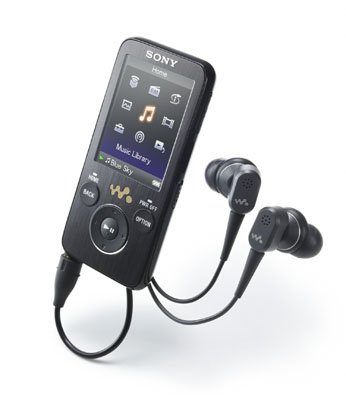 Sony's S series Walkman: super slim
The S series models are 7.5mm thick, making it Sony's "slimmest Walkman ever". Family members also have a 2in, 240 x 320 LCD screen that displays videos at up to 30 frames per second. Videos can be watched in either horizontal or vertical orientations.
Background wallpapers can be changed, and the S series comes with ten pre-installed colourful designs. Still images can, of course, be uploaded and used as wallpapers too.
The player also tries to match your musical mood with something called SensMe, which uses "12-tone analysis" and "low-complexity music information retrieval" technology to suggest playlists based on a song's speed, mood and rhythm.
For example, you could create a playlist full of fast dance tracks to get you ready for a big night out, or group slow love songs together to spice things up in the bedroom.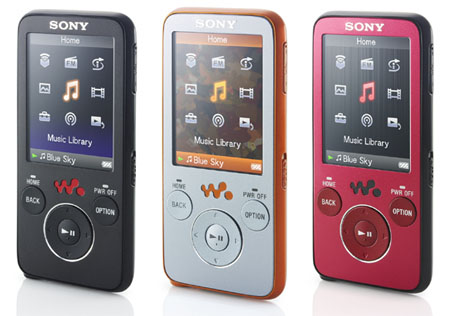 The 4GB and 8GB models come in three colours
Podcast grouping allows you to... well... group all your podcasts together. Although Sony describes this as "a first for Walkman", the feature's been seen on plenty of other devices.
Supplied content transfer software allows audio, video and podcast files to the dragged and dropped onto the Walkman from with Apple's iTunes software.
The player also comes with a pair of noise-reducing headphones that help to block out annoying background distractions.
Sony's S series Walkman's will be available in 4GB and 8GB models, priced at $150 (£85/€100) and $180 (£100/€125) respectively. A European launch is expected next month, but UK pricing hasn't been confirmed yet.